The jobs economy is undergoing a transformation
November 22, 2021
•
2 mins
•
As you've likely gathered by now, the way we work will probably never be the same. Although it might seem like 2020 represented a great shift in the jobs economy and worker mentality as a whole, it really just hit the fast-forward button on an already prevalent trend.
The US Labor Force Participation Rate, a measure of employed citizens over the age of 16, is at its lowest point in over 4 decades, at about 62% as of the end of June 2021. It dropped off 3% from 2008-2012 and took another dip last year at the onset of the pandemic.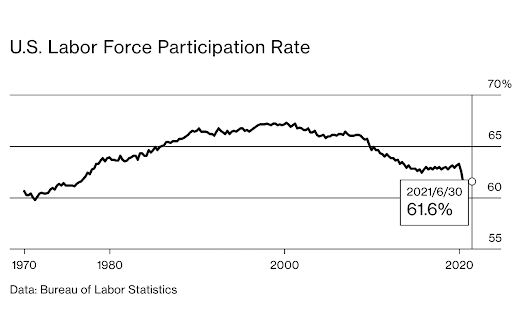 Why is that?
The rate has been falling pretty consistently for the better part of four to five decades, so it's not just the pandemic that's at fault here. Remaining stimulus benefits and health-related issues may be undermining our recovery to some degree, but not enough to reverse the bigger picture.
McKinsey Global Institute predicts that by 2030, 45 million Americans would lose their jobs to automation: That's a quarter of the workforce, and it's a trend that's already been in play for over a decade. In 2019, self-serve Kiosk sales rose by 17.9%—we just don't need humans for everything anymore.
Also noted by Oxford Economics: Approximately 45% of the 7 million jobs yet to be recovered from the pandemic unemployment lapse are highly susceptible to automation. It's not likely, or efficient, to return back to exactly how we did things before.
More Baby Boomers are retiring: In 2020, the number of Boomers who retired more than doubled compared to a year prior—up to 3.2 million, and up from 2.2 million in both 2017 and 2018. These employees have played a big role in the workforce for a long time, many of them valuing loyalty to their company more so than the younger generations. Ultimately, we're losing a generation of workers that won't be fully replaced.
Drugs, mental health, and frustration: Overdose deaths rose by 30% in 2020 amidst a tough year for many. An unforeseen pandemic induced anxiety and chaos, both financial and physical, and workers are unsatisfied in many cases. It's easy to just say no one wants to work, but in reality, it's much more complicated.
The future of the workforce
Moving forward, it's fair to ask, where do we go from here? The answer is probably the same place we've always gone: forward. Things change all the time, and the economy and the people within it eventually adapt accordingly.
It won't be a sweeping motion of changes where everyone's job is taken over by automated intelligence and driverless vehicles, but more of a gradual shift towards a new kind of economy.
There will certainly be growing pains and incongruencies along the way, but we can remain hopeful that 2020 and this evolving labor force will eventually coalesce to form something new and better, and perhaps we can look back on this pivotal period as simply a time of change, growing pains and innovation.
Calling all personal finance creators and writers
Would you be interested in writing Finny Bites, fully attributed to you? If so, we want to hear from you: send us an email and we'll be in touch!