Four Financial Wellness Solution Types for the Workplace
Financial wellness solutions are becoming increasingly popular in the workplace, to the point they are being considered a core benefit. US employees are experiencing more stress than ever in their financial lives. The COVID-19 pandemic shed light on this phenomenon, but the reality is that the cost of living, and in particular real estate prices and college tuition, have been rising much faster than the wages of US workers.
It's no wonder then that 62% of US employers feel responsible for their employees' financial wellness—significantly up from 13% in 2013, based on Bank of America's 2020 Workplace Benefits Report. Employers are now more likely to provide tuition repayment assistance, advanced paycheck services, emergency savings match programs and even individual financial counseling, but one benefit stands out in particular—and that's financial wellness. And that's because of its potential to address the underlying causes of financial stress that follows employees everywhere they go, including the workplace.
The four types of financial wellness solutions
Group-focused webinars and workshops
Individual financial planning sessions
Financial content sites
Community-focused financial education apps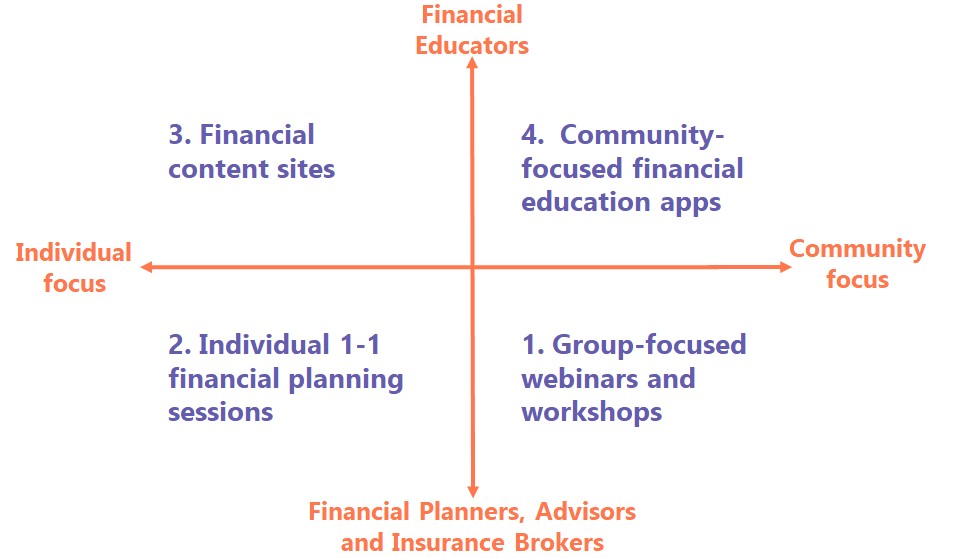 Group-focused webinars and workshops are probably the most common type of financial wellness solutions today. Those solutions are focused on educating the workforce in a group setting. Providers such as Fidelity, Principal, Metlife or Prudential offer such services, with their core objective to provide informative or advisory content to employees, such as learning how to take the first investment steps to meet their life goals or determining how much life insurance they may need. These services are often offered alongside other paid services such as 401(k) administration, investment advice or insurance products.
In contrast to webinars and workshops, individual 1-1 financial planning sessions are focused on creating investment strategies and financial plans with individual employees. Some examples of vendors in this category include Financial Finesse, Brightside, LearnLux, Origin, and North Star Money. Typically employers subscribe to such services on an annual basis, and eligible employees are free to use them throughout the calendar year. The level of utilization of such financial planning services varies by employer, from single-digit numbers to over 50%. Feedback from employers is that such services are valuable, although sometimes expensive.
There are also financial content sites that offer resources to employees to peruse on their own time. Nonprofits such as BALANCE or Khan Academy offer such programs, where employees can browse and watch videos, read blog posts, use financial calculators and take financial assessments at their own pace. Some providers, such as AYCO by Goldman Sachs or BALANCE go a step further and offer support by phone or online, although support staff may not be accredited to give financial advice. For these solutions, it is up to users to find and choose the topics they're interested in, and there is usually no general framework or curriculum that guides users to those areas of personal finance they will most benefit from.
A new, emerging type of financial wellness solution is community-focused financial education apps. This type focuses on personalized financial education, while creating a community for employees to engage in and ask their financial questions. One of the fundamental premises of such solutions is that financial education often lacks a frame of reference, because it's not taught in schools, so by the time young adults enter the workforce, they mostly don't have a solid foundation to solve their financial problems. In the absence of specific preferences, users are given a curriculum or learning path to financial literacy. Financial coaches and advisors may also be available to help as they are a part of the community. Finny is an example of such a service. In this model, the community plays an important role, because it allows users to discuss their personal money-related challenges and get feedback from other members and financial coaches.
. . .
Given these models, an increasing number of employers are actually offering more than just one type of financial wellness solution at work. While traditionally employer groups have relied on their retirement savings plan and insurance vendors to provide complementary financial education and wellness programs for the workforce, many employers are looking for new, emerging ways to help their workforce, such as interactive educational programs and 1-1 financial support on a variety of financial topics from creating a budget to fulfilling financial goals like buying a home or funding education.
If you'd like to learn more about what Finny can bring to your organization, and how we can help your employees with their financial education and wellness goals, get in touch with the Finny team. Everyone needs financial education, and so do your employees—it's the foundational layer of financial wellbeing.