🍔 Bond yields are like cheeseburgers
TOGETHER WITH

Happy Thursday everyone! Here are the money topics we'll cover today:
Is our aging population a sign of booming healthcare? Should you invest?
Why do tech shares seem to tank when bond yields rise? Think cheeseburger.
Is it okay to splurge every now and then? Here are some ideas.
INVESTING
An aging population a sign of booming healthcare
Boy have we learned a lot of lessons over the past year! Like which masks work and which ones don't, or how to appropriately wear sweatpants and work out of our living rooms as dogs and kids alike howl and scream in the background.
We may have also learned a thing or two about healthcare, all thanks to the pandemic.
The rise of telehealth, for example, could revolutionize healthcare. Health systems have also segmented and diversified into specialized facilities, notably in retail spaces. But these are not just overnight changes. These could be long-term and create an unprecedented boom in real estate demand.
Consider our aging population that could make healthcare real estate demand "pop"
The below two charts from the Urban Institute show shocking statistics: between 2000 and 2040, the number of Americans aged 65 and older could more than double, while adults aged 85 and older may quadruple. By 2040 almost one in five Americans could also be aged 65 or older compared to one in eight back in 2000.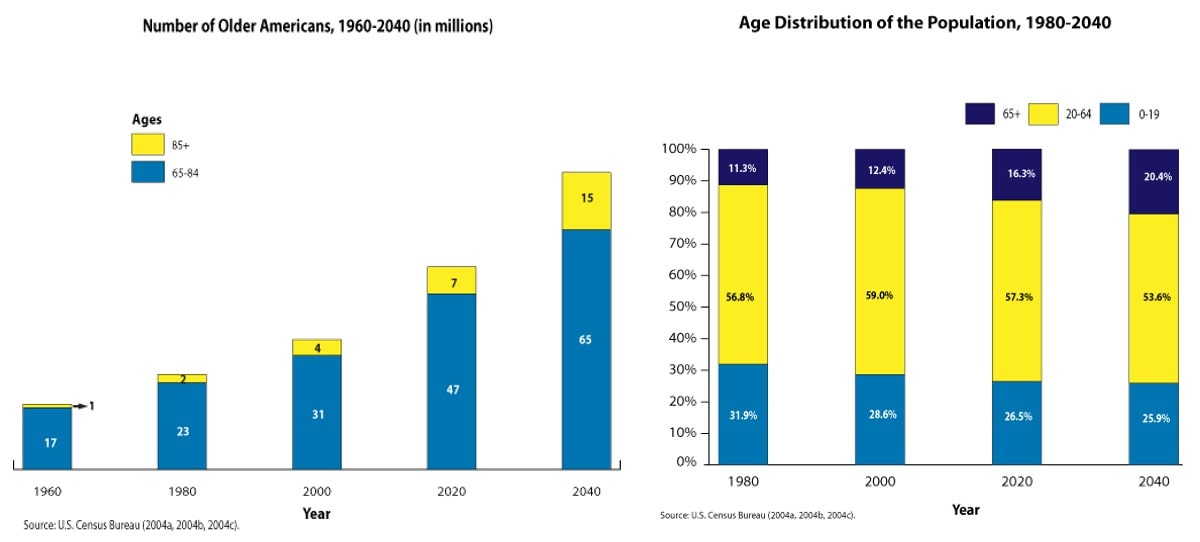 Source: Urban Institute
Why is this such a big deal for healthcare real estate? The older you are, the more healthcare needs you'll have. And you could see how the above two charts almost directly correlate with each other.
And when you look into where the oldest Americans live per the Census Bureau, it's what you would expect: Maine, New Hampshire, and Vermont top the list, with pockets across Arizona and Florida.
If you then take that data and compare it to regions of the country that saw the most medical office building constructions, you'll see further overlap that paints a consistent picture about the opportunity: our aging demographics have a direct correlation to healthcare real estate demand.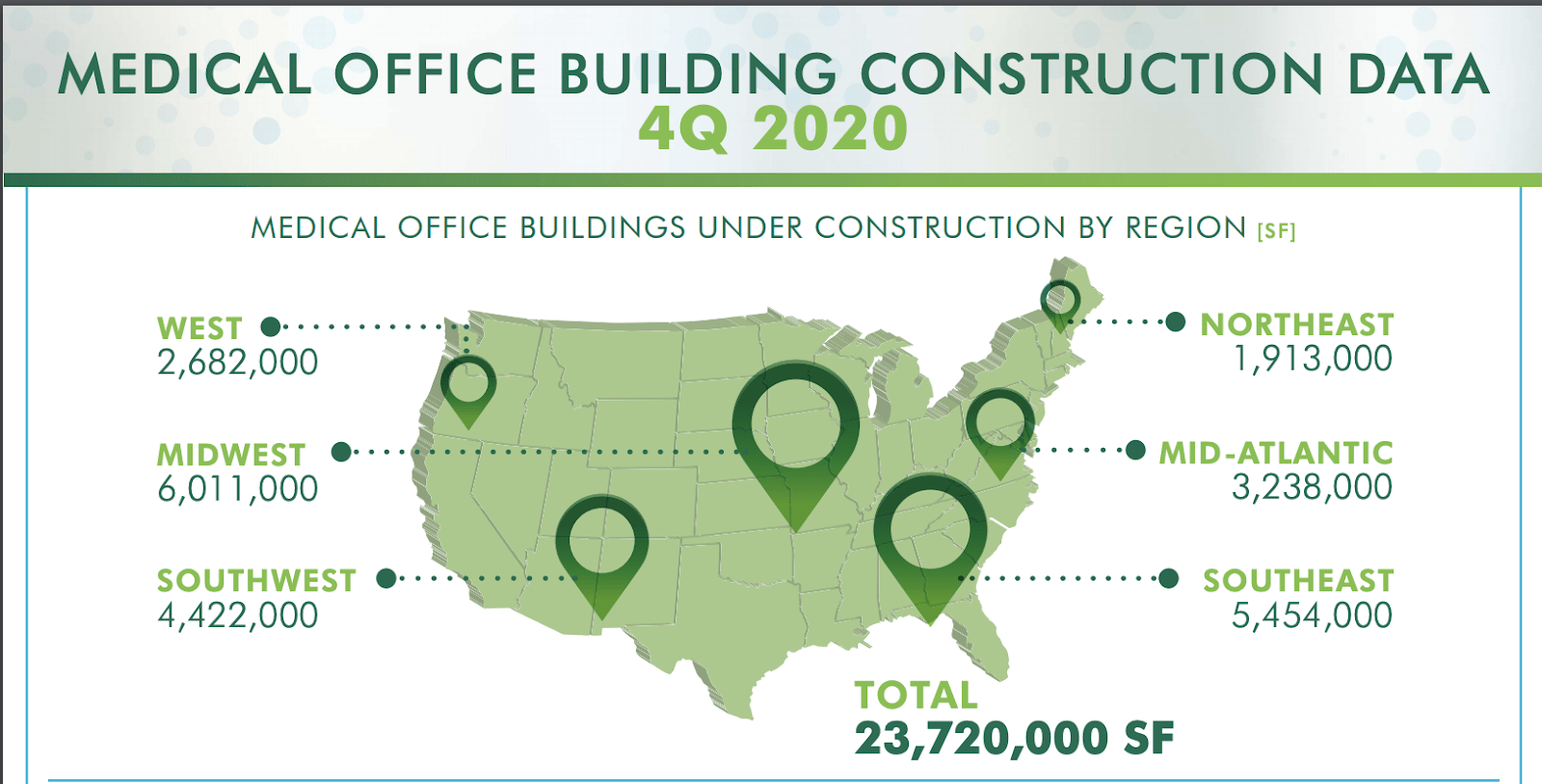 Source: CBRE
As the population ages, it should create rising demand for healthcare properties. And as the data shows, it's likely expected to continue for the next several decades.

Changing aging demographics and demand aside, why invest in healthcare real estate?
Resistance to economic cycles. Healthcare real estate is one of the most defensive property types in the industry. It's easy to cut back on expenses like vacations when times get tough, but people need healthcare no matter how the economy is doing.
Long-term nature of leases. Tenants usually sign leases with initial terms of at least 10 years, and renewal rates are high. Healthcare leases are also typically triple-net (NNN), which means tenants are responsible for property taxes, building insurance, and most maintenance expenses.
Predictable revenue streams. According to JLL Research, healthcare/office REITs have consistently grown rents year over year since 2009, supported by stable fundamentals.
High occupancy rates. In fact, medical office buildings have maintained greater than 91% annual occupancy rates since the fourth quarter of 2009.
So how do I invest?
Some may be able to crowdfund or form a joint venture with other investors or try and do it themselves. But unless you have significant capital, these are high-risk, high-reward, illiquid, and inconvenient ways to invest.
Another and more accessible way is to invest is through healthcare REITs. REITs are companies that own and/or operate income-producing real estate assets and trade on exchanges like stocks. There are more than a dozen healthcare REITs, which also tend to be some of the top dividend payers in the market. Here are some largest ones.
But buyer beware. With REIT investing, rising interest rates tend to lower REIT prices because investors expect a similar increase in yield from income-oriented investments like REITs. Because price and yield have an inverse relationship, rising rates tend to send REITs lower. Don't be surprised if your REITs take a dive when the 10-year Treasury yield spikes.
INVESTING
Why tech shares tank when bond yields rise?
If you're big into tech stocks, you've probably had a very volatile month. Seems like anytime Jerome Powell makes a peep and bond yields pop, tech shares drop.
Let's take it back to a week ago. Last Wednesday, Powell tried to relax our inflation fears and concerns about bond yields. The next day, bond yields hit their highest levels in more than a year, and the Nasdaq saw its worst day in three weeks with a 3+% decline.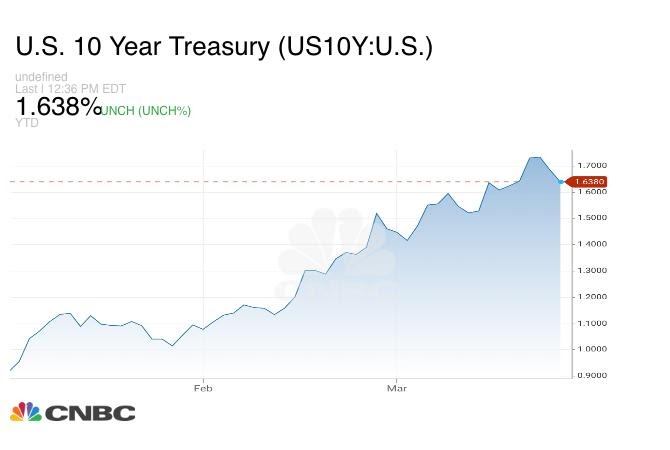 This has been going on for some time now. The question is, why?
Look at rising bond yields like a cheeseburger. Cheeseburgers taste good, and they look good. But you eat too much of them, and your body won't necessarily appreciate it.
Bond yields work kind of the same way for tech stocks. On the one hand, they show confidence in the economic recovery. On the other hand, rising bond yields can flash warning signs for borrowing costs and potential earnings. Because these high-growth tech companies often depend on outside financing to meet their goals, rising bond yields mean that borrowing costs are rising too.
The Gist of it? Rising bond yields could eat into profits for tech firms.
📚Need a bite-sized refresher on how bonds work?

SPONSORED BY REVTOWN
Say hello to your new favorite pair of jeans
After 20 years of designing technical athletic and training apparel, former Under Armour execs are making the best jeans of 2021.
How? By using a proprietary fabric consisting of Italian milled denim infused with the same stuff used in football uniforms and yoga pants, so you'll feel like you're wearing your favorite sweats & look sharp.
It's insanely comfortable and all their jeans are sustainably dyed.
Revtown's denim is a triple threat: comfortable, sustainable and affordable. See for yourself.
BUDGETING & SAVING
Is it okay to splurge every now and then?
If we didn't treat ourselves every now and then, we'd be no different than machines. We're human, after all.
We get that living is not just about sacrifice and deprivation to control our spending down to the very basic necessities in life, and so it's important to reward yourself every now and then.
If you're like most people and think you'll feel guilty splurging on something you'll regret immediately thereafter, here are three quick ideas where you can "splurge:"
When it's for something that will be memorable
There is no dollar amount you can put on special and lasting memories. If you've budgeted and want to splurge on a vacation with family or friends but are on the fence, our recommendation is to just go for it. We work too hard to not enjoy the fruits of our labor. In fact, multiple studies also suggest the mental health benefits of vacations including life satisfaction, happiness, and decreased stress on the job.
When you're investing in your career
There's no wealth like self-wealth. If you're looking to change careers, build your skill set, or earn that promotion, spending your hard-earned money on online classes or a new laptop are more than reasonable ways to splurge your hard-earned money.
When you've budgeted for a big item in advance
Ever find yourself browsing the internet aimlessly and dreaming about expensive purchases that you can't justify buying? Save up, budget, and splurge once you've sufficiently saved. If you've been prudent about budgeting and saving, it's time you reward yourself. And because you've been planning ahead, that purchase probably won't take a big bite out of your bank account when you make it.
Whatever you do, just make sure you don't have to finance a splurge!
🧵Have other ideas of your own? Join the discussion thread on Finny on this very topic:

✨TRENDING ON FINNY AND BEYOND
100% online home refinance application, with a cash-out option, potentially at a lower rate (Figure)*
Track down COVID-19 vaccine appointment openings at your state's pharmacies (vaccinespotter.org)
IRS makes more people eligible for $10,200 unemployment tax break (CNBC)
Finny lesson of the day. All this talk about splurging making you wonder about Frugal Living and if it's for you? Here's our bite-sized lesson on it:

How did you like Finny's The Gist today? (Click to vote)
Finny is a personal finance education start-up offering free, game-based personalized financial education, a supportive discussion forum, and simple stock and fund tools (aka Finnyvest). Our mission is to make learning about all things money fun and easy!
The Gist is Finny's newsletter to our community members who are looking to make and save more money, protect their finances and be their own bosses! It's sent twice a week (Tues/Thurs). The editorial team for this issue: Matthew Levy, CFA and Chihee Kim.
*Sponsors or advertisers offer unique consumer services. We're thankful for their sponsorship to enable Finny to offer free financial education. Here's our advertiser disclosure.
If you have any feedback for us or interested in sponsoring, please send us an email to feedback@askfinny.com.
Copyright © Finny 2021. All rights reserved.
736 Paloma Ave, Burlingame CA 94010