🏠 Building your dream home
TOGETHER WITH

Happy Thursday. Let's get right to the personal finance topics for today.
Closing loopholes? A proposed global minimum tax
Building your dream home might be more like a nightmare
Is emergency money dead right now?
ECONOMY
Closing loopholes? A proposed global minimum tax & what it could mean for us
Taxes. The right way to do it will be debated for centuries to come, and will probably never be optimized for everyone. We won't sit here and philosophize or labor over the jurisprudence behind the tax code though, we just want to be informed and best optimize your personal finances in light of any situation.
That being our prerogative, we now turn our attention toward the latest proposed change to the tax code, a global minimum tax.
A global minimum tax is something that's been discussed for years now, and in this context, the premises are simple. To reduce the levels of inequitable taxes for multinational corporations, discourage the strategic movement of business to countries with a more favorable corporate tax situation, and ensure US companies are paying the minimum rate on foreign profits. Yeah okay, maybe not that simple.
So now, things are happening
We're living in an era where everything is becoming increasingly interconnected and globalized, more and more so each year. Multinational corporations that do business and generate revenue across the globe have been a thing for centuries, but now with the advent of the internet and technology, it's become easier than ever to be a globalist company.
The proposed problem with this though is that we've been in the midst of what Treasury Secretary Janet Yellen calls the "race to the bottom" in terms of corporate tax rates, as countries attempt to lure in companies by treating their capital well, enter lower taxes.
The Organization for Economic Cooperation and Development (OECD) has been working towards this change for years, and things are seemingly starting to come together with the newly proposed 15% global tax rate, applicable to all corporations that fit the IRS's criteria.
Sounds bureaucratic, how does this affect you?
The odds of this being implemented are unknown for now: Congress is split down the middle, and almost all bills eventually become a battle of partisanship in one way or another. Some representatives have already spoken out against the proposition, so no change is imminent.
Some of the market leaders could be hit hardest: Many multinational companies in the areas of information-tech and communications may see double-digit implications on their revenues as they rake in a large portion of their takings in countries that are home to a lower effective tax rate.
It could certainly impact your investments: A global minimum tax would certainly place more of a burden on foreign direct investment, and investment in foreign multinational corporations in general. Whether the long-term impact is negative or not is unknowable, but it's overwhelmingly likely that investor sentiment could be negatively swayed.
REAL ESTATE
Building your dream home might be more like a nightmare
The homeownership rate in the US presently sits at about 65%, and most of those people didn't build their homes themselves. While the data is hard to come by, we know from rudimentary and first-hand experience that most home sales take place between private parties and that homes were either built by someone else or a contractor in the business of doing just that.
Not only is building a home a stressful and often time-consuming process that most first-time homebuyers don't want to deal with, but now it's become more expensive than it already was.
Fire sale, but because the commodities are hot
The price for a ton of copper has risen from around $4,800 in early 2020 to about $10,000 as of early June 2021. Concrete has suffered mildly, and the cost of lumber is up over $1,000 per 1k board feet within the last year, but it's still not too expensive for Ben Shapiro.
The costs of everything from paint due to the February snowstorm in Texas, PVC pipes due to more shortages, and anything and everything that involves wood or concrete, have been impacted over the last year and a half as a result. Building a home or not, the costs will likely be passed onto the buyer if they weren't incurred firsthand.
How the heck do I calculate the cost?
According to Realtor.com, the median cost of building your own house is $289,415, which is about $66,415 more than the median price you could buy one at. "But wait, Finny, Bankrate.com said the average cost of an existing home is $309,800, and building one would be $7,000 cheaper for me—at just $302,817."
Good, now you understand the value of the phrase "data is subject to its inputs, everything is situational, and ultimately nobody knows." It depends on how much land you're buying, where the land is, how big the house is, who you hire to build it, what you want as your kitchen countertops, and maybe if it rains while it's pouring... your foundation too.
Ultimately, it's a personal choice
If you love the thrill of building things from scratch and have the temperament and patience to deal with the inevitable unknowns that seem to arise in every home building situation you've seen on HGTV, building your dream home from the bottom up may be a great life project for you. And for everyone else out there, now might be a good moment to lay low.
SPONSORED BY HAVEN LIFE
Term life insurance at a price you can afford
Whatever you think term life insurance costs... it's probably less.
Haven Life Insurance Agency offers an easy way to buy affordable term life insurance coverage online. A 35-year old female in excellent health can purchase a $500,000, 20-year Haven Term policy for around $18/mo.
That's peace of mind for the price of a large cheese pizza.
*See disclosures below.
SAVING
Is emergency money dead right now?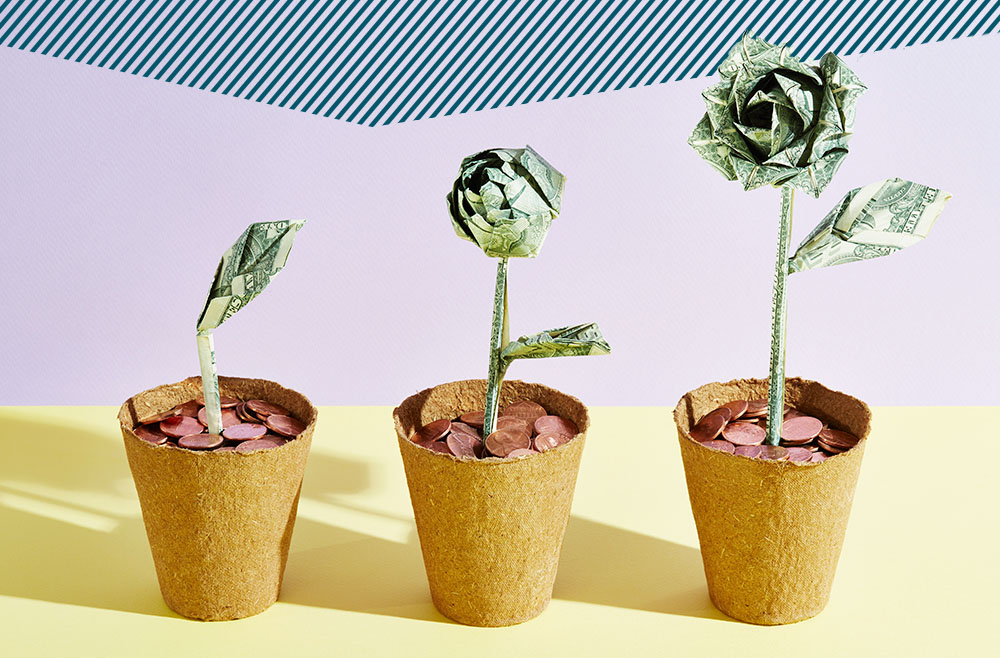 Image source: Time
Having a fully furnished emergency fund that might even have way more money than you'd really ever need in the case of an emergency can feel really great. It's like an extra thick layer of protection against, well, life. Accomplishing this deserves praise, but also warrants evaluating our alternatives.
Keeping excess emergency money can actually come at a cost, and usually an opportunity-related one. We know that our money's value is slowly being eroded away just sitting in the bank, but that's even more of a risk now due to inflation.
There's always a balance
Here are some tips to find it.
Let your money grow: They say that if you love it you can let it go, but we think "grow" works as a good substitute when talking about money. If you've got excess money in savings, put some of it away into a Roth IRA so it can grow bigger instead of growing stagnant, while also avoiding the need to pay taxes on it later.
Pay down your mortgage: If you've achieved this level of cash and still have a mortgage, good job, but also... work on getting rid of that mortgage. Pay down a lump sum of your mortgage and see if you're eligible to have it recast by your lender, who can then re amortize your loan, resulting in lesser monthly payments for you, and less money spent on interest over the life of the mortgage.
Contribute to an HSA: HSA stands for a health savings account, and it's a valuable way of paying a little less in taxes each year while also saving money for health-related expenses that aren't covered by your qualifying high deductible health plan (HDHP). You pay less in taxes thanks to the triple tax benefit of HSAs.
📚 Want to learn more about an HSA? If so, take this FUNdamental 7-minute lesson on it:
ASHU'S CORPORATE COLOR
Today's Movers & Shakers
This commentary is as of 9:25 am EDT.
✨ TRENDING ON FINNY & BEYOND
In 2030, you won't own any gadgets (Gizmodo)
Google has been recording you – here are three ways to delete your voice history (The US Sun)
Finny lesson of the day. For those new to insurance in general and need a little help decoding the jargon, take this lesson in 6-minutes:
How did you like Finny's The Gist today? (Click to vote)

Sponsor Disclosures:
Sponsored by Haven Life Insurance Agency.
Price does not reflect the rate for applicants in CA, DE, FL, ND, NY and SD.
Haven Term is a Term Life Insurance Policy (ICC21 Haven Term in certain states, including NC) issued by C.M. Life Insurance Company (C.M. Life), Enfield, CT 06082. In New York (DTC-NY), California (DTC-CA), and other states it is issued by Massachusetts Mutual Life Insurance Company (MassMutual), Springfield, MA 01111-0001.
About Finny:
Finny is a personal finance education start-up offering free, game-based personalized financial education, a supportive discussion forum, and simple stock and fund tools (aka Finnyvest). Our mission is to make learning about all things money fun and easy!
The Gist is Finny's newsletter to our community members who are looking to make and save more money, protect their finances and be their own bosses! Finny does not offer investment or stock advice. The Gist is sent twice a week (Tues & Thurs). The editorial team: Austin Payne and Chihee Kim. Thanks to Ashu Singh for Today's Movers & Shakers.
*Sponsors or advertisers offer unique consumer services. We're thankful for their sponsorship to enable Finny to offer free financial education. Here's our advertiser disclosure.
If you have any feedback for us or are interested in sponsoring The Gist, please send us an email to feedback@askfinny.com.
Copyright © Finny 2021. All rights reserved.
736 Paloma Ave, Burlingame CA 94010