⚖️ Buy gold or not?
TOGETHER WITH

Happy Tuesday. Let's get right to the personal finance topics for the day:
Is gold really the inflation hedge we think it is?
How the US mortgage machine works
Questions to ask your mortgage lender before closing on a loan
To ensure you are getting The Gist in your inbox, please move it to your primary folder (Gmail), or add it to your VIP (Apple Mail) or favorites (Outlook)!

INVESTING
Is gold really the inflation hedge we think it is?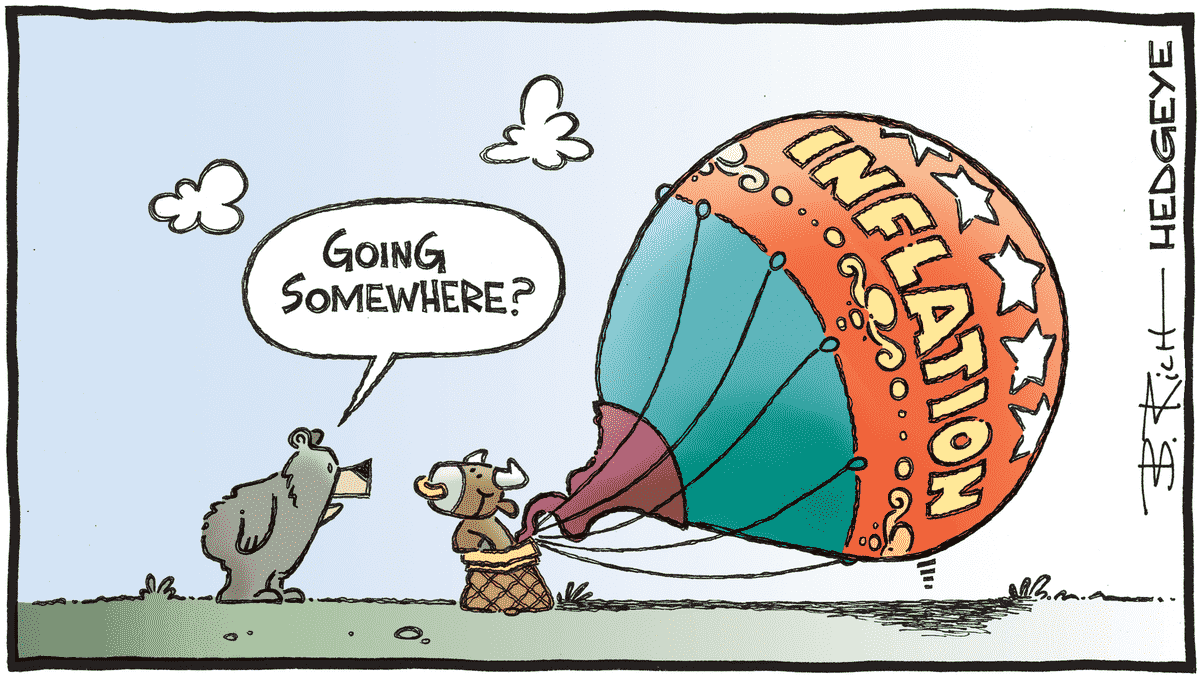 By Hedgeye
For most Millennial investors out there, holding gold in your portfolio sounds like something you heard your grandpa say was a good idea or something you give a glance at when the media decides to talk about it.
Despite gold's reputation for being a bit stodgy and boring, the shrewd investor is aware of its inherent value, which is mostly derived from the inverse relationship it's been known to have with the US Dollar.
This is a longstanding, popularized idea amongst most of the financial industry, but lately, we're starting to see some decoherence between the two, meaning that gold may not be the inflationary safe haven that it used to be.
The nature of gold
Gold inherently has an inverse relationship with the USD, because metals are dollar-denominated globally. This means that when other countries or foreign investors wish to buy gold, they have to essentially exchange dollars for it, thus driving the value of the dollar down.
Most nation's central banks like to buy gold reserves, and the more they hold, the more they drive down the value of the dollar while also indicating what their outlook is on the future (at varying time intervals) of the USD.
On top of the intrinsic functionalities of our international exchange system and how gold literally drives the value of the dollar, it's also picked up the socialized identity as being the inflation hedge, or the thing to buy when everything's going to hell, which only further reinforces its place in this role.
Gold's numbers over time
Gold is an afterthought for those seeking any kind of ROI in the near term, but, the data shows us it's cyclical.
Last decade: The Wilshire US Large-Cap Index's returned 280% vs. gold's 23%
But wait, from May 2001 to May 2011: The Wilshire US Large-Cap Index returned 45% vs. gold's 453%
And from 1991 to 2001: The index yielded 309%, while gold netted a -23% loss.
Gold right now
Gold has returned about 7% over the last year, 49% over the last 5 years, and a deceptive 540% over the last 20 considering its lengthy dip. Gold is trading at about the same price now as it was in 2012, around $1,800. It experienced a significant lull, about a 50% drop to the bottom in 2016 after a strong climb from 2005 to 2011.
For comparison, Vanguard's total market index, $VTSAX, as well as $SPY quadrupled in that same 20-year time frame, while $DIA returned 3x since 2011.
Gold ETF holdings are also declining steadily as we see some reactionary inflation fears nudge the yields on treasury bonds higher, further incentivizing investors to go the bond route over gold.
What all this data means
Although gold has traditionally been viewed as having a negative relationship to the equities market, it's not currently providing much more than an effective net zero correlation.
As the economy also continues to open up, inflation fears regress to the mean, and the US Dollar returns to relative normal strength in the near term, which could put further downward pressure on the demand for gold, making its use case as a shorter-term inflationary hedge questionable.
Gold has its place, and certainly still does have its value as an inflationary hedge, but it's mostly an asset to be held over decades or centuries, not years or months. So, as we always say, diversify your portfolio according to your own plan, risk tolerance, and financial future.
📚 Take Finny's lesson on investing in gold if you need an intro or a refresh on this topic:
PERSONAL FINANCE
How the US mortgage machine works
Economics and finance are just one big game of making things more complex than they really are. This isn't malicious or intentional, it's just that in interwoven economies, every action has an equal and opposite reaction, and equal opportunities to make a profit as well. Yes, the laws of physics apply to money too.
Mortgages are no different, and actually maybe one of the most prime examples of how everything in an economy is interwoven to a degree. A first-time homebuyer could have a perfectly reasonable assumption that when you get a mortgage, you simply owe money to the bank that made the loan. Seems pretty straightforward, right?
The US mortgage factory
When you apply for a mortgage, the lender does a thorough kicking of your metaphorical financial tires to see if you're fit to repay them. After you've passed their sometimes overly invasive and uncomfortable exam that makes you feel like you just got audited, investors do the same thing to the lender. Why? Because your mortgage gets sold as an investment, and investors want to ensure the lender is trustworthy.
That's your mortgage originator. Your originator is then in liaison with the aggregator, which is yet another middle-man go-between agency like Fannie Mae or Freddie Mac that serves the purpose of aggregating the mortgages your lender has on deck and packaging them together into neat little emotionless and impersonal packages that they then ship to a securities dealer. Yep, your dream home is nothing more than a commodity.
Along the way, your mortgage will get divided up into brackets based on the interest rate it might return or the risk it presents investors, with a few points being lopped off here and there to help cover the mountain of administrative costs that comes along with all this trading and commoditizing.
Finally, the mortgage will arrive with the securities dealers. The securities dealers are the brokers and Wall Street names you know well. They do any number of flipping, chopping, dividing, aggregating, and fund making to your mortgage turned mortgage-backed security. They sell them to investors through various investment vehicles just like anything else.
This practice has cost us before
The spreading and offloading of loan risk via the securitization of mortgages that started back in the 70s with GSEs began to gain popularity in the 2000s and eventually caused some severe problems.
Lenders became more incentivized to make loans to anyone and everyone they could, because after all, they were going to sell those loans off anyway—what's to lose if borrowers actually don't pay their loans back? This practice contributed to the subprime mortgage crisis that played a big role in the 2008 global economic recession. Banks were making loans to borrowers who had no business getting them.
When things tightened up, ARM holders got rate punched, predatory lending came full circle, and unqualified borrowers were unable to pay back their loans, ultimately resulting in the uptick in defaults and foreclosures the market saw. Boom, financial crisis.
Since then, stricter lending practices have been put in place in an attempt to make easy money mortgages a thing of the past, and keep us from building another proverbial house of cards in the economy that sits ready to topple the whole thing.
SPONSORED BY HAVEN LIFE
Just because it's important, doesn't mean it has to be expensive
So how much does life insurance really cost? Probably less than you think.
The average cost of life insurance depends on the type of policy you choose and how much coverage you sign up for. For example, a healthy 30-year-old woman in excellent health can buy a 30-year, $250,000 Haven Term life insurance policy for about $22 per month.
That's less than what you're probably paying for streaming media subscriptions. Or the new shoes you've been eyeing. Or a dinner out for two.
On top of that affordable term policy from Haven Life, here's what else you get:
100% online experience. Apply anywhere, anytime and on any device.
Immediate coverage decision. Hey, your time is precious. Some qualified applicants (up to age 59) will not require a medical exam to finalize coverage.*
Dependable coverage. Haven Term is issued by MassMutual, one of the country's oldest and most reliable insurers.
(See important disclosures below.)
MORTGAGE
Questions to ask your mortgage lender before closing on a loan
When you get the opportunity to work closely with someone who's an expert on something, you might as well glean a bit of knowledge from them while you're there, right?
Taking on a mortgage or talking to a lender is one of those opportunities. Buying a home and closing on a loan can be some of the most mind-boggling, time-consuming things you'll ever do, but also extremely rewarding when all is said and done. Being a homeowner is a big obligation as well as a big opportunity, and you want to be sure you understand what you're getting into.
That being said, here are some things you should always ask your lender before you close on a loan.
How long will it take to process my loan? Depending on your lender, this could be anywhere from 2-6 weeks in length, so plan ahead accordingly and ask this question upfront.
What are the prospects of appreciation in this area? This is important because no one wants to own a home that they end up with negative equity. You can do your own research and probably guess what your home might be worth at the end of your mortgage, but your lender has insight and time in the industry that can provide a better perspective for you.
Will I need to pay PMI? PMI is private mortgage insurance, which is an industry insurance bill typically footed by loan recipients who are not able to put the recommended 20% downpayment on their mortgage. It's usually anywhere from 0.5-1% of your total loan amount annually and it becomes part of your monthly payment.
Can I get a rate lock? A rate lock allows you to lock in your pre-approved rate usually between 15-60 days. It prevents your rate from changing during that time due to market fluctuations.
Is your underwriting done in-house? Underwriting is the process of verifying all the information you provided and making sure you qualify for the loan. There's nothing necessarily wrong with lenders who outsource their underwriting, and many modern online-only lenders do this, but it may be important to some home buyers—those who are on the fringe of qualifying or those seeking a more personal experience.
Will you sell my loan? Yeah, they probably will to companies like Fannie Mae and Freddie Mac, and that's usually no problem. If you ever have trouble making your payment, the servicer is the one you call to go over your options for potential relief, so knowing your servicer is incredibly important.
📚 Here's our 5-mins quiz on Mortgage FUNdamentals if you need the review:
ASHU'S CORPORATE COLOR
Today's Movers & Shakers
This commentary is as of 9:22 am EDT.
✨ TRENDING ON FINNY & BEYOND
The housing market has a bottleneck that's even bigger than lumber (Bloomberg)
64% of millennials have regrets about buying their current home—here's why (CNBC)
A great video lesson from a wise soul on how to make your first $1M (TikTok)
Finny discussion of the day. Since we're already talking about inflation, do you have any ideas on how to protect your investments from potential inflation? If you do, join in on the discussion:

How did you like Finny's The Gist today? (Click to vote)
Disclosures:
Sponsored by Haven Life Insurance Agency.
Haven Term is a Term Life Insurance Policy (DTC and ICC17DTC in certain states, including NC) issued by Massachusetts Mutual Life Insurance Company (MassMutual), Springfield, MA 01111-0001 and offered exclusively through Haven Life Insurance Agency, LLC. Policy and rider form numbers and features may vary by state and may not be available in all states. In NY, Haven Term is DTC-NY. In CA, Haven Term is DTC-CA. Our Agency license number in California is 71922 and in Arkansas, 100139527.
*Not all applicants will qualify for this 'InstantTerm' approval process and that Issuing the policy or paying its benefits depends on the applicant's insurability, based on their answers to the health questions in the application, and their truthfulness.
About Finny:
Finny is a personal finance education start-up offering free, game-based personalized financial education, a supportive discussion forum, and simple stock and fund tools (aka Finnyvest). Our mission is to make learning about all things money fun and easy!
The Gist is Finny's newsletter to our community members who are looking to make and save more money, protect their finances and be their own bosses! It's sent twice a week (Tues & Thurs). The editorial team: Austin Payne and Chihee Kim. Thanks to Ashu Singh for Today's Movers & Shakers.
Sponsors or advertisers offer unique consumer services. We're thankful for their sponsorship to enable Finny to offer free financial education. Here's our advertiser disclosure.
If you have any feedback for us or interested in sponsoring, please send us an email to feedback@askfinny.com.
Copyright © Finny 2021. All rights reserved.
736 Paloma Ave, Burlingame CA 94010