🐋 Central banks are the largest market whales
TOGETHER WITH
Happy Tuesday. Let's get right to the money topics for today:
Central banks are now the largest market whales
Using home equity to generate wealth
States to evade (some) taxes
To ensure you are getting The Gist every Tuesday and Thursday, please move it to your primary folder (Gmail), or add it to your VIP (Apple Mail) or favorites (Outlook)!
ECONOMY
Central banks are now the largest market whales
When you hear the term "market whale," it typically refers to individuals and institutions that hold large portions of an asset's available market cap. Think Michael Saylor with his 17,000 Bitcoin, or Vanguard with over $7 trillion in assets under management.
With that definition in mind, we often overlook the glut of assets that governments around the world have taken on over the last 18 months. Because of this, a few of the biggest federal spenders during that period have now accrued a market cap larger than most of the globe's biggest public companies combined, making them a new variant of the market whale.
A different kind of whale
A trio of the world's largest central banks went on a $9 trillion spending spree over the last 18 months or so, and now, they're some of the biggest whales in the market. Between the United States Federal Reserve, European Central Bank, and the Bank of Japan, these few government whales now hold a combined $24 trillion in assets.
Governments around the world commenced the purchasing of assets to lubricate the cash flow of their countries and keep money moving throughout the economy in an inherently contractionary period of time, and the totals added up exponentially.
What do they own? Well, these central banks have bought a lot of bonds and mortgage-backed securities (MBS) since the start of the pandemic, and John Maynard Keynes couldn't be more proud.
Why do they own them? Simply put, they buy bonds to control the money supply and keep interest rates low to stimulate investment and other forms of spending. Specifically, to increase the money supply, the Fed will purchase bonds from banks, which injects money into the banking system. When the government buys MBS, they are basically looking to keep interest rates low and the housing market stable (and recall this was the very sector that caused a lot of trouble during the global financial crisis in 2008).
And now with talk of the Fed tapering their asset purchases, which usually begins when the economy has made substantial progress towards its goals, we can probably expect a dip or a crash of sorts if they taper too fast, but if they taper slowly, wealth will continue to be created.
Some numbers
The Federal Reserve's balance sheet has roughly doubled since February of 2020, rising from $4.3 trillion to about $8.1 trillion by the end of June 2021. Exemplary quantitative easing.
The Fed's balance sheet to GDP ratio presently represents an approximate all-time high of about 35%, which is up from the pre-pandemic levels of around 20%.
They're spending about $120 billion per month on government debt and mortgage-backed securities at about a 1:3 MBS to bonds ratio.
This intervention by the Fed helped to prop up the economy, and 60% of the wealth growth we saw in 2020 went to the top 10% of households, while just 4% went to the bottom 50%.

Source: Bloomberg
The optics of all this
As there are two sides to every coin, this situation is no different. Certain economists are concerned we're inching closer to modern monetary theory ideologies as central banks around the world have continued to rack up debt and spend freely over the last 18 months, with the US leading that pack.
Fears concerning inflation, markets trading at high multiples, and how the Fed will proceed moving forward also contribute to the pessimism and speculation circulating amidst the worried folks as well.
Others would argue this is a normal response and a natural progression, and that it'll all be fine in the long run. Which side is right? Only time will tell.
REAL ESTATE
Using home equity to generate wealth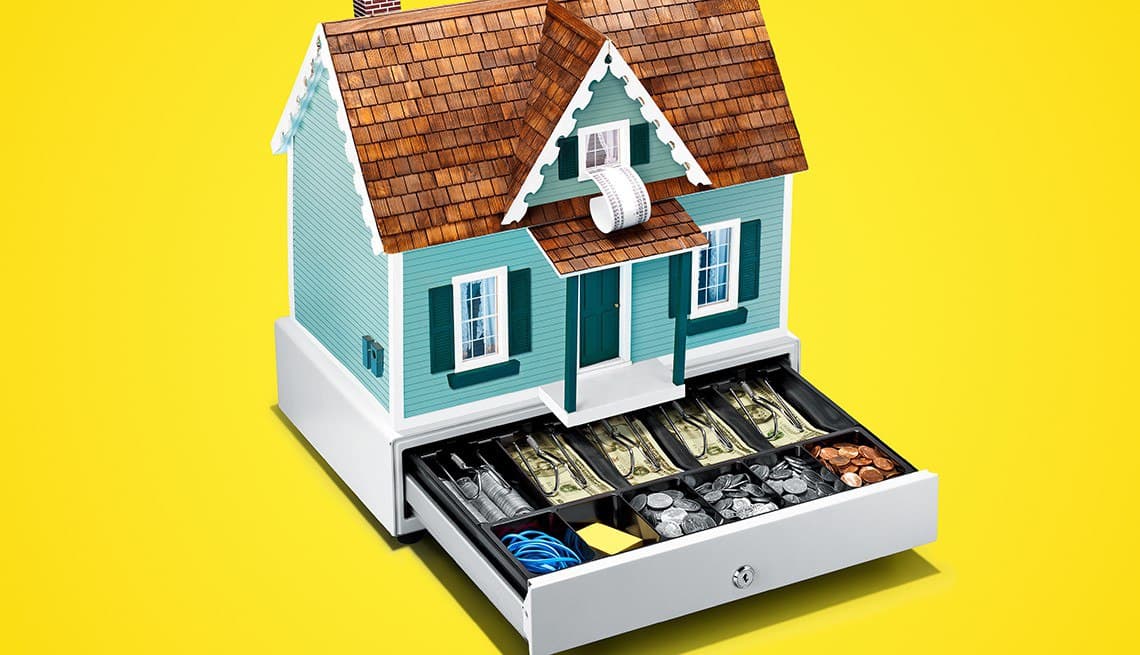 Image source: AARP
At the end of 2020, approximately 46 million US homeowners held over $7 trillion dollars in equity as the housing market continued to grow hotter. In the first quarter of 2021 alone, the amount of home equity withdrawn by Americans topped $49 billion, the most seen since 2007. Needless to say, a lot of homeowners are wealthier than they know, at least on paper anyway.
Using equity for good
Cold hard cash doesn't usually make for very efficient insulation all the time, so if you've been considering pulling some money out of your home, there may be a few good reasons to start doing so.
Here's just a few ways you can use your equity to build wealth:
Investing in home improvement: If you spend the equity withdrawn on the right aspects of a home, or just add something unique and timeless that will retain value, then you're essentially adding potentially even more value to your home. This is probably the closest thing we'll find to an infinite money glitch in real life.
Invest in general: Who's to say you can't take out $10,000 in equity just to stuff in an index fund for the next decade or two, then use the profits to help pay down the rest of your remaining mortgage? Or, maybe use that equity for your own education, a business idea, or any other number of investments with positive ROI. Just beware of the risk you're taking—things don't always pan out as planned.
Invest in reducing debt: If you've been chipping away at some high-interest credit card debt for a while, taking out a loan on some newfound equity at a 3% rate will be worth it to rid yourself of that 16% APR your credit card has.
SPONSORED BY BOBACINO
Invest in Boba, an untapped market
Since tea, sweetened milk, syrup, and tapioca balls were first combined at a tea shop in Taiwan in the late 1980s, boba (or bubble tea) has grown into a multibillion market and is expected to reach over $8 billion by 2024 according to Analytical Research Cognizance. Boba quickly became a cultural staple across Asia, and while it has gained popularity in the US since it was first seen in California in the late 1990s, boba shops continue to be concentrated along the coasts.
At Bobacino, they saw an opportunity to help small business owners expand their reach by creating a new kind of boba shop that keeps operational costs low through robotic automation, producing personalized boba of the highest quality every time!
Market opportunity. Despite worldwide growth and popularity, boba in America is still highly concentrated on the coasts primarily due to the high costs associated with building and operating a physical store. The US is a huge untapped market with boba enthusiasts in many areas of the country unable to enjoy their favorite treat.
Business model. It's all about keeping operational costs low through automation while still keeping quality high. Bobacino units are 16 square feet in size, fully automated and can be stationed almost anywhere, from college campuses to shopping malls to airports and business parks, allowing boba shop owners to reach more customers with less operational risk.
The target market is Gen Z and Millennials - with pods stationed in places like college campuses, shopping malls, airports and business parks, Bobacino is poised to help small business owners reach boba fans everywhere.
Bobacino is backed by Wavemaker, a top-decile early-stage venture capital firm focused on food automation investments, that also manages over $550 million in assets.
Learn more about this bubbly drink making waves across the globe, and invest in Bobacino today.
MONEY TIP
States to legally evade (some) taxes
Where you live has a relevant impact on how much income you'll be losing to taxes every year, just ask residents of California. Because of how different tax rates are from state to state, sometimes we just can't help but ask: is it worth it to move?
Take for example a single individual making $100,000 per year and living in California. They would owe a combined effective income tax rate of 28.74%, whereas a resident of Addison, Texas would pay an effective rate of just 22.75%.
Consider the full tax picture though
Aside from effective income tax rates, remember that there are other taxes and costs to consider when you move to another state altogether. In addition to state income tax, don't forget about sales tax, property tax and other associated costs to owning a home or real estate (ahem... homeowners insurance), as well as vehicle tax.
If you're in a position where moving is a viable option, hone in on your potential total tax savings to make a move worthwhile.
Since state income tax tends to be a large, more predictable cost, take a look at the list of 8 US states with no state income tax for some food for thought:
Alaska
Florida
Nevada
Texas
Tennessee
South Dakota
Wyoming
Washington
ASHU'S CORPORATE COLOR
Today's Movers & Shakers
This commentary is as of 9:28 am EDT.
✨ TRENDING ON FINNY & BEYOND
What are you never spending money on again? (Join in on this Finny discussion post!)

The administration extends payment pause for student loan borrowers through January (CNBC)
Finny lesson of the day. On the topic of real estate and building wealth, learn more about the basics of real estate investing in this digestible, 5-min lesson:
How did you like Finny's The Gist today? (Click to vote)
Finny is a personal finance education start-up offering free, game-based personalized financial education, a supportive discussion forum, and simple stock and fund tools (aka Finnyvest). Our mission is to make learning about all things money fun and easy!
The Gist is Finny's newsletter to our community members who are looking to make and save more money, protect their finances and be their own bosses! Finny does not offer investment or stock advice. The Gist is sent twice a week (Tues & Thurs). The editorial team: Austin Payne and Chihee Kim. Thanks to Ashu Singh for Today's Movers & Shakers.
*Sponsors or advertisers offer unique consumer services. We're thankful for their sponsorship to enable Finny to offer free financial education. Here's our advertiser disclosure.
If you have any feedback for us or are interested in sponsoring The Gist, please send us an email to feedback@askfinny.com.
Copyright © Finny 2021. All rights reserved.
736 Paloma Ave, Burlingame CA 94010