🌎 Fintech is shaping the world we live in
TOGETHER WITH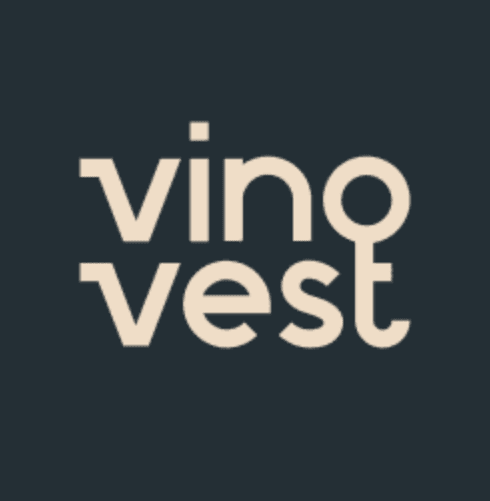 Good morning. Can you guess how much the world's central banks have spent per hour propping up the global economy for the past 18 months? a. $34 million, b. $834 million, c. $1.2 billion. See the answer in the second topic we cover below:
How fintech is shaping the world we live in
The cost of propping up an economy
Keeping things financially equal
INVESTING
How fintech is shaping the world we live in
Money as a medium of exchange and technology. Both are undoubtedly found on humanity's all-time greatest hit's list, but now these two advancements are coming together in a way that might make them one of the most powerful collaborative innovations we've seen yet. Fintech is kind of shaping the world.
These two lie at the core of modern society, and in a way, they kind of make the world go round. Finances are intertwined in every part of our lives, and technology is quickly following suit, finding a way into every aspect of modernity. They've been on a collision course for decades, and the integration of technology into finance was, as we see it now, eventually inevitable.
Finances and technology run the world
The global tech industry is already huge, but it still boasts an estimated growth rate (CAGR) of 5.2% through 2025. The finance sector is the biggest industry in the world, and by a $10 trillion dollar margin too. Despite its barge-sized market cap, it's still expected to grow at about 6% annually through 2025.
This congregation of massive-sized, and massively important, industries is manifesting itself in numerous ways that will likely continue to mold the way we use and view money, and as a result, change the way we conduct everything from business to investing.
The ultimate collaboration
Big-time financial institutions that were historically known for traditional financial services are now expanding into new horizons involving fintech at an acceptance rate never seen before. Signature Bank is offering 24/7 payment processing via its own blockchain platform, Mastercard is vying for blockchain patents, and many institutions are developing entire departments dedicated to fintech solutions.
Three key areas to watch:
Blockchain: Skipping the vague predictions like "disruptive developments to finance," there are a few key things blockchain technology will allow for the financial system. The reduction of latency, an increase in security, a reduction of fees, and an increase in interoperability. Blockchain will have impacts in multiple aspects such as payment processing, fraud, and even lending. (We covered blockchain basics in a prior Gist here).
Financial AI: For better or for worse, artificial intelligence (AI) is a natural progression for us, and something that has the potential to make life much less monotonous. AI and finance go hand-in-hand, offering solutions for anything ranging from administrative tasks, creating simple robo-advisor products and even making better underwriting decisions.
Unorthodox practices: When we make progress, sometimes we have to abandon the previously accepted methods. You're seeing this now with new algorithms being used to determine creditworthiness in an attempt to supplement the longstanding credit scoring methodologies, but this is just one of many natural progressions to come.
💡 If you're searching for broad fintech ETFs to research, here are a few ideas: $ARKF, $FINX, $IPAY, $KOIN, $TPAY
ECONOMY
The cost of propping up an economy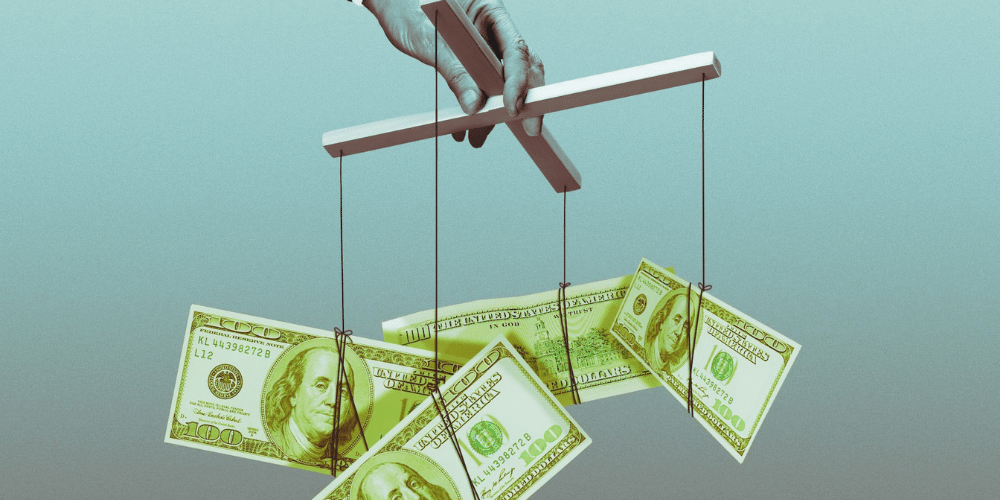 Image source: Axios
Having a budget is so important, even the world's largest central banks have one. Over the last 18 months though, that budget has come out to about $834 million dollars an hour, according to Bank of America strategists. Central banks didn't get a raise, they just had access to the money printing machine.
That's an oversimplification at its finest, but the case in point remains the same: It's expensive to prop up an economy through monetary policy and controversial too. So can the Fed actually win?
The trickle-down effect, kind of
We're not talking about trickle-down economics or Ronald Reagan here. We're talking about market-wide implications that have sent graphs jumping across the board with both public and private money.
The Federal Reserve has upped its asset-buying exponentially since the onset of the pandemic to help maintain its economic agenda. $120 million dollars a month split two-thirds bonds and one-third MBS doesn't go unnoticed, and the Fed's balance sheet is feeling it.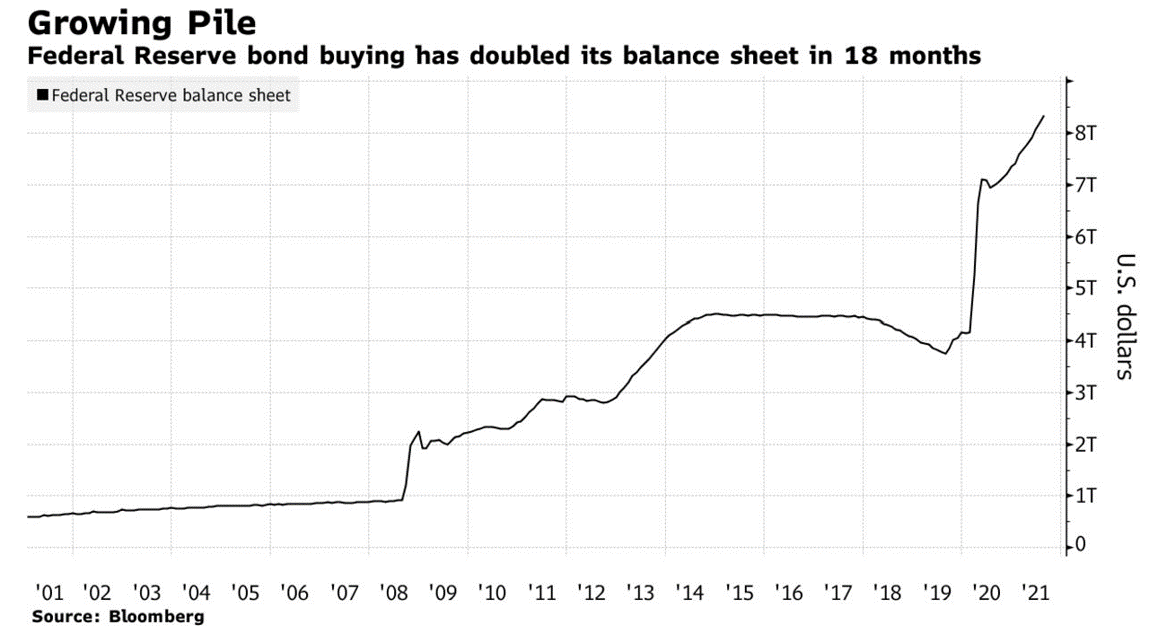 But it's not just government money
Classic quantitative easing—the Feds expanding its own balance sheet (by buying bonds and injecting money into the economy), flooding the economy with cash and keeping interest rates low—has propped up equity markets (i.e., S&P 500) quite nicely since early 2020.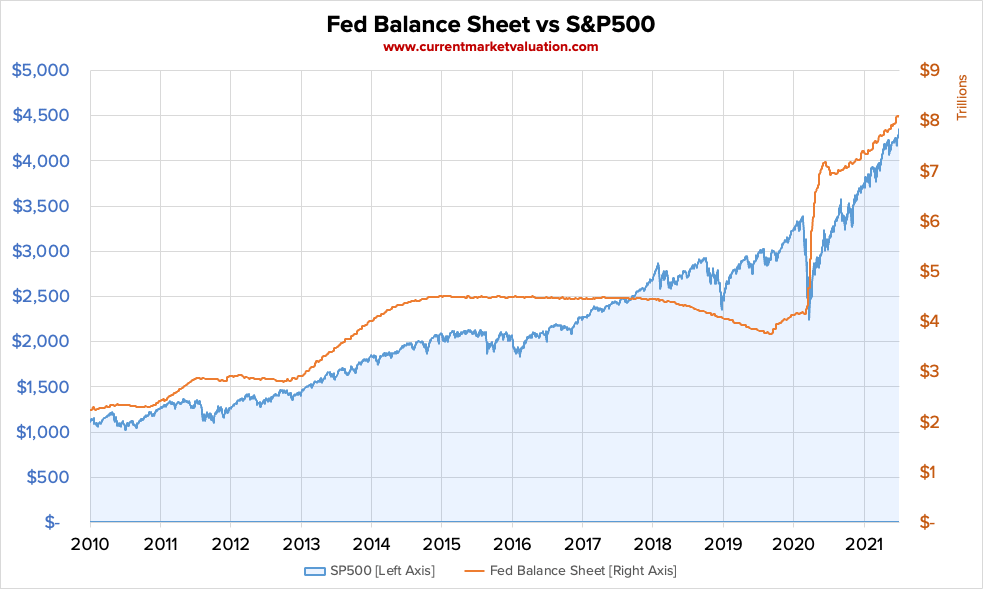 The total market capitalization of the entire public US stock market rose over 20% or $7 trillion USD in 2020 alone. The P/E ratio of the S&P 500 increased from the pre-pandemic high of 25 to over 35 now.
The Buffet Indicator is also broken, presently sitting at 243% of the annualized GDP and sitting in the deep red, where it's been for a while now. These exponential climbs seen in both the markets and government spending are positively correlated, although probably not benefiting everyone equally.
The result
With perpetual speculation and conjecture, it's natural to wonder what the outcome of all this quantitative easing will eventually be.
To the extent that the surrounding economy uses the money productively, and grows accordingly, that may not be a bad thing. But excess cash, all else equal, will drive up prices. And so far in 2021, we've seen inflation pick up.
However, the Fed has continued to maintain that the inflation we're seeing now is only a temporary bump due to pandemic-stimulus and post-pandemic consumer demand increases. Regardless, analysts and investors alike are understandably worried that high-flying balance sheets and stretched ratios aren't sustainable, with some bracing for a pullback. And yet, how the economy and markets shape up and play out all remains to be seen.
SPONSORED BY VINOVEST
Time to diversify
Investing in blue-chip wines used to be off-limits to everyday investors, as well-known auction houses like Sotheby's, Christie's, and Zachys were the ones to auction off fine wines to the wealthy. Not anymore.
With Vinovest, anyone and everyone can invest in fine and rare wines.
Here's how it works:
Investors buy fine wine early and hold on until scarcity value kicks in.
When vintages reach their peak, restaurants and the wealthy alike pay top-dollar at auctions to either serve or simply consume the finest bottles. Which means, early investors stand to benefit. The average Vinovest client earned an average 17.8% return in 2020.
And Vinovest makes it easy—it works like any other financial services platform (like Fidelity or Robinhood).
LOVE & MONEY
Keeping things financially equal
It might seem as if finances and relationships aren't a natural mix. One is rooted in love, the other in logic, one is passion, one is prudence. But despite their opposing characteristics, keeping things financially equal and above-board is a key aspect of any successful partnership, and the two things must eventually mix.
Proactive behavior is your friend here. It can be easy to fall into the trap of just letting it flow, but things that last usually have one underlying trait in common, and that's intentionality.
So, here are a few proactive measures to take.
Don't use finances for leverage: One spouse makes more money, one budgets better, one likes to spend, one is more prudent. Don't try to use your financial habits as a license to obtain leverage. If you're on the same team, stop keeping separate scores.
Set expectations and limits: Knowing ahead of time what is and isn't okay to do with your money will go a long way towards avoiding confusion and disputes. When you have clear boundaries and planning, there's less arguing over purchases and more collaborating together on building your financial future.
Work together and equitably: Many couples find themselves in situations where there's a "financial spouse" who handles all the money stuff. Getting into this habit can leave the other out, and often cause confusion between partners too. Even if you delegate tasks, it's important to work together and inform each other of what's going on.
ASHU'S CORPORATE CORNER
Today's Movers & Shakers
Oracle (-3.5%) reported weaker revenues even as earnings came ahead of estimates
Boeing (+0.5%) as the airplane maker expects business to rebound by the end of the decade
Casinos are down as China starts to target Macau gambling houses (they want direct supervision)
Chipmakers are down after Susquehanna said that the best is behind for the industry
Angi (+3.3%) reported a strong 21% growth versus a year ago
Herbalife (-9.7%) cut its outlook and reported lower activities of its distributors in its multi-level system
Coinbase (+1.2%) was upgraded to overweight by Piper Sandler
Cameco (+2.1%), the uranium producer's stock keeps rising along with other uranium producers as this segment becomes a meme
Fox Corp (+1.1%) is buying TMZ for somewhere between $100 million to $150 million
SeaChange International (+3.7%), the video management firm reported a smaller loss while revenues beat the street
Apple will release details of the new iPhones today, while overnight it rushed to fix a security bug
This commentary is as of 9:07 am EDT.
📈 TRENDING ON FINNY & BEYOND
Facebook to buy $100 million worth of unpaid invoices from 30,000 small businesses owned by women and minorities (FB)
Earn shiny gold coins called Dibs as you learn on Finny. Then redeem your Dibs for a gift card from your favorite retailer and more! (Finny's Rewards Shop)
Finny lesson of the day, and an opportunity to earn 10 Dibs for every question you answer correctly. Do you know what to do in difficult market environments? If you're not sure, take this bite-size lesson in 5 quick minutes:

How did you like Finny's The Gist today? (Click to vote)
Finny is a personal finance education start-up offering game-based personalized financial education, a supportive discussion forum, and simple stock and fund tools. Our mission is to make learning about all things money fun and easy!
The Gist is Finny's newsletter to our community members who are looking to make and save more money, protect their finances and be their own bosses! Finny does not offer investment or stock advice. The Gist is sent twice a week (Tues & Thurs). The editorial team: Austin Payne and Chihee Kim. Thanks to Ashu Singh for Today's Movers & Shakers.
*Sponsors or advertisers offer unique consumer services. We're thankful for their sponsorship to enable Finny to offer free financial education. Here's our advertiser disclosure.
If you have any feedback for us or are interested in sponsoring The Gist, please send us an email to feedback@askfinny.com.
Copyright © Finny 2021. All rights reserved.
736 Paloma Ave, Burlingame CA 94010