💸 Get a bank bonus
TOGETHER WITH

Good day. Today's trivia: According to a recent Bankrate survey, a record number of U.S. adults said their #1 financial regret in the last year was... ? a. not saving enough for emergencies, b. taking on too much credit card debt, c. not budgeting enough for mental and personal health. See the answer in the "Trending" section below.
Let's get right to the money topics for today:
Inheritance Tax Making a Comeback?
The 2021 Jobs Crisis: Where's the Rub?
Bank Bonus Hacking
ESTATE PLANNING
Inheritance Tax Making a Comeback?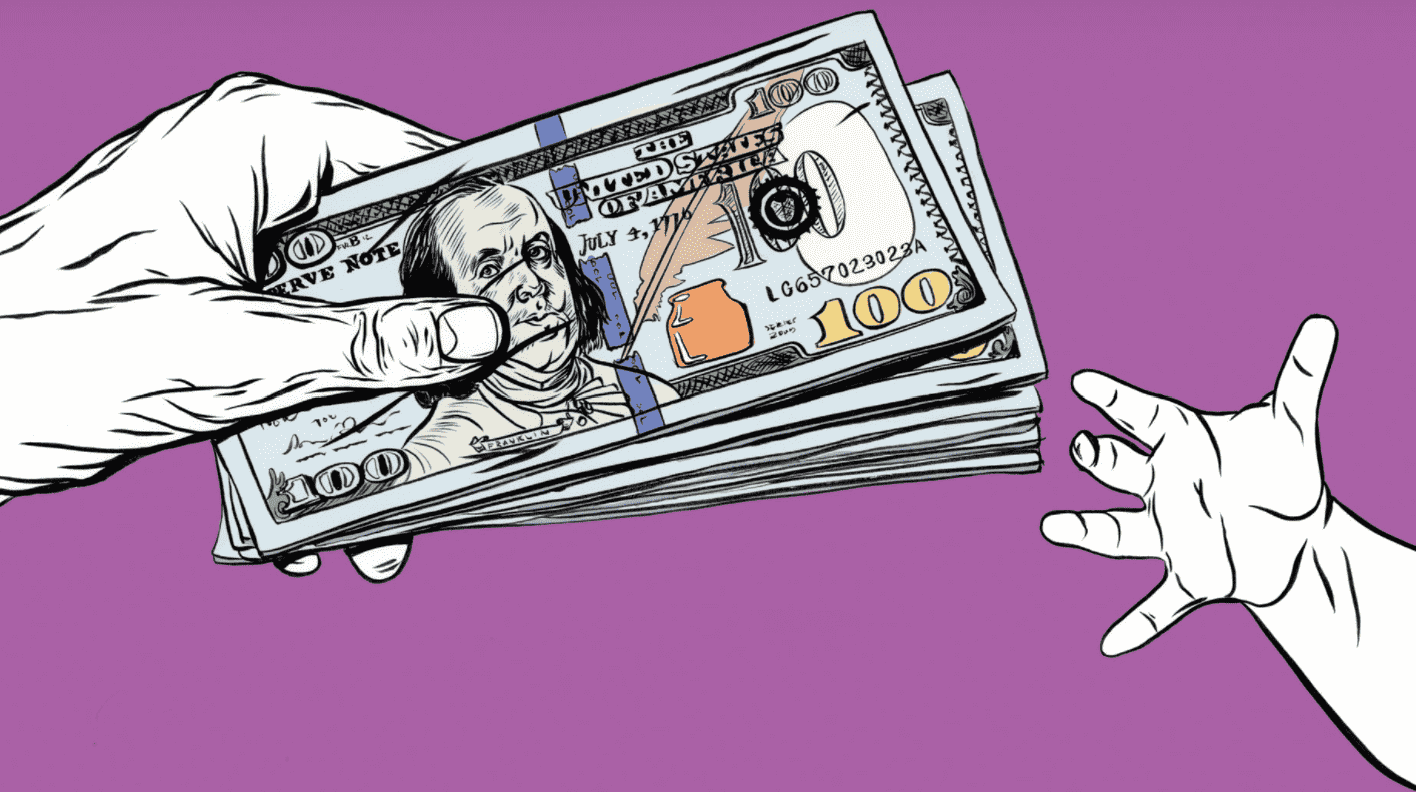 Image source, NY Times
The government is a big fan of transactions. Anywhere money is moving, there's a federal or state hand being held out eager to gather their share of the exchange. This is understandably controversial, and a perpetual point of debate on both sides of the aisle as we forever try to find the right balance between too much and too little when it comes to taxes.
Over the last couple of decades though, the government has been distancing itself from one type of transaction in particular, the passing down of inheritances and estates.
Fundamentals to know
An estate is basically all the money and property a person owns when they pass away. As silly as it sounds, it acts as its own unique entity that can be taxed.
An inheritance is just as you probably guessed it—money, property and other assets that are passed to beneficiaries whether or not the original owner has died.
An estate tax is not an inheritance tax, and vice versa. An estate tax is assessed on the estate after the owner's death, before its assets are distributed; while an inheritance tax is imposed on a beneficiary when they receive assets.
Most people don't have to pay an estate tax because the federal estate tax kicks in only once your estate is valued above $11.7 million in 2021. And the portion of the estate that surpasses $11.7 million is taxed at 40% in 2021 (simply put). Considering this high level, the vast majority of estates get passed to beneficiaries without tax implications.
And there is no federal inhertance tax.
The caveat:10 states also impose their own estate tax, while 5 impose inheritance taxes, and Maryland does both. And inheritance taxes can get extremely convoluted on the state level.
History lesson: literally death and taxes
In 1976, the federal estate tax exemption was just $60,000, which equates to about $415,000 today when we consider inflation. For the next 30 years it steadily increased to $600,000, then jumped to $1 million in 2002.
Then came the Tax Relief, Unemployment Insurance Reauthorization and Job Creation Act under Obama in late 2010, pushing the exemption further north. This was meant to expire and eventually regress after dealing with the 2008 financial crisis, but along came the American Taxpayer Relief Act in 2013 to keep exemption levels up.
It hit a plateau of $5.5 million until 2017 when Trump doubled it to $11.1 million, which is about where it sits presently ($11.7 million).
Where we are now
Yeah, we get that it's not the easiest thing to understand given all the jargon and history. But the larger point here is that we've been drifting further and further from shore when it comes to the taxation of estates, and discussions are being had about reigning that back in.
This comes partly by way of Biden's proposed changes to the capital gains tax rate, as well as exponentially seeking to eliminate what's known as the stepped-up basis.
The means to the end
Joe Biden wants to raise the long-term capital gains tax on Americans making over $1 million dollars per year from 20% to 39.6%, pointing out that wealthy investors are paying less on capital income than working income, and suggesting it would impact "only about 1% of Americans."
There's also a circulating proposal to get rid of the stepped-up basis. The stepped-up basis allows beneficiaries to claim their inheritance at its present fair market value, eliminating any tax on gains made based on the original owner's investment amount.
For example, you inherit a business from your family that started for $100,000 and it's now worth $20 million. With no step-up cost basis, you'd be liable for a capital gains tax on the value of the business that remains above the $11.7 million dollar exemption line. The step-up rule eliminates this by stepping up the cost basis of your inherited asset from $100,000 to its current fair market value of $20 million, effectively resulting in a $0 tax bill on the gain.
These potential changes would combine to create a much higher effective tax rate on those estates that did reach beyond that lofty $11.7 million dollar threshold.
So, will there be a comeback?
At the moment, it seems doubtful that this would all pass. Some of it may get through, some may not. It could be modified, or it could flop entirely. If it were to pass in some similar manner, it's possible we see the estate tax done away with entirely at some point if Congress feels it's too extreme.
Regardless, it's a topic that will likely live on the debate floor of Washington for several months, years, decades to come.
ECONOMY
The 2021 Jobs Crisis. Where's the Rub?
Job openings are reaching record levels, hitting 8.12 million or so in March of 2021, up even more from the previous month's reported 7.5 million openings. These are numbers we haven't seen in at least a couple of decades as the economy is trying to adjust to unforeseen events.
What's the deal?
Okay well, unforeseen events might be an exaggeration. In reality, what we're seeing is just a new iteration of previously experienced issues that are part of a cyclical capitalistic economy, the evolution of a country, and of course the occasional pandemic.
The markets are whipsawing back and forth between record P/E ratios and simultaneous dumps in respective sectors, and the jobs economy is kind of following suit. After last spring when so many jobs were lost and so much fear was felt, it's understandable that it would take time to return to normalcy. But now that we're there... what gives?
People are getting vaccinated and most places are pretty much open for business as usual, so why the discrepancies between work and the desire to participate?
Unemployment benefits and the war on wages
At the same time that we've seen the government shell out an additional $300 to unemployment checks, we've also been dealing with the ongoing debate surrounding minimum wage, and wages in general for the last few years. All of this has come to a head to create this labor "shortage."
It's true that some people have been able to make more money unemployed than they would from a job paying them $15 an hour at 40 hours per week. That begs a couple of questions. Why work 160 hours for what you can get for free? Is this the fault of the government for responding to a pandemic, or does the responsibility lie on businesses to pay more? Those are personal questions only you can answer.
An eventual reconciling
Some states are planning to end this extra unemployment assistance soon, and unemployment pay will drop back to where it was before. Those who are unemployed also need to meet certain criteria, which most people can't do forever. On top of this, wages have been rising in many major retailers across the board, and so is the pressure on legislation to enact some kind of update to our current minimums.
These happenings will likely coalesce to reconcile the labor markets back to some sort of equilibrium, but at least some progress can be made along the way.
SPONSORED BY CROWDSTREET
Diversify your investments
Adding real estate to your portfolio can be a smart move to diversify your investment portfolio. And we're not talking about publicly traded REITs that tend to move with the stock market, limiting your diversification potential. When REITs drop in price, the value of real estate developments could hold steady or even rise.
That's why experienced accredited investors invest in properties directly through platforms like CrowdStreet.
Since 2014, they've launched more than 470 deals, and investors have committed more than $1.84 billion in capital, earning nearly $200 million in distributions.
Accredited investors can review and directly invest in individual deals in the Marketplace. Investors can invest directly into the project of their choice, not a fund that picks assets for you.
Each deal, and the sponsor behind them, undergo a comprehensive review process for inclusion on Crowdstreet. They share all that information with investors and keep the quality bar high.
The result? Some of the highest deal flow volume of any online real estate investing platform!
Get direct access to individual commercial real estate investment opportunities.
Try CrowdStreet today.
PERSONAL FINANCE
Bank Bonus Hacking
Bank bonus hacking is where you leverage banks for a bonus. You get to be a fiscally responsible woke gold-digger, in the most respectful way possible.
Switching banks to get a bank bonus can be well worth it if you can pay fewer monthly fees, have access to better account perks, and more convenient local branch access. Don't switch banks if earning the bonus takes too much time, or worse yet, you lose a big chunk of that bonus to bank fees.
If bank bonus hacking sounds like a real option for you, here are some great bonuses you can take advantage of:
TD Bank. TD Bank offers a $300 bonus when you sign up for a new checking account and make at least $2,500 of qualifying direct deposits within the first 60 days. Who needs the unemployment bonus when you get this?
HSBC Advance Checking. Qualify for a $450 welcome bonus when you set up qualifying direct deposits of at least $500 for at least 3 consecutive months into your new HSBC checking account.
Wells Fargo. Open a checking account with Wells Fargo with an initial deposit of at least $25 and receive $2,000 of qualifying direct deposits within 90 calendar days to get a $200 checking bonus.
ASHU'S CORPORATE COLOR
Today's Movers & Shakers
This commentary is as of 1:30 pm EDT.
✨ TRENDING ON FINNY & BEYOND
ANSWER. Not saving enough for emergencies was the #1 financial regret of US adults in the past year (Fox Business)
How to manage your energy more efficiently (HBR)
Bank of America says it will boost its minimum wage to $25 an hour by 2025 (CNBC)
As US SPACs are cooling off, Europe's are just heating up (PitchBook)
*Deepen your investing knowledge. On Deck is launching a 10-week remote investing fellowship for select investors starting in June. See if it's for you (ODI)
Finny lesson of the day. If you or you know someone who hasn't saved for a rainy day, please take/share this bite-sized lesson on the topic:

How did you like Finny's The Gist today? (Click to vote)
Finny is a personal finance education start-up offering free, game-based personalized financial education, a supportive discussion forum, and simple stock and fund tools (aka Finnyvest). Our mission is to make learning about all things money fun and easy!
The Gist is Finny's newsletter to our community members who are looking to make and save more money, protect their finances and be their own bosses! It's sent twice a week (Tues & Thurs). The editorial team: Austin Payne and Chihee Kim. Thanks to Ashu Singh for Today's Movers & Shakers.
*Sponsors or advertisers offer unique consumer services. We're thankful for their sponsorship to enable Finny to offer free financial education. Here's our advertiser disclosure.
If you have any feedback for us or interested in sponsoring, please send us an email to feedback@askfinny.com.
Copyright © Finny 2021. All rights reserved.
736 Paloma Ave, Burlingame CA 94010