🐎 Hold your economic horses
TOGETHER WITH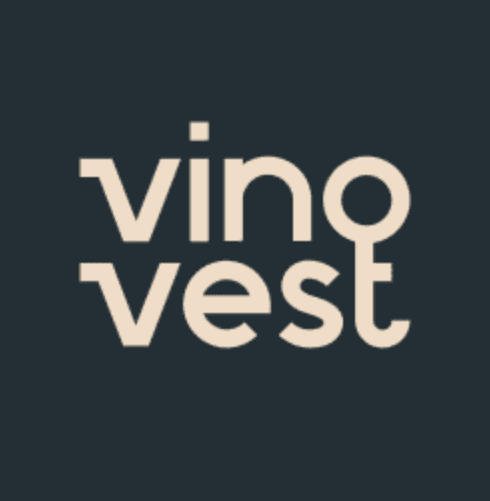 Happy Tuesday all. Can you guess which age group falls most for scams? a. 70-79, b. 35-44, c. 20-29. Check the answer in the "Trending" section below.
Here are our money topics for the day:
Hold your economic horses
Sectors that could be impacted by the taper tantrum of 2021
What now with your student loans?
ECONOMY
Hold your economic horses
Economists went into 2021 with a sense of optimism focused on the idea of recovery. With expectations of a vaccine and the hope of a dwindling pandemic, the thought was that Americans would be primed to get back to life as normal. But things happen.
Their predictions have come true in some ways. Consumer spending and retail sales were up dramatically from 2020, the housing market is white-hot, many of the jobs lost last spring have been recovered, and we now have over 51% of the country fully vaccinated. Unfortunately though, that's not the whole picture.
New problems and developments
Lasting shortages: Most of us haven't had to deal with the domino effect a pandemic can have on manufacturing, and if it's not in the news, for many it's out of sight, out of mind. 2020 left numerous industries with lasting shortages and backorders that are still on the mend, and in turn, contributing to inflation and reducing real GDP. What's short? Cars, computer chips, homes, labor, miscellaneous.
Covid variants: Most viruses mutate, but obviously not all of them have the same damage potential or scare factor that this one does. The WHO is reportedly tracking at least 13 variants, with the delta variety being the most prominent and the biggest threat considering the uncertainty surrounding the vaccine's efficacy against it. We're not out of the woods yet, as it continues to incite fear of a lockdown or something of the sort.
Taper talk: It's not as if we don't all know the Fed can't keep rates this low forever. In fact, it's probably a positive sign for the economic recovery that they eventually return to normal, and yet news of potentially raising rates scare investors. Higher rates mean less favorable terms for loans and less incentive for businesses to invest in growth.
Adjusted expectations
Since 1947, the US has averaged 3.19% GDP growth every year. That is, until 2020, which saw growth at 2.3%. That may not sound far off, but considering the whipsaw it did throughout the year, hitting both an all-time low of -31.2% annualized in Q2 and an all-time high of 33.8% in Q3, recovery was still expected.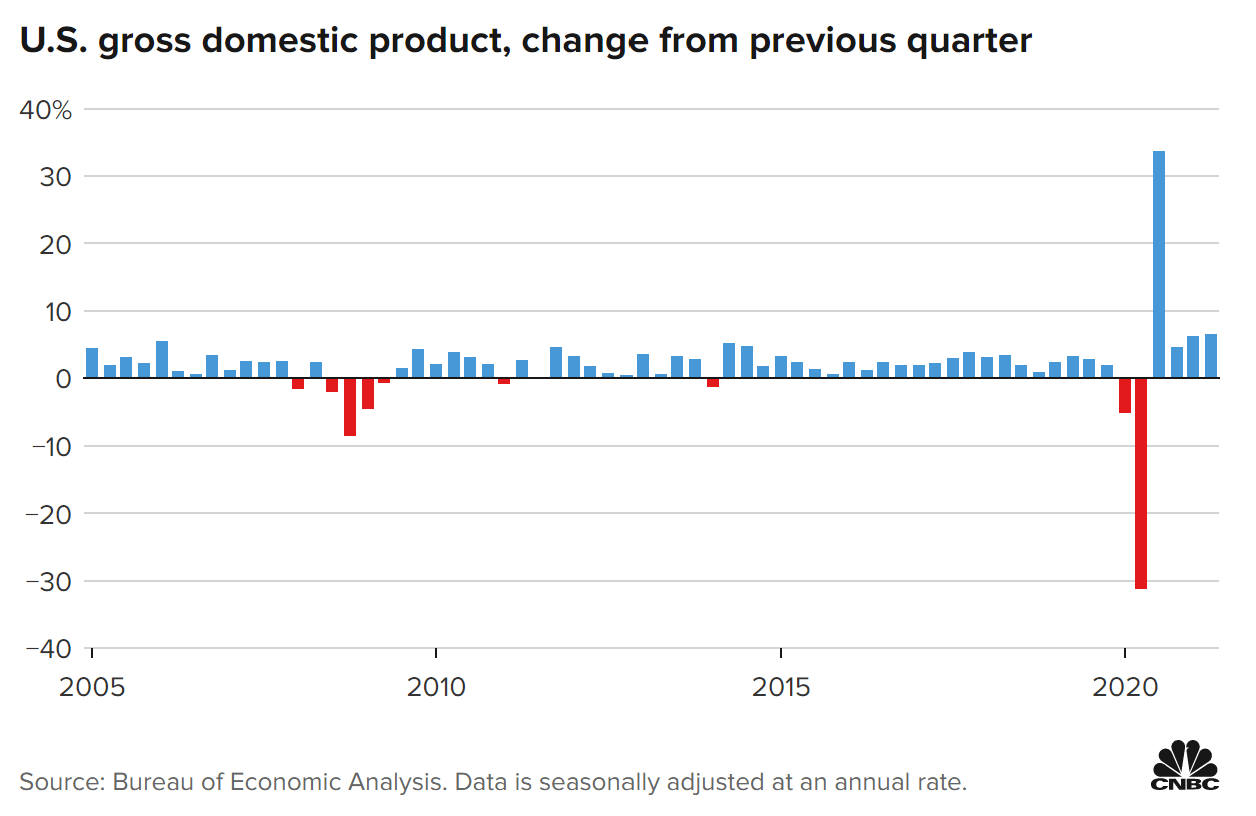 That being said, in light of more recent variables as the year has progressed, we've tapered our expectations a bit. Although some analysts started out the year with predictions as high as 10%, most have now adjusted that down by at least half. GSE Fannie Mae is calling for 6.3% growth, Goldman Sachs 5.5%, and the IMF saying 7%.
INVESTING
Sectors that could be impacted by the taper tantrum of 2021
When we talk about "tapering," we're referring to the Federal Reserve slowing down its spending on assets like bonds and MBS, which it has been doing a lot of within the last 18 months or so. This is, in most cases, a leading indicator that also precedes the raising of rates.
Investors don't like when the Fed raises rates. Or, scratch that, investors don't like when there's even a discussion of rates going up at all, and perhaps for good reason. A higher Federal Funds rate between banks means it's more expensive for banks to borrow money, and thus more expensive for businesses to do the same.
As irrational as that may be considering just how low interest rates have been over the last decade compared to historically, it's nevertheless the market we live in.
The most vulnerable sectors
Growth stocks: Stocks that fly high also fall low when the fear and pessimism sets in, and unless you're in it for the long haul, growth stocks could be a wild ride to find yourself in during taper tantrums.
"Tech" stocks: Technology stocks, like many listed on the Nasdaq, have a tendency to either be growth companies or dependent on trends and optimism. So, unless it's a well-established industry giant like Alphabet or Apple, the odds of being affected by tapering are higher.
Luckily though, there's some shelter
Certain sectors of the market have historically proven to be less vulnerable to these changes than others, and some can even have an inverse relationship to those that suffer such taper tantrums, simply due to their heritage and reputation for being a refuge of sorts.
Based on 2013 data and other anecdotal findings
Industrials, Discretionary, Healthcare: These 3 sectors maintained their exemplary performance even after news of tapering came out in May of 2013, and they may still fit the description of safe havens in the current market.
Big-name companies: This won't satisfy you as a frequent trader, and there's nothing exciting about investing in huge market cap companies that aren't going to the moon anytime soon. However, it is probably one of the less volatile places to invest during both a contractionary or inflation-laden environment.
SPONSORED BY VINOVEST
Add wine investing to your diversified portfolio
Fine wine has outperformed the S&P 500 over the last 20 years because it benefits from scarcity and the tendency to become more valuable over time.
And in the past, fine wine was off-limits to everyday investors, with auctions being held at houses like Sotheby's, Christie's, and Zachys. But that's now changing thanks to technology.
Enter Vinovest — a new platform that combines the knowledge of Master Sommeliers and artificial intelligence to identify the best potential wines to invest in.
Time is your friend. $100 invested in the fine wine market in 1952 would be worth $420,000 in 2020. That's an average return of 6,175% annually. The same $100 in the stock market would have been worth $100,000.
Insured with the FDIC equivalent for wine, protecting each bottle for accidents, breakage and loss that may occur. Vinovest also stores your wines in world-class warehouses.
STUDENT LOANS
What now with your student loans?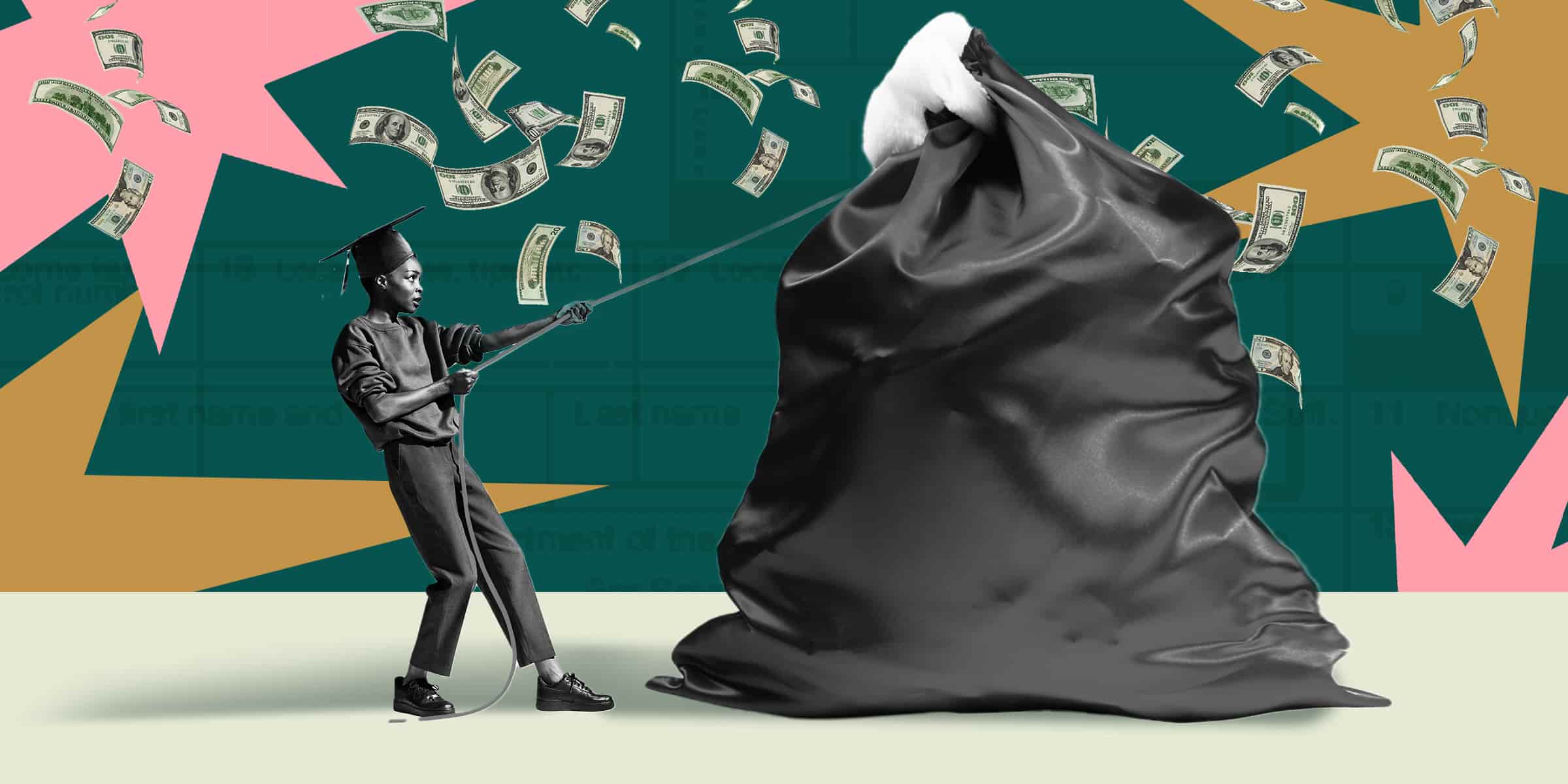 Image source: TODAY
Federal student loan repayments have been extended three times now after originally being set to expire at the end of September 2020, then at the end of December 2020, and now finally, January 31st, 2022. This extension pauses the accrual of interest, suspends the collection of defaulted loans and stalls payments, temporarily.
This elongated extension again leaves some debtors in a position where they have options when it comes to their student loans. We've addressed this before, and will likely continue to do so in the future, as the debate around student loans continues to evolve.
That being said, here are a few options to consider:
Keep making payments: Without extra interest accruing, continuing to make your routine payments now could be a good opportunity to get ahead on your amortization schedule, and ultimately pay less overall.
Go ahead and pay it off in full: An even better version of the above option is eliminating your student loans altogether. Going this route could save you a lot on interest if you can afford to do it, and is worth the risk if you believe it's unlikely the debt will ever be absolved by the government during the period yours is due.
Think about refinancing or consolidating: Interest will eventually be a thing again, so if you find a private lender that offers a stand-out rate in exchange for refinancing with them and you don't have any unique benefits tied to your federal student loans (i.e., access to loan forgiveness and special repayment plans), it's certainly an option worth looking into.
📚 On this last point, if you are considering consolidating or refinancing your student loan(s), please take this bite-sized refresher on the topic:
ASHU'S CORPORATE CORNER
Today's Movers & Shakers
This commentary is as of 9:05 am EDT.
📈 TRENDING ON FINNY & BEYOND
ANSWER. 44% of people ages 20 to 29 lose money to fraud—that's more than double the 20% of people ages 70 to 79. The young fall for scams more than seniors do. Time for a warning. (NYT)
Student loan forgiveness scams are on the rise. Avoid falling victim. (CNBC)
Finny lesson of the day. With talk about a taper tantrum and the opportunities in investing, brush up on sector investing:

How did you like Finny's The Gist today? (Click to vote)
Finny is a personal finance education start-up offering game-based personalized financial education, a supportive discussion forum, and simple stock and fund tools. Our mission is to make learning about all things money fun and easy!
The Gist is Finny's newsletter to our community members who are looking to make and save more money, protect their finances and be their own bosses! Finny does not offer investment or stock advice. The Gist is sent twice a week (Tues & Thurs). The editorial team: Austin Payne and Chihee Kim. Thanks to Ashu Singh for Today's Movers & Shakers.
*Sponsors or advertisers offer unique consumer services. We're thankful for their sponsorship to enable Finny to offer free financial education. Here's our advertiser disclosure.
If you have any feedback for us or are interested in sponsoring The Gist, please send us an email to feedback@askfinny.com.
Copyright © Finny 2021. All rights reserved.
736 Paloma Ave, Burlingame CA 94010