🤖 Invest in the future
TOGETHER WITH

Good Thursday everyone! Warren Buffett's net worth rose by $24.3 billion between 2014 and 2018. Can you guess what his true tax rate was during that time, according to ProPublica? Check the "Trending" section below for the answer.
Here are the money topics you asked us to cover today:
Investing in innovation
Making sense of the meme stock & crypto craze
Best credit cards for newbies
INVESTING
Investing in innovation
The entire philosophy behind investing is future-oriented, so doesn't it make sense that we invest in what's to come? Investing in innovation is a trend on the rise that's been catching some momentous waves in the form of formalized funds curated for innovation's sake alone, and not to mention a bit of help from the ravishing retail traders as well.
As any prudent investor would though, let's survey the landscape properly before making any brash decisions. Here's a moderate outlook on the innovation sector.
Innovation's place in public money and the global competition driving it
The Bloomberg Innovation Index gives us a good look into who's expanding, who's treading water, and who's falling behind. The US, unfortunately, has been doing a bit of the latter in recent years, with the gap between us and our primary competitor, China, growing smaller and smaller.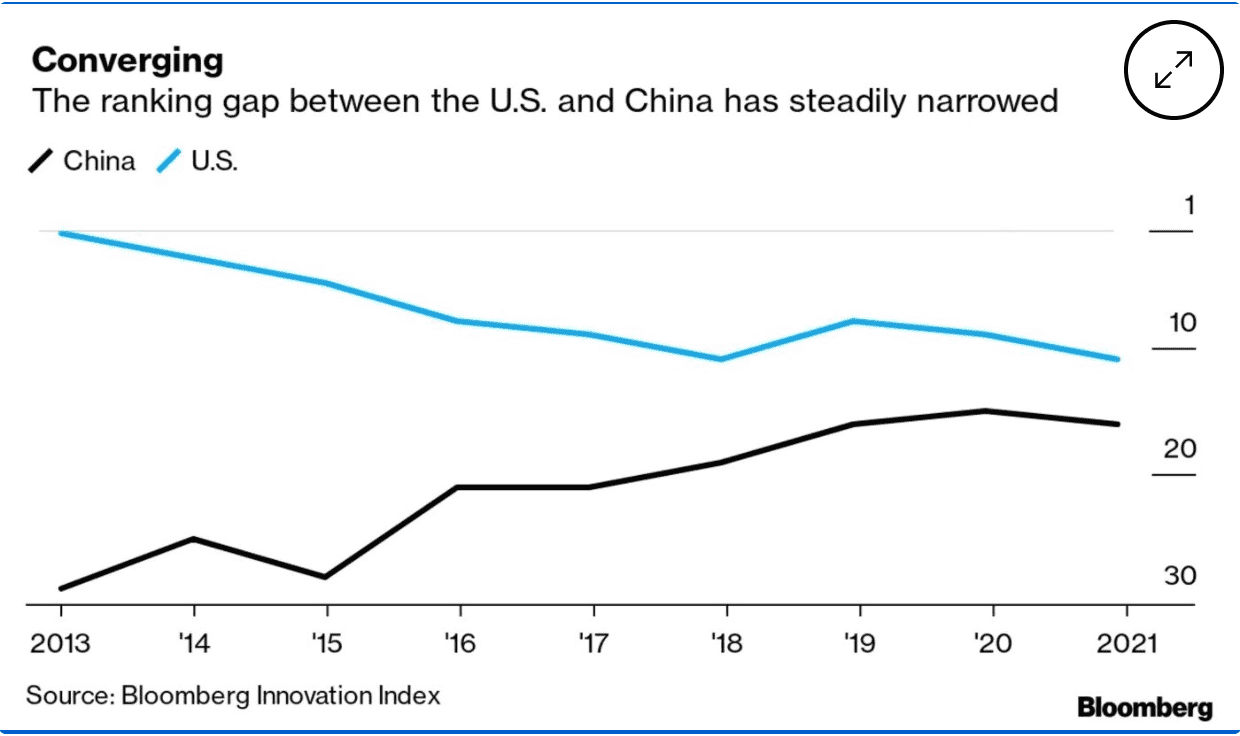 Investing in public research and innovation has fallen a long way from its ambitious spike during the space race. With US R&D spending topping out at over 12% of GDP back in the 1960s, it fell to about 4.5% over the next couple of decades until 2008, when it got hit yet again, then dropping to the current paltry rate of 0.6% of GDP and 2.8% of total federal outlays.
Now though, President Biden has renewed the focus on public investment in research and budding technologies. As part of the proposed infrastructure spending, Congress has allocated several hundred billion dollars (varies depending on what you include) to research and innovation.
The purpose of these earmarked dollars is specifically to get America squarely back on pace to compete with its biggest contemporaries like China and others, with the onus falling on growing, innovative industries like semiconductors, biotech, EVs, batteries, clean energy, and more.
What this means for us as investors
We all know that politics and public policy is a big player in the game of influencing market sentiment, and the government preparing to try and make a comeback in the innovation field is no exception to this rule. As an individual investor, we have to evaluate how this impacts our strategy on a personal level too, so, here are some things worth considering.
Look internationally: The United States isn't the only country where innovation takes place, and there are several other nations like Germany, Israel, China, and others that have become breeding grounds for new and innovative businesses in the private sector, regardless of their government's investment into them. Single country funds or emerging markets funds like $VWO, $IEMG may offer some additional ways to gain some exposure.
Get sector-specific: If there's a certain aspect of innovation you have a strong conviction in, consider expanding your portfolio to include those areas. You don't have to try and eat the whole elephant. Pick specific sectors or industries you think are positioned to gain a lot of capital investment over the next few years or even decades (i.e., EVs, fast charging, AI technologies).
Scout out some innovation funds: Remember the saying "there's an app for that?" Well now, similarly, there's a fund for that. No matter what sector of innovation we're talking about, thanks to growing exposure and investor interest, innovation-specific funds are becoming available in more and more industries, so take some time to find your favorites. Check out names like $BLOK, $ARKW, or $DTEC.
If you're feeling frisky, try crowdfunding: For those who desire a more hands-on, personal experience in their investments, or maybe just seek more of a thrill, you can try your luck at crowdfunding innovative businesses through new intermediary technologies like WeFunder, Republic, StartEngine and others.
INVESTING
Making sense of the meme stock & crypto craze
We've recently covered a bit of the psychology behind investing and how socially perceived value can go a long way in determining the underlying price or demand for an asset. The ongoing rally of retail investors behind AMC Theatres stock and crypto trends like Dogecoin is at the core of this type of investing philosophy, and the epitome of beauty lying in the eyes of the beholder.
Making sense of investments that don't make sense
It's a valiant attempt by almighty retail investors to undermine and uproot the suits that be, but we all know that this is more about personal gain than anything else. While it is true that the value of meme stocks is entirely social and beyond their underlying fundamentals, the desire to beat out Wall Street still has its roots in the desire for personal gain, and that's okay.
Here are the two primary factors driving this wave.
Investments are trends. Perceived value goes a long way in determining what someone is willing to pay for something. We buy stocks that are trending based on both intuitive and fundamental analysis of what we can anticipate other investors to do. By reading the social landscape on social media while also keeping a watch on key indicators on stocks themselves, investors are attempting to make a solid entry and exit based on trends alone, foregoing the fundamentals.
Everyone has a different goal. What makes sense to you might not work for me, and what makes sense to me might not make sense to you. Holding $GME with diamond hands is certainly not a viable tactic to secure your retirement one day, just as consistently putting money into a Vanguard target-date retirement fund will probably never take your account "to the moon" so to speak. Some people want reliability, some want to score big, and some want both.
SPONSORED BY LINKEDIN JOBS
Make the right hire, and fast
With data-driven insights from millions of members and jobs, LinkedIn Jobs helps you make the right hire faster.
Access engaged job seekers. 25M+ job seekers spend time on LinkedIn weekly to discover opportunities and build their careers
Get qualified candidates. Receive a qualified hire within a day through personalized targeting, screening questions, and powerful matching algorithms
Reach people you want to hire. Quickly review candidates - and prioritize the best ones with filtering tools, at no extra cost through InMail
LinkedIn is rated #1 in delivering quality hires.
Get $50 off your first job post on the world's largest professional network and only pay for results.
CREDIT CARDS
Best credit cards for newbies
When you're a credit virgin, it can be hard to get lenders to take you seriously. They think just because you haven't any experience with a credit card, extending that measly thousand dollar credit line to you is too risky for their multi-billion dollar enterprise.
Well, don't take it personally. It's a data-driven algorithmic process that spits out a decision that's then automatically sent to your inbox upon rejection.
As unfortunate and inconvenient as this may be, there are ways to circumvent it, and thankfully more and more credit card companies are becoming hospitable to the long-overlooked credit card virgins of the world.
Here are a few recs.
Discover IT Student Chrome: From our own personal experience, we'd endorse this card. We'd recommend that you pay the balance as soon as it posts too, but if that's not your style you may have higher standards. Discover offers this as a no-fee card with a free FICO score, a 1-2% cashback, and no prior FICO score required.
Deserve EDU Mastercard for Students: A convenient entry-level card for those who lack a U.S. credit history, SSN, or both. It's limited in some respects and doesn't interface with less common transactors, but there's no fee and it offers a consistent 1% cashback rate on all purchases.
Journey Student Rewards Card from Capital One: A basic card for those with average credit or looking to get their first card. Offers rewards for paying on time, a 1-1.25% cashback rate, and no fees.
ASHU'S CORPORATE COLOR
Today's Movers & Shakers
This commentary is as of 9:00 am EDT.
TRENDING ON FINNY & BEYOND
ANSWER. Warren Buffett's true tax rate was 0.10% between 2014 - 2018. The secret IRS files: A trove of records reveal how the wealthiest avoid income tax (ProPublica)
Here's how much money you can retire with if you save $100 a week in your 401(k) (CNBC)
When you learn, you earn on Finny! Redeem your gold coins or Dibs earned for gift cards, cashbacks, entries to giveaways & more (Finny Learn & Finny Rewards)
Finny quiz of the day. Interested in what sector investing is about? Dive into some of the basics in this 7 min lesson:

How did you like Finny's The Gist today? (Click to vote)
Finny is a personal finance education start-up offering free, game-based personalized financial education, a supportive discussion forum, and simple stock and fund tools (aka Finnyvest). Our mission is to make learning about all things money fun and easy!
The Gist is Finny's newsletter to our community members who are looking to make and save more money, protect their finances and be their own bosses! Finny does not offer investment or stock advice. The Gist is sent twice a week (Tues & Thurs). The editorial team: Austin Payne and Chihee Kim. Thanks to Ashu Singh for Today's Movers & Shakers.
*Sponsors or advertisers offer unique consumer services. We're thankful for their sponsorship to enable Finny to offer free financial education. Here's our advertiser disclosure.
If you have any feedback for us or are interested in sponsoring The Gist, please send us an email to feedback@askfinny.com.
Copyright © Finny 2021. All rights reserved.
736 Paloma Ave, Burlingame CA 94010