🏠 Is your dream home worth it?
TOGETHER WITH

Happy Thursday. According to a new survey by PYMNTS and LendingClub, can you take a guess at what percent of Millennials are living paycheck to paycheck? a. 40%, b. 54%, c. 70%. See the answer in the Trending section below.
Bidding against big capital for your dream home. The new normal?
Beware of overdraft fees
Do these 4 things before you invest
HOME OWNERSHIP
Bidding against big capital for your dream home. The new normal?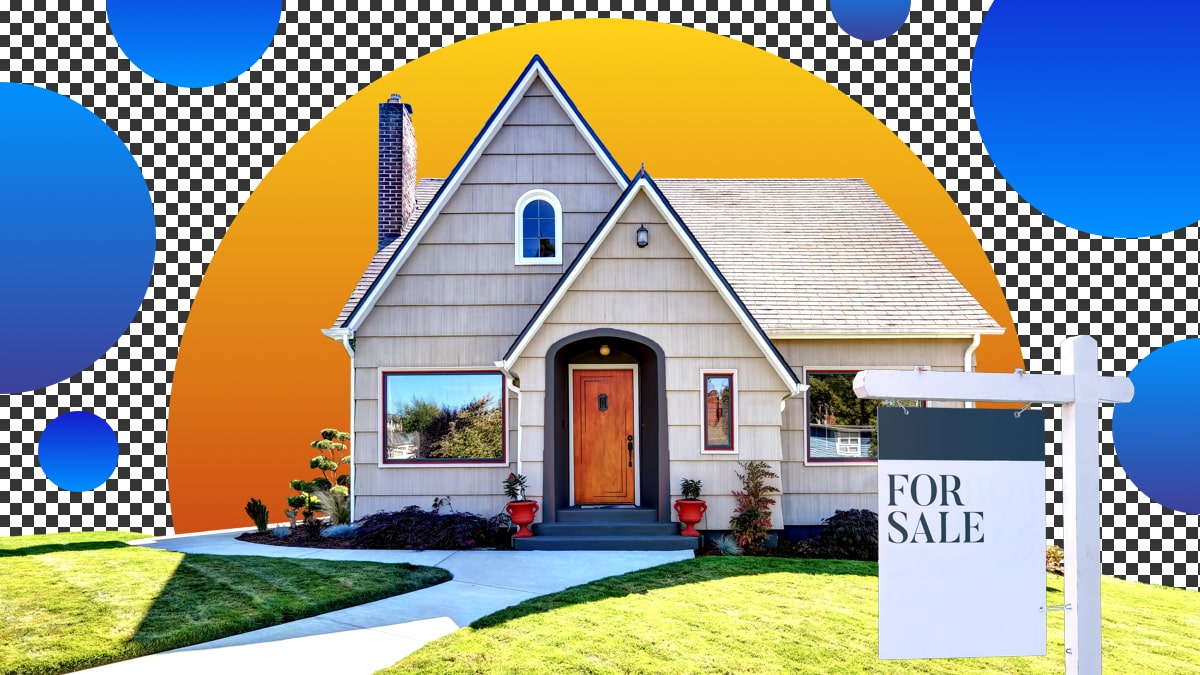 Image source: HousingWire
Only 38% of Americans under the age of 35 are able to claim the title of homeowner as of 2021—a figure that will likely continue to decline for the near term just as it has for the noteworthy past few years.
Prospective homebuyers are facing a somewhat unprecedented conundrum in the housing market, one that includes variables ranging from hyper home inflation all the way to a growing debate around wages, or maybe even... a fund snatching up your dream property?
Business is business
D.R. Horton, a massive American construction company big enough to go public and mount a 33 billion dollar market cap, recently built an entire subdivision consisting of 124 properties in Conroe, Texas. They rented the homes out to tenants and then proceeded to put the whole subdivision up for auction, where it was swiftly snatched up by a real estate platform for what D.R. Horton called "50% over gross margin."
The subdivision was bought by a real estate investment company you may have heard of: Fundrise. The company is privately held and manages over a billion dollars of property on behalf of more than 150,000 individual investors.
The whole lot sold for $32 billion. The median home price in Conroe Texas is about $319,000, meaning Fundrise paid near retail, with a slight discount, to take all these properties under their well-endowed wings.
Impacts on homebuyers
Is it fair to prospective Millennial homeowners that in most neighborhoods, one out of five homes is purchased by an investor who never moves in, such as Fundrise? Hard to say. Business is business of course, and every local township is a different situation with a different amount of big capital being thrown around.
Housing prices climbed 11% last year alone, and many analysts expect similar digits to come in by the end of 2021. Hyperinflation in the housing market obviously makes it harder for your average citizen to buy a home, and in some cases easier for larger investors simply by way of a crowding-out effect of sorts.
Most of this is of course nothing new. Investors have been investing for decades, and the housing market does sometimes go through these white-hot cycles before regressing to the mean. Jokers in the deck seem to be a nationwide student loan crisis, coupled with a highly competitive job market where it seems that everyone and their dog has a bachelor's degree in something.
What can we do?
Go about your money from a stoic perspective. We can only control what we can control, and even that sometimes seems questionable. If you dream of owning a home, you can't control the big money wanting to win the game too, or inflation, or the economy, or that something else... you get the gist.
Plan ahead as young as you can and start saving or investing. Our biggest asset as retail buyers is knowledge, consistency, and competency. It may never be an ideal market, but with the right planning and unwavering amounts of persistence, you'll be hard to stop.
BUDGETING & SAVING
Beware of overdraft fees
Overdraft fees were initially built on the basis of convenience, with the banks viewed as extending a helping hand to account holders who were in need of a spot. Since then though, the popularity and price of these pesty fees have grown, becoming a controversial and ethical talking point in the banking community.
The controversy isn't in the fact that the bank is charging users a fee for covering the difference, it's the fee to overdraft ratio. An account dipping $2 into the negative can easily accrue a $34 overdraft fee (the national average), and these instances can add up if account holders' direct deposits don't align with their bills sometimes.
In 2020 alone, JPMorgan Chase made over $1.5 billion in overdraft fees alone, which, although less than a percentile of their overall revenue as a whole, is still one and a half-billion dollars.
A simple fix: Just be aware
Monitor your accounts & signup for account balance alerts. We don't want to blame the account holder in every case, because sometimes things happen, and an overdraft occurs. That being said, it's certain that a good deal of overdraft fees can be chalked up to simple negligence that could be solved by checking your account balances. If that doesn't work, set up an automatic reminder from your financial institution to let you know if your balance falls below a set dollar amount.
Move money & create a cash buffer. This is why savings are so important. If you see that your checking balance will be insufficient to cover a scheduled payment, simply move enough over from your savings account to cover it in that case. Intrabank transfers happen immediately, and there'll be no delay in having the money available. When you move that money over, transfer enough to serve as a cushion for you. Tip: treat $50 or $100 as zero.
Switch to a financial institution that doesn't charge overdraft fees. More and more banks and banking services, such as Aspiration, Ally Bank, Schwab, Capital One 360 Banking and Discover to name a few, don't charge the controversial overdraft fee. If you're consistently getting burned by overdraft fees, it's probably a smart move to switch banks asap.
SPONSORED BY WISE BREAD
High paying cash back credit card offers
Wise Bread is a community of bloggers here to help you live large on a small budget. Despite what you may have heard, you don't have to sacrifice your financial independence to enjoy life.
That's why Wise Bread is here to tell you about the high-paying cash back credit card offers of 2021. How does a $200 bonus offer, up to 3% cashback, no annual fee, and 0% interest for 15 months sound to you?
Learn about their top cash back card picks of 2021 and more!
INVESTING
Things to check-off before you invest
Investing has become more accessible than ever. Essentially anyone with internet access can hop online, set up a free brokerage account, and start making trades without even having to worry about fees. This is great, well, for the most part anyway.
This ease of access can also lend itself to some irresponsible or unpreparedness amongst newbie investors, something that could ironically end up being detrimental to their financial health when all they were trying to do was improve it. To prevent mishaps like this, all it takes is a little bit of preparation to get going on the right path.
4 keys before investing
Get all your ducks in a row. Setting your priorities straight and having a correct order of operations set out is critical to making sound decisions. Knowing your debts, if any, and what order you're paying them in, knowing your income, budgeting for expenses, saving and finally, setting your goals, all come before venturing into investing. Think about budgeting if you haven't already, such as with Tiller or YNAB.
Have an emergency fund in place. Investing for your long-term future is important, but having enough money for tomorrow is equally if not more important. Most financial coaches will recommend you save at least 3-6 months of expenses in case of an emergency.
Understand your comfort zone in taking on risk. Let's be real: investing in anything takes some level of risk. Evaluating what level of risk you're willing to take matters.
Educate yourself to make decisions. Do your own research to understand market trends. Even if you have an investment advisor, it's always a good idea to get yourself educated on investing. It's the best way to empower yourself.
💡 If you're new to investing, learn about investing right here on Finny. Select "investing" as a preferred learning category and we create a learning path just for you. All lessons are quiz-based and bite-sized!
ASHU'S CORPORATE COLOR
Today's Movers & Shakers
This commentary is as of 9:21 am EDT.
✨ TRENDING ON FINNY & BEYOND
ANSWER. 70% of Millennials, 40% of baby boomers & seniors, and 54% across all respondents are living paycheck-to-paycheck (Business Insider)
A banking app has been suddenly closing accounts, sometimes not returning customers' money (ProPublica)
Finny lesson of the day. Before bidding on that dream home of yours, let's refresh on a few things to know about buying vs. renting to avoid some common mistakes:

How did you like Finny's The Gist today? (Click to vote)
Finny is a personal finance education start-up offering free, game-based personalized financial education, a supportive discussion forum, and simple stock and fund tools (aka Finnyvest). Our mission is to make learning about all things money fun and easy!
The Gist is Finny's newsletter to our community members who are looking to make and save more money, protect their finances and be their own bosses! Finny does not offer investment or stock advice. The Gist is sent twice a week (Tues & Thurs). The editorial team: Austin Payne and Chihee Kim. Thanks to Ashu Singh for Today's Movers & Shakers.
*Sponsors or advertisers offer unique consumer services. We're thankful for their sponsorship to enable Finny to offer free financial education. Here's our advertiser disclosure.
If you have any feedback for us or are interested in sponsoring The Gist, please send us an email to feedback@askfinny.com.
Copyright © Finny 2021. All rights reserved.
736 Paloma Ave, Burlingame CA 94010