💰 It pays to learn
Today kicks off Financial Literacy Month! 🎉
And it's also April Fool's. These topics are serious though, we promise we're not kidding.
Budgeting for your financial health. Make it a habit.
The 1.4x purchase factor, a cool budgeting trick.
It finally does pay to learn about personal finance. Celebrating financial literacy month with rewards!
Cryptocurrency investing. Practical first steps.
FINANCIAL HEALTH
Budgeting for your financial health
If you were building a house made of financial literacy, the foundation of that structure would be made of budgeting, no doubt. Being fully self-aware and intentional about where your money is going on a monthly, weekly, or even daily basis can be an enlightening experience, and lift a weight off the shoulders of many households.
Do Americans budget?
While it's impossible to nail the numbers down precisely, various studies show that only about 55% of Americans have been budgeting regularly over the last 5 years, and approximately 38% of the country hasn't created a formal budget within the last 10 years.
Many Americans are living paycheck to paycheck, and it's partially because of this. Forbes says it's 78%, CNBC says 63%, some studies show closer to 50%, and some claim as high as even 80%. Different research pools give us different stats, but the likelihood is if you took a random sample survey in your area, you'd find many families in this situation.
Budgeting is financial health, and financial health is well-being
Let's get down to the neurobiology of what we keep calling financial health. Studies done have consistently shown that those who consider themselves poor or financially stuck suffer from higher levels of stress and depression as compared to those who were more secure in their finances.
This isn't all chalked up to not budgeting of course, but much of our financial hardships can at times be linked back to our own decisions, with failing to budget being one of those.
Some Perspectives on Budgeting
You know about budgeting already, I mean, you're reading The Gist, you know what you're doing, right? Well sure, that's definitely a qualitative indicator of financial health and all, but there's always room for learning and improvement.
Budgeting is like working out and taking care of yourself. If you want to live in a way that's both comfortable and less susceptible to the ails of life itself, it's something you should seriously consider, and ultimately come to enjoy. Budgeting helps us to be conscious of our money because it's not something that's done once and forgotten, but a habit we integrate into our lives and come to appreciate for the sense of control it gives us.
And as many of us are learning, having control over your money often means having control over your life.
📚If you're new to budgeting or unsure about it, take this bite-sized quiz and find your budgeting flavor:
BUDGETING TIP
The 1.4x purchase factor
With budgeting on your mind, you're then perfectly poised to apply a simple rule of thumb called the 1.4x purchase factor, introduced by authors Joe and Lindsey Baker in their book titled "Baker's Dirty Dozen," a great recipe for financial independence.
The 1.4x purchase factor is a simple money formula that takes account of taxes into just about anything you're thinking to buy. Simply put, it allows you to easily calculate approximately how much you'd need to make in order to buy something, pre-tax.
Take for example a $100 purchase of a shiny new electronic device. If applying this rule, you'd need to make $140 bucks. This assumes a combined tax rate of 28% for both federal and state, and also sales tax. And obviously, this can be adjusted based on your tax bracket or the details of your relationship with the IRS…(hopefully good!).
CELEBRATING FINANCIAL LITERACY
Finally it pays to learn personal finance!
At Finny, it does finally pay to learn about money and personal finance.
And we're excited to share that Finny's Marketplace has a few new rewards starting today! Here's how it works:
🌟 You earn shiny gold coins called Dibs as you learn
Learning is easy because it's free, quiz-based, bite-sized, and personalized to your interests.
You earn 10 Dibs for every correct answer.
You earn 100 Dibs for every referral who joins Finny.
🌟 Redeem your Dibs for a variety of rewards in Finny's Reward Shop
We have a $100 Giveaway for this month (100 Dibs required to enter) and more!
Remember that bit about being financially healthy? All it takes is 5 minutes or one bite-sized lesson a day to become financially fit!

CRYPTOCURRENCY
How to even get started with cryptocurrency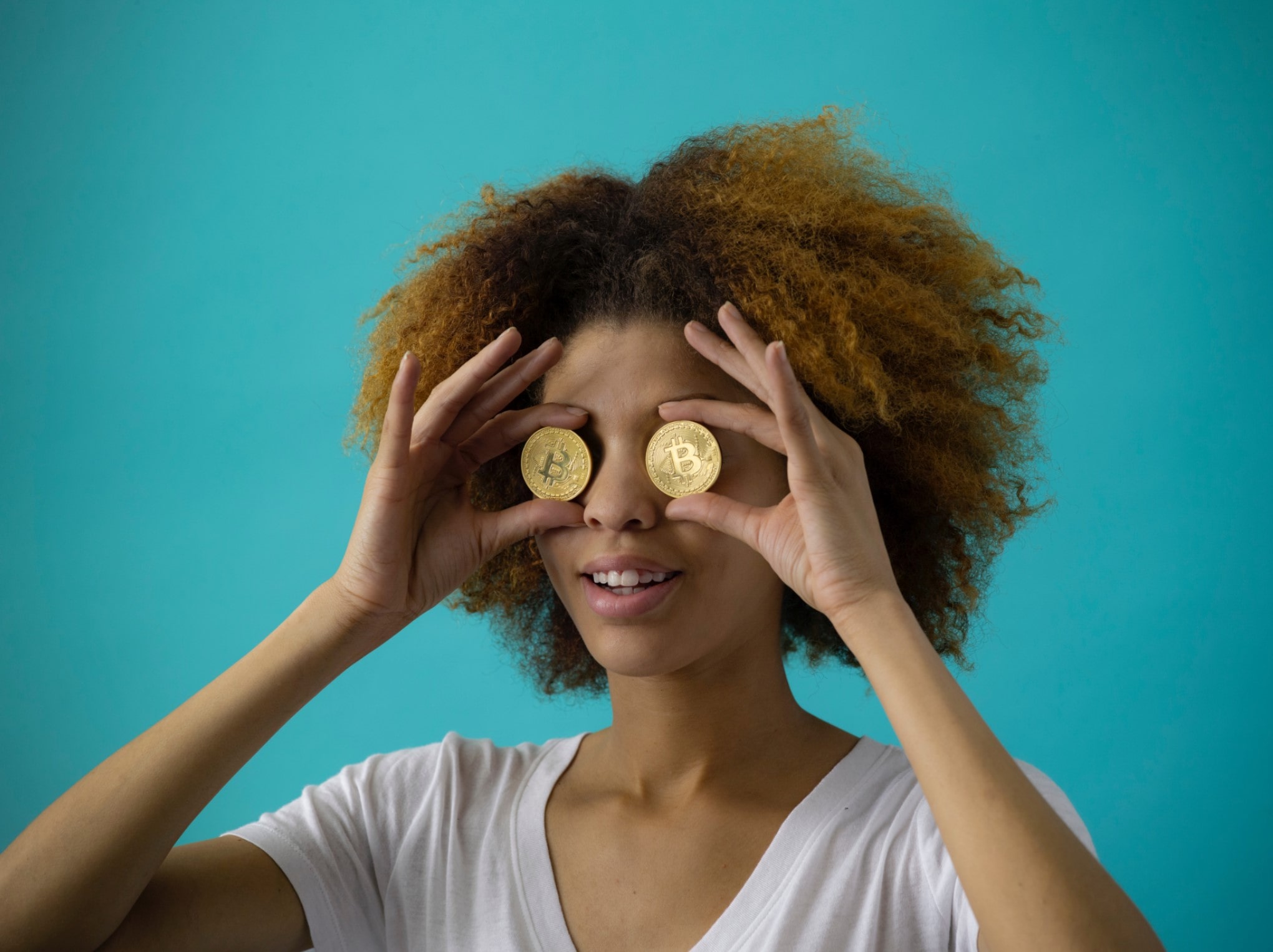 Thought Catalog by Unsplash
Cryptocurrency is undoubtedly still a speculative play in terms of an investment, and will likely remain so for the foreseeable future until the world becomes more accepting of the word Bitcoin as opposed to treating it like a penny stock. Despite this, the blockchain technology backing this new asset class has proven its worth in multiple areas, and seems to be here to stay.
This in mind, crypto as an asset is worth investigating, but where do you even start?
Do your research
You probably googled "what is Bitcoin?" before and skimmed over the Investopedia article about it, only to feel more confused and with some cool new terms to teach your partner. Yeah, we've all been there, and honestly, you don't need to do anything more than that to be a good investor in crypto, but some basic education that makes sense sure would help.
Take a few hours or days and consistently research different cryptocurrency projects. Go through all the big names like Bitcoin and Ethereum of course, but also check the peripherals too. You don't need to understand all the intricacies, but getting a grasp on each of the projects' use-case and purpose can help you determine if you believe in it and see it as a good investment.
Gather a rudimentary understanding of the principles of cryptocurrency and decentralization as a whole from multiple credible sources, and whether you go with a big name like Bitcoin just to dip your toes in, or become the next altcoin connoisseur, there's something to be gained.
💡Tooltip. In addition to lessons we at Finny are building out on cryptos, this recent guide on Cryptoassets from the CFA Institute is worth digging into. Other free resources include 99 Bitcoins and 21lessons.com.
Pick an exchange you like and dip your toes
Cryptocurrency has to be bought through an exchange. Think of this just like a brokerage, only its sole purpose is to facilitate the exchange of cryptocurrency only. Because of this, fees to trade are also high. Some traditional brokerage firms also offer cryptocurrency as an asset that can be traded on their platforms, but the selection is usually limited.
Cryptocurrency is still in the early stages of its introduction to the world, and so the legislation surrounding it on a state by state and even worldwide basis is still a bit murky.
💡Tooltip. Research exchanges such as Coinbase and Kraken.
What to look for...
Exchanges are also not subject to the same rules as banks when it comes to insurance. USD held in your exchange wallet is usually held in various accounts with independent banks. This could be a money market account, classical checking, or even T-bills in some cases. This makes your money FDIC insured up to a certain amount.
Cryptocurrency though is not the dollar, and so it's usually held by exchanges in "mostly" what's called cold storage if you leave your coins on the exchange. In most instances where an exchange suffered any kind of breach, they maintain insurance to cover these losses. Every exchange is different though, and that's why it's important to take the time to investigate more than one.
Once you've taken the time to research, and are ready to pick an exchange and that certain coin, you're at a great starting point and have come much farther than most. After that, it's then time to start learning about offline wallets and cold storage, which we'll surely get into another time.
🧵 Join the discussion thread on Finny on how to get started investing in crypto assets. Share your tips, wisdom or ask a question:
✨ TRENDING ON FINNY AND BEYOND
Saving for retirement and need ideas for improving your investment choices and portfolio allocations? Try blooom, which offers a free analysis of your retirement savings accounts (link)*
Popular searches on Finnyvest: SMH vs SOXX (semiconductors), ARKK vs ARKW (ARK funds), and VUG vs VOO (large-cap growth vs. blend)
The truth about child tax credit: a good deal for most families, though not all (MarketWatch)
Finny lesson of the day. With all the budget-talk, how do you make it stick? Learn practical tips in this quiz:

How did you like Finny's The Gist today? (Click to vote)
Finny is a personal finance education start-up offering free, game-based personalized financial education, a supportive discussion forum, and simple stock and fund tools (aka Finnyvest). Our mission is to make learning about all things money fun and easy!
The Gist is Finny's newsletter to our community members who are looking to make and save more money, protect their finances and be their own bosses! It's sent twice a week (Tues/Thurs). The editorial team: Austin Payne and Chihee Kim.
*Sponsors or advertisers offer unique consumer services. We're thankful for their sponsorship to enable Finny to offer free financial education. Here's our advertiser disclosure.
If you have any feedback for us or interested in sponsoring, please send us an email to feedback@askfinny.com.
Copyright © Finny 2021. All rights reserved.
736 Paloma Ave, Burlingame CA 94010