🦸
It's a bird, it's a plane
The Gist
TGI Thursday. If you're a US-based employee, do you know how much of your annual pay goes to fund Social Security? a. 3.1%, b. 6.2%, c. 12.4%. Check the answer in the usual Trending section below.
Here are the money topics du jour:
Stagflation, reflation... neither?
Is Social Security fading?
Debit or credit?
ECONOMY
Stagflation, reflation... neither?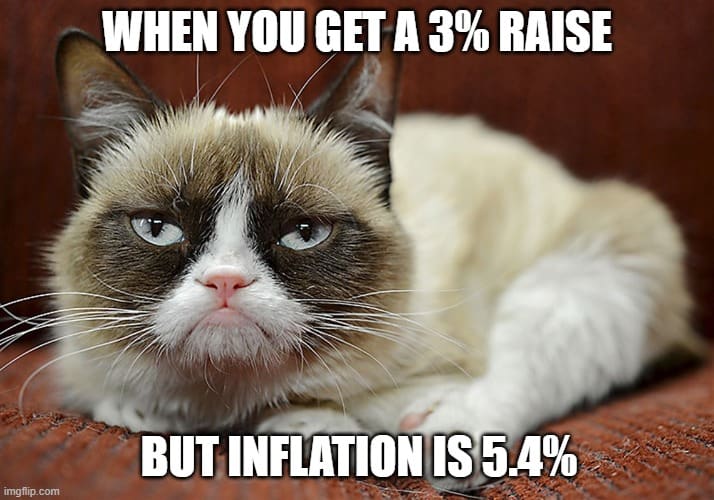 2021 has been the year of inflation fears, and the endless debate about it. Google even bears this out in their trends data, which shows search inquiries for both "inflation" and "hyperinflation" have been quite popular this year.
The thing is though, we can't seem to agree on the nature of this economic beast. Is it just reflation from the dip in 2020? Or maybe stagflation, as supply chain issues and labor shortages continue to grow? No one knows for certain, but we'll take a brief top-down approach here.
Set it up perfectly
When the Federal Reserve started buying up copious amounts of assets last year while also lowering interest rates, economists knew we'd opened the door inviting inflation fears into the room.
Combine this with extra stimulus to help prop up the economy and markets, and we've got the ingredients for a perfect storm. Many Americans were also able to save some of this money, forcing our personal savings rates to spike multiple times over during the last 18 months.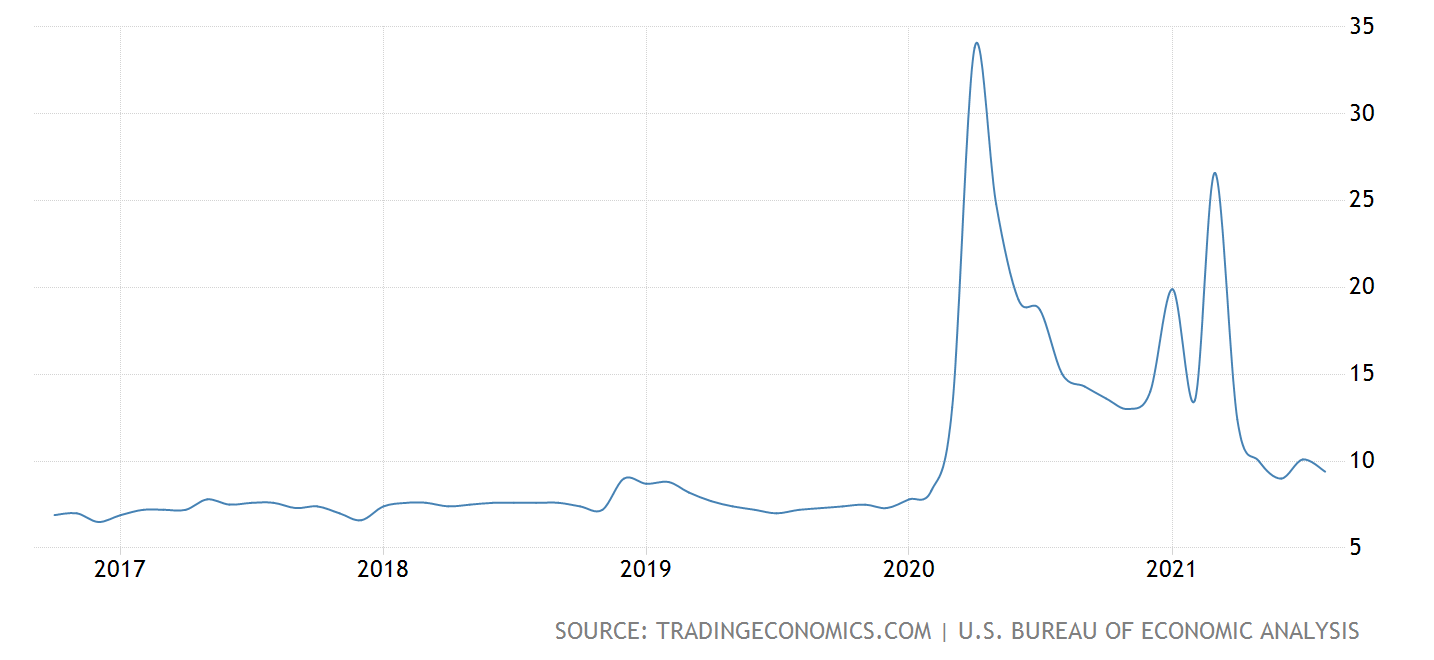 Addressing the concerns
If we only considered the facts above, it would seem we're in fairly dire straits and destined for some 1980s hyperinflation all over again. Fortunately though, there's more to the story.
Stagflation? Not really. Stagflation occurs when an economy undergoes a contractionary phase or a recession of sorts while inflation is also high, essentially worsening the issue. Various forecasts see the US economy growing about 6% in 2021. Normally, this number is in the 2-3% range, and in 2020, it was -3%. Supply chain issues? Maybe, but our current growth rate is on pace with "reflation" type expectations, and double the average.
Hyperinflation? Not quite. Hyperinflation is an out-of-control spiral of prices, with most definitions citing 50%+ month-over-month increases. The latest CPI data saw us at 5.4% higher than a year ago, with a 0.4% increase for the month of September. These are higher than normal figures, but not hyperinflation.
It is however worth noting that our CPI data does not include volatile sectors like food and energy, which is where some of the more problematic numbers lie right now, and this is a valid concern to monitor as crude prices jump and an energy crisis brews overseas.
Preparing accordingly
Stuff some extra in savings: If prices continue to rise more than expected, the cost of necessities like fuel and groceries will likely be some of the hardest-hit areas. Extra savings in the meantime can help cover the difference if those bills climb higher.
Shift some portfolio funds to less susceptible industries: Sectors with higher profit margins and more fixed vs. variable costs can be your new best friends. We're talking financials, healthcare, and other essentials that are less reliant on supply chains.
💡 Need a bite-sized refresher on what inflation means exactly? You're in luck, we've got one right here:

FINANCIAL FUTURE
Is Social Security fading?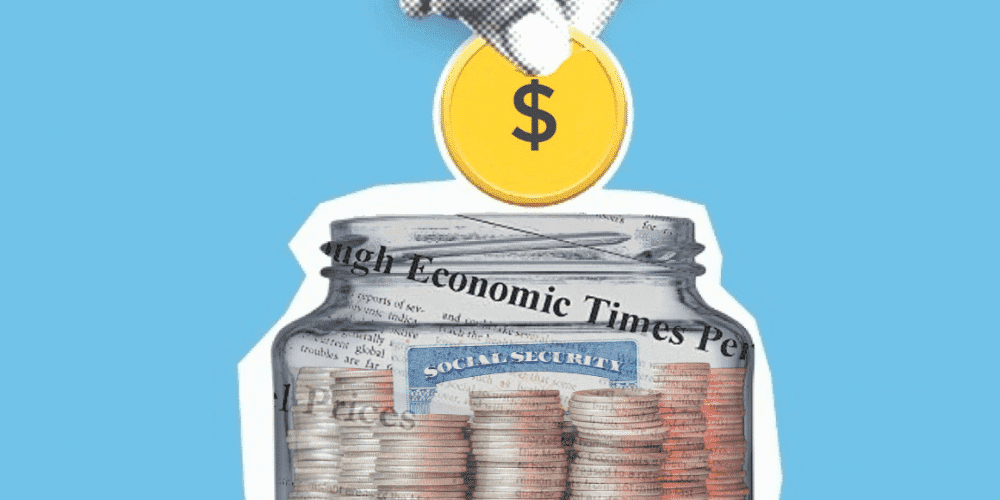 Social Security is something most Americans tend to support, and for good reason too. While many would undoubtedly reject a new idea because of identity politics, Social Security is a familiar face that Americans have grown to accept as it's supported many of our loved ones in retirement.
The system has its flaws though. It's aging and running out of money. We're having fewer and fewer children than we used to, the cost of living is rising, and employer retirement benefits that were supposed to supplement it are decreasing.
State of affairs
Social Security turned 86 this year, and it might be entering its last years of life if we don't adjust soon. It's funded by a payroll tax, which workers pay into as they earn income. And it's expected that the program's funds will be drained by about 2034, meaning this retirement income might not be there for most of us to fall back on.
Since 1983, the Social Security Trust Fund has operated under a surplus, but in 2021, it's on track to record a loss as funds are being depleted. As baby boomers start to retire, those receiving benefits will swell while those paying taxes will become a smaller percentage of the population.
Combine that reality with demographic challenges—the fact that Americans are having fewer kids and increased life expectancies—and we can see a definitive risk that the system will run short of money because less will be paid in than is paid out.
Resolutions?
Reconfigure the structure: There's a litany of proposed ways to do this, and the options come down to recalibrating one or multiple aspects of the system—from removing the earnings cap, raising the age requirements, to even offering buyouts.
Start from scratch: This one would likely be tougher to get passed on Capitol Hill, but then again, who knows what could happen in 12 years. The possibilities are endless here, and the customization even more so. We could construct an entirely new system from the ground up for the next generation of retirees if we really wanted.
Invest regardless: The best and most reliable resolution is to invest in your retirement no matter what's going on in Washington. If at all possible, max out your retirement contributions, maximize that employer match, add to your rainy day fund, keep adding to your portfolio... you know the drill.
💡 Need a review of employer-sponsored retirement plans? Learn how they work, why contributing matters and how you can optimize your contributions:

SPONSORED BY YIELDSTREET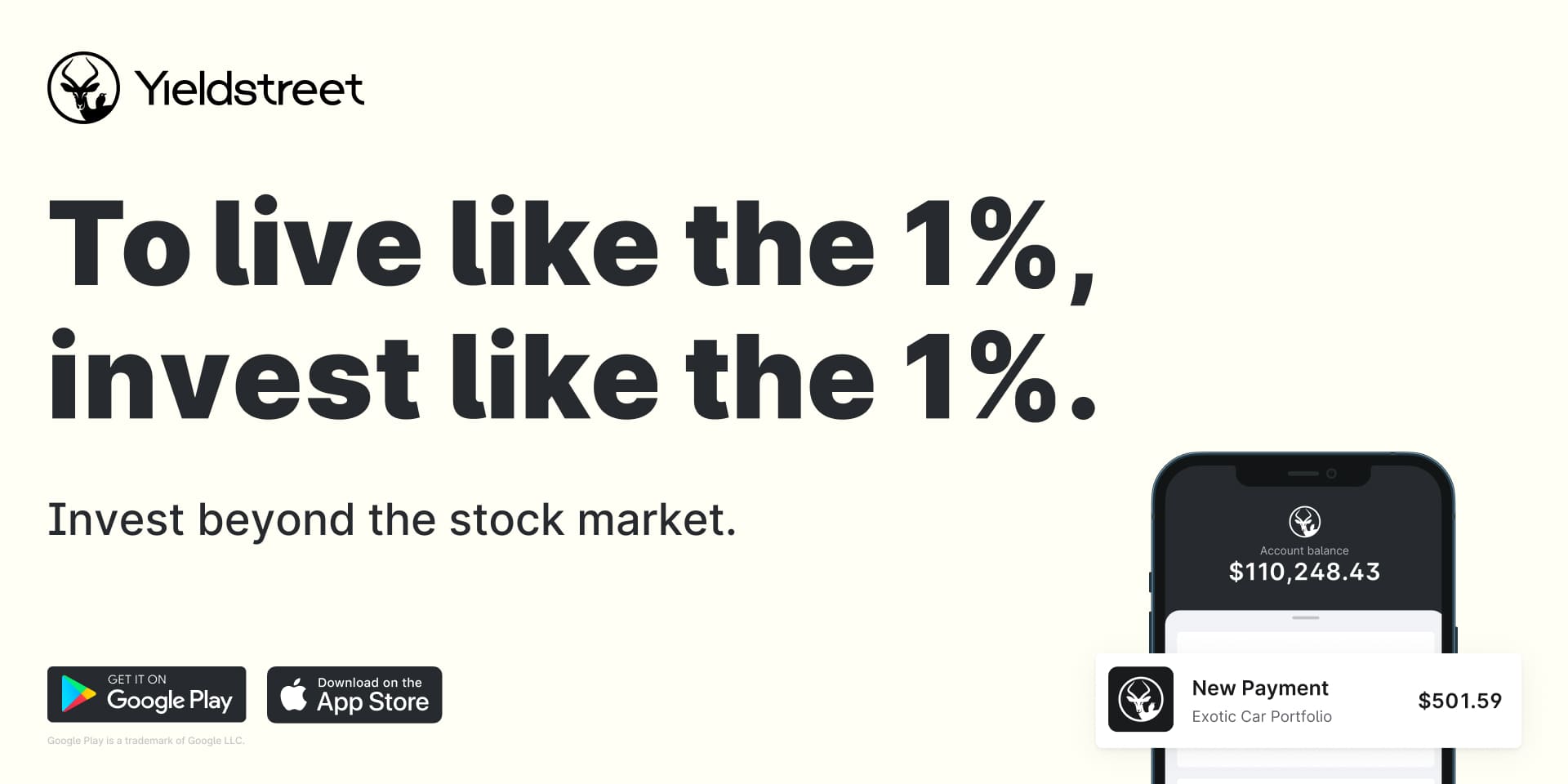 America is getting back to work. Wages are rising and asset prices are increasing, but interest rates remain at record lows with supply chain shocks disrupting markets left and right. With so much change happening around us, why would you stick to the investment strategies of yesteryear?
Enter Yieldstreet. Yieldstreet allows you to invest beyond the stock market with an evolving marketplace of alternative investments.
Invest in real estate, art, supply chain finance, legal finance, and more. Investment minimums start at just $500, aligning with Yieldstreet's mission to make alternative investing accessible for everyone.
Their community of 300,000+ members has invested over $2B on the platform, earning over $160M in interest and counting.
Here's the kicker: target annual yields typically range from 3%-18%, allowing you to shift into leisure mode while your money is positioned to work overtime.
MANAGING YOUR FINANCES
Debit or credit?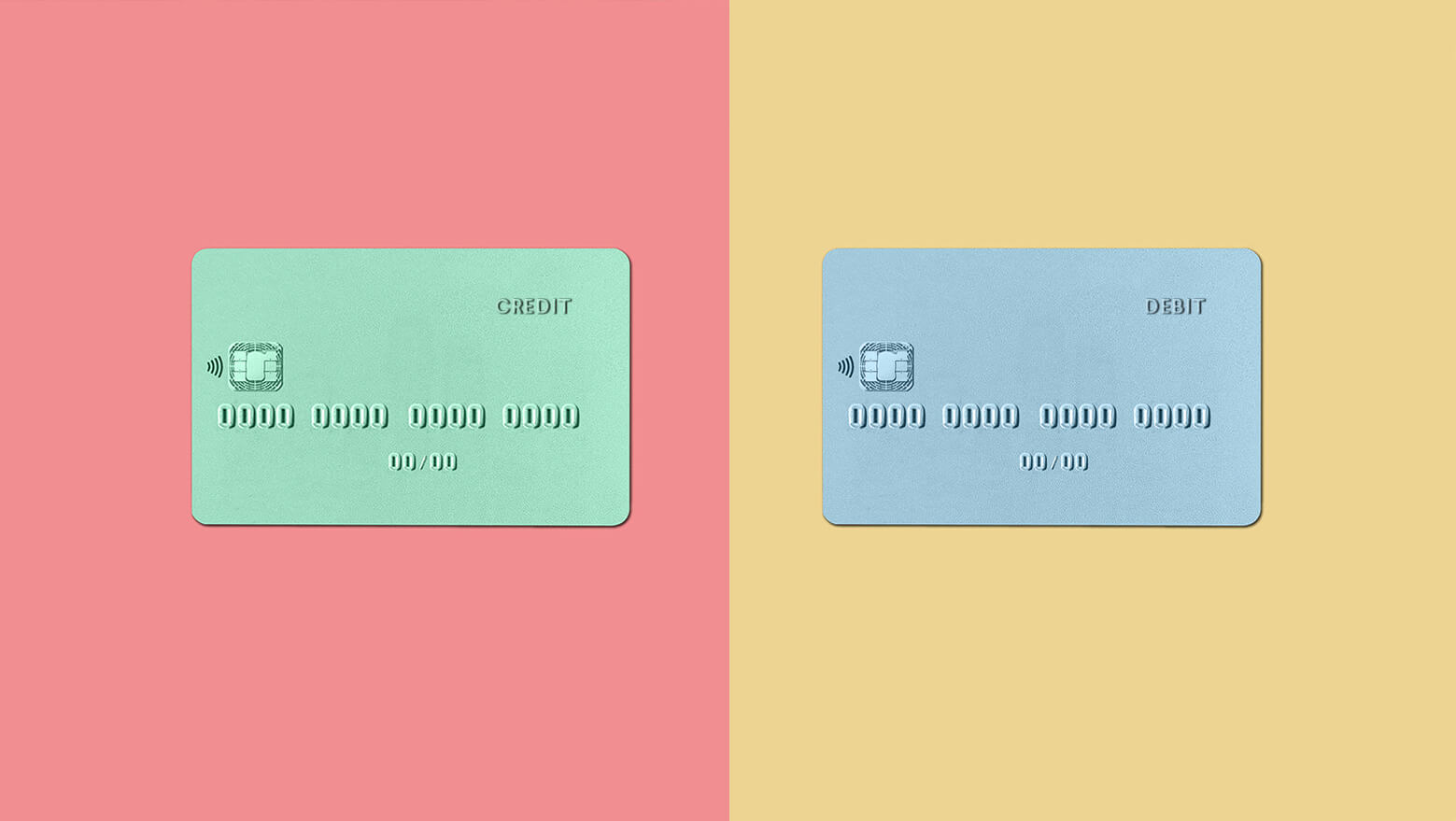 Debit cards have been around since about the 70s, and credit cards perhaps even longer. Their popularity and usefulness has undoubtedly increased exponentially since then though, and so has the divide between those who swear by either.
No matter which side you stand on, these two financial pioneers have almost single-handedly come together to crowd out cash lovers all together, and collectively tend to make up over 50% of purchases made.
So, which is better?
Consider responsibility first: Look, both are great, but credit cards are much easier to abuse, so debit cards take this one. If you trust yourself to not overspend money that isn't yours, credit cards can be a big asset to you and your credit score if used responsibly.
Security: Credit cards have this advantage over debit. They serve as a border between your personal money and the transaction and are much less stressful in the event of a stolen card or identity theft.
Benefits: Credit cards win again here, by offering benefits ranging from cashback to even phone insurance, it's clear that banks are willing to play ball just to get you to borrow money. (Hint: just pay it off before interest accrues.)
📊

ASHU'S CORPORATE CORNER
Today's Movers & Shakers
This commentary is as of 9:11 am EDT.
🌊

TRENDING ON FINNY & BEYOND
Answer: An employee will pay 6.2% of their wages towards social security. In fact, employers and employees each pay 6.2% of wages up to the taxable maximum of $142,800 (in 2021), while the self-employed pay 12.4% (SSA.gov)
America isn't running out of everything just because of a supply-chain crisis. America is running out of everything because Americans are buying so much stuff (Yahoo)
Finny quiz of the day. Does social security tax make you think about what else is being taken out of your payroll? Zoom into your paycheck to see how you can optimize what you take home:

How did you like Finny's The Gist today? (Click to vote)
Finny is a personal finance education start-up offering game-based personalized financial education, a supportive discussion forum, and simple stock and fund tools. Our mission is to make learning about all things money fun and easy!
The Gist is Finny's newsletter to our community members who are looking to make and save more money, protect their finances and be their own bosses! Finny does not offer investment or stock advice. The Gist is sent twice a week (Tues & Thurs). The editorial team: Austin Payne and Chihee Kim. Today's Movers & Shakers is brought to you by Ashu Singh.
*Sponsors or advertisers offer unique consumer services. We're thankful for their sponsorship to enable Finny to offer free financial education. Here's our advertiser disclosure.
If you have any feedback for us or are interested in sponsoring The Gist, please send us an email to feedback@askfinny.com.
Calling all personal finance creators and writers
Would you be interested in writing Finny Bites, fully attributed to you? If so, we want to hear from you: send us an email and we'll be in touch!