🧻 Overzealous demand for stuff
The Gist
Happy Tuesday. According to the Tax Policy Center (TPC), can you guess what percent of US households did NOT pay federal income tax in 2020? a. 21%, b. 41%, c. 61%. Check the answer in the "Trending" section below.
Here are the personal finance topics for today:
The game of tax: Using the tax code to your advantage
Overzealous demand for stuff—kinks in the supply lines
The next tech moonshots
TAXES
The game of tax: Using the tax code to your advantage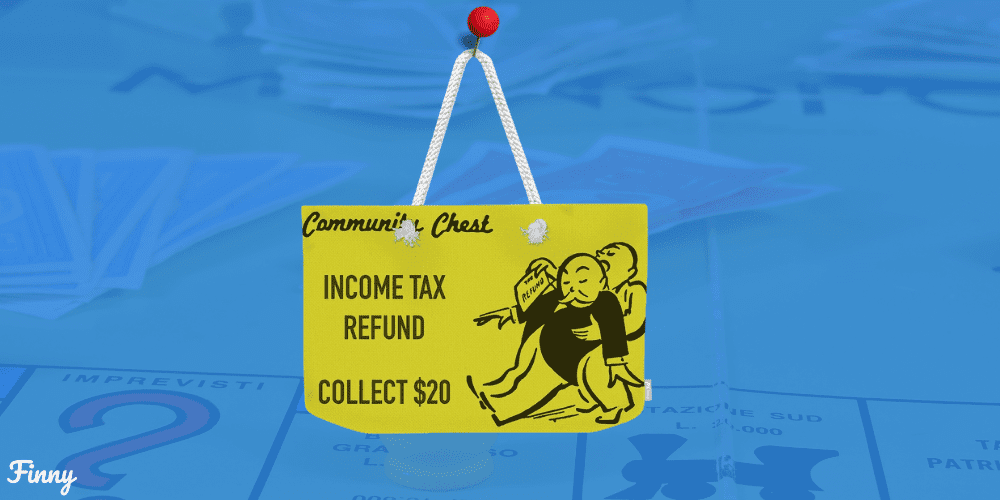 The 'Boston Tea Party' occurred almost 250 years ago in December 1773 when the loosely organized Sons of Liberty organization took to Griffin's Wharf to dump 342 chests of British East India Company tea into the Boston harbor.
In the eyes of American historians, this event remains a paramount example of the lengths we will go to pay less in taxes, especially those we disagree with. This maxim remains the same today as it was during the Revolutionary War, and in fact, the tax code even encourages it.
The evolution of taxes
Taxes in the United States haven't always been as complex as they are today. In fact, the federal income tax we're all too familiar with today (and also the most expensive form of taxation) wasn't formally established until 1913 by way of the 16th amendment. Other forms of tax followed suit, such as the gift tax, sales tax, and capital gains.
From there, taxes grew to become increasingly convoluted over time. In 1952, the highest marginal tax rate for an individual topped out at 92% and was still 70% through 1980. Since then, that number has continued to decline, and we now sit around pre-Great Depression levels.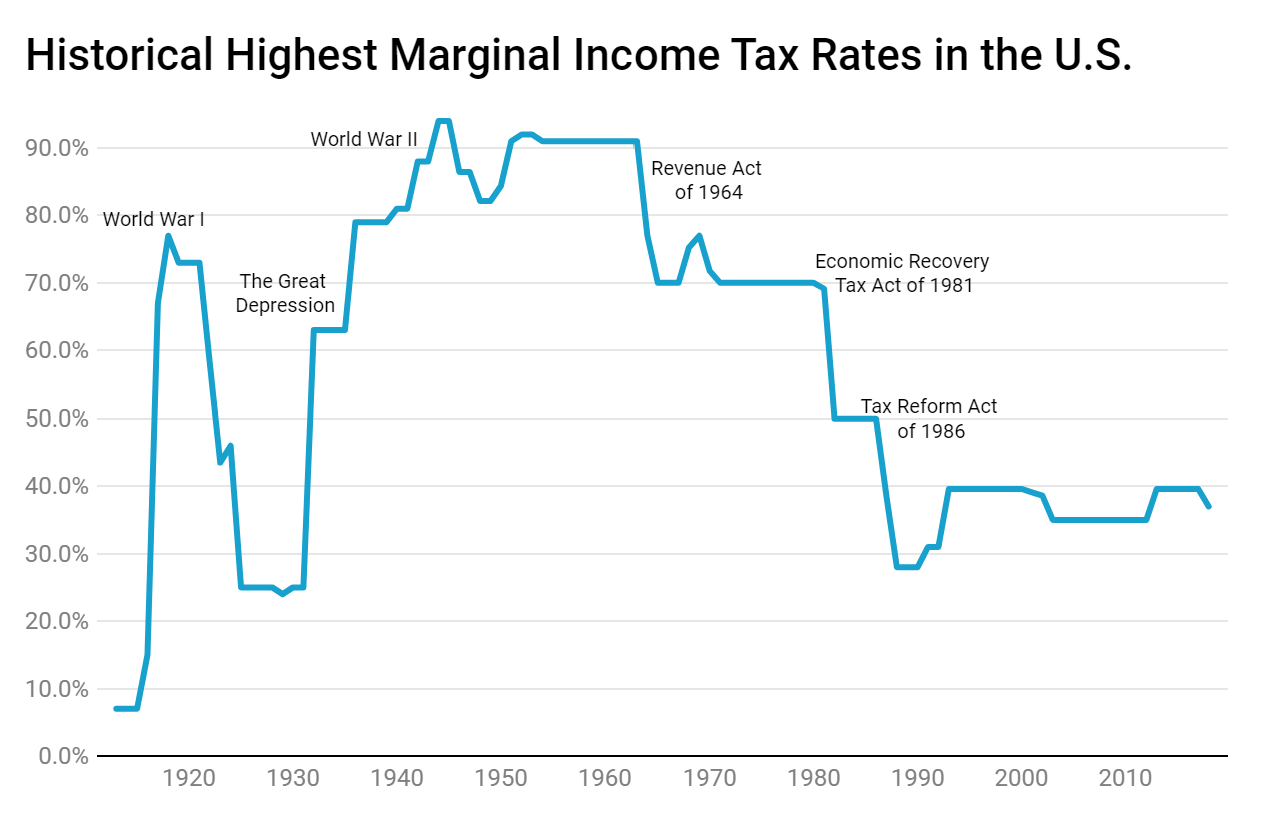 Source: Investopedia
Modern times—reducing your tax bill
All of this history leads us to today, where we have more complexities and nuances than ever. Taxes have become a weirdly necessary Rube Goldberg machine.
Despite their complications though, the tax code is trying its best to give us some breaks, and the more you know the more you save.
Tax-advantaged accounts: Hopefully you know them by heart now. The Roths, the 401ks, the 529, the HSA, and the like: All of these accounts are products of legislation providing exemptions and caveats in the tax code to help Americans save for retirement, healthcare or education, but they can save you money on taxes in a big way too.
Tax benefits for business owners: Despite the big names hogging most of the spotlight, about 99% of America's businesses are considered small businesses, so the tax code accounts for this. Being able to write off a litany of expenses that go toward producing a good or service and employing others is one of the most appealing aspects of becoming an entrepreneur.
Tax benefits of investing: Tax favors capital. Someone who is single making a $100,000 profit by selling their primary home would pay 0% tax on profits as long as they lived in the home for at least 2 of the last 5 years. Compare that to being in the 24% federal tax bracket on $100K earned from regular income or wages.
🤔 But what about taxes on other investments? Take this quiz to review capital gains and losses:
ECONOMY & MARKETS
There are still kinks in the supply lines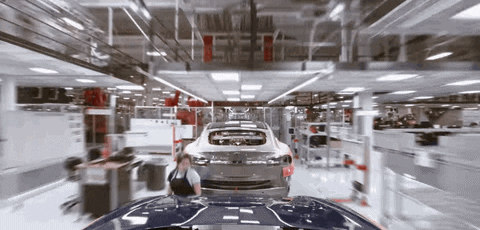 Even though the global pandemic began over 19 months ago now, we're still experiencing its ripple effects today. The world has fought back and rebounded to an extent, but the aftermath of Covid-19 and its variants has inevitably left us with lingering issues that impact the global economy.
Supply lines are one of these things. Although it's probably one of the most boring and monotonous headlines you read last spring, their understated value is becoming realized during pandemic-related bottleneck after bottleneck.
The current situation
A recent survey by Deloitte showed that 44% of CFOs reported seeing shipping delays cause at least a 5% increase in product pricing, while another 32% reported sales having fallen due to either shortages or delays.
A large portion of the supply lines many companies rely on runs through China, and as a result, many of these same CFOs are hoping to transition those supply lines elsewhere. In fact, 32% of those CFOs claimed they'd be working to reduce their reliance on Chinese sourcing, and 39% want to see their sourcing from North America increase as well.
Because of sporadic delays, extra lockdowns, shortages, and increasing prices, we're seeing a confluence of events create a sort of damning butterfly effect on supply lines. Shipping costs have increased over 13x from pre-pandemic levels, and container costs are nearing $10,000 in the US.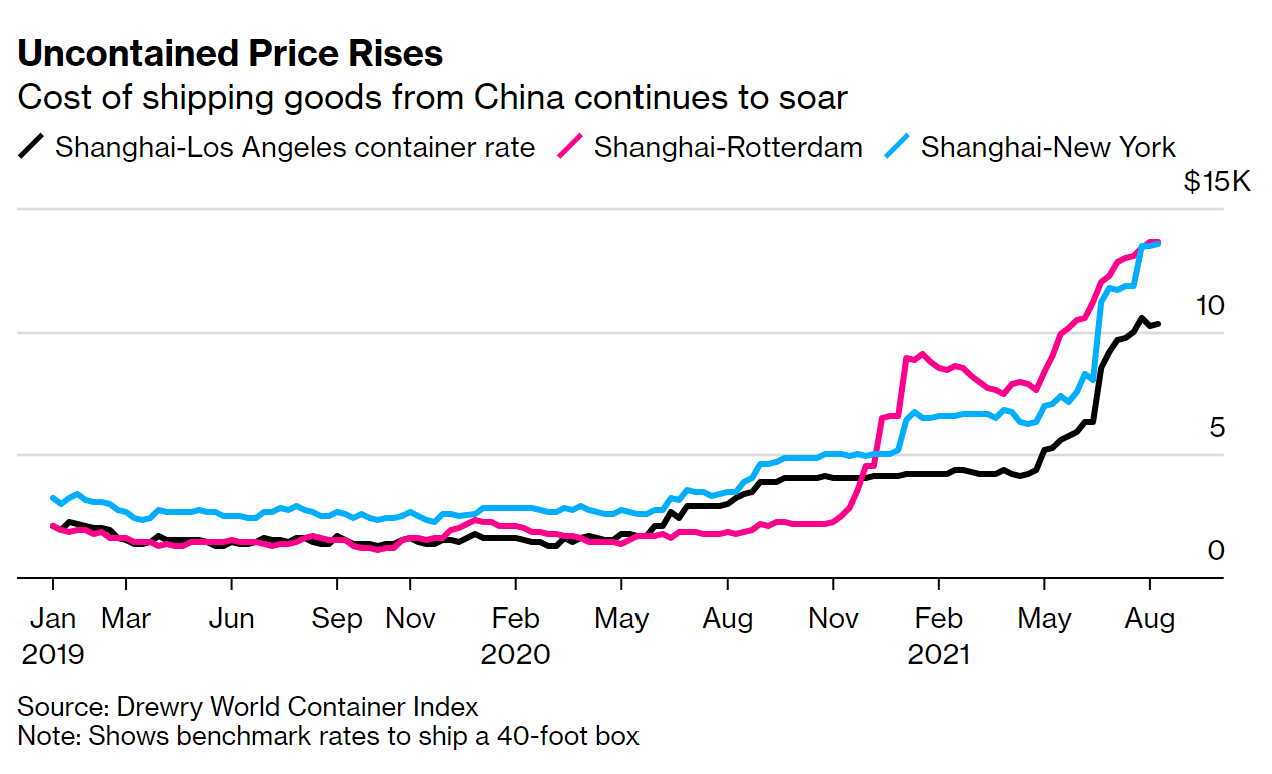 Source: Bloomberg
Zooming out
Productivity has rebounded and our attempts to return to normalcy have in turn revealed some true kinks in the supply lines. The pandemic might have been the starting gun, but the shipping race has gotten creative, and the problems it faces are now multifaceted.
Resurrecting and restructuring a global supply chain from pandemic lockdowns is not as simple as it seems. This massive piece of infrastructure is no sports car, and now labor concerns—talent recruiting and retention, burnout, morale, rising wages—are top-of-mind internal risks for this quarter.
SPONSORED BY VINOVEST
Time to diversify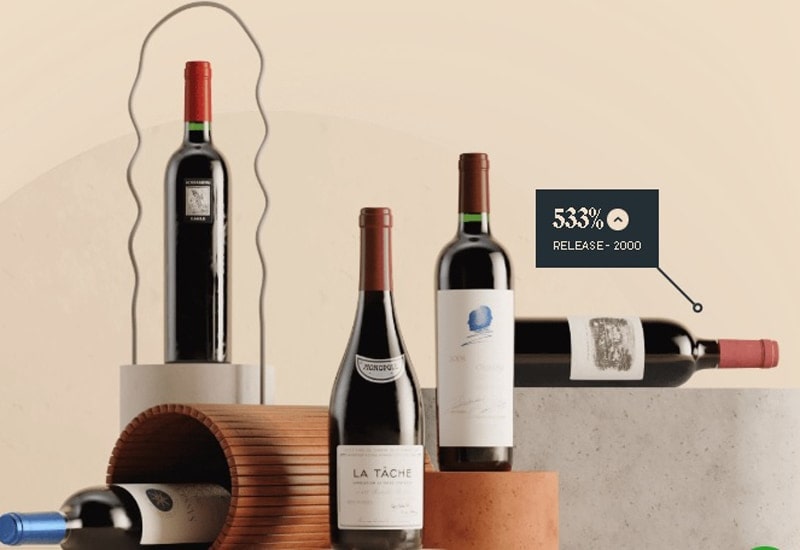 Investing in blue-chip wines used to be off-limits to everyday investors, as well-known auction houses like Sotheby's, Christie's, and Zachys were the ones to auction off fine wines to the wealthy. Not anymore.
With Vinovest, anyone and everyone can invest in fine and rare wines.
Here's how it works:
Investors buy fine wine early and hold on until scarcity value kicks in.
When vintages reach their peak, restaurants and the wealthy alike pay top-dollar at auctions to either serve or simply consume the finest bottles. Which means, early investors, stand to benefit. The average Vinovest client earned an average 17.8% return in 2020.
And Vinovest makes it easy—it works like any other financial services platform (like Fidelity or Robinhood).
INVESTING
The next tech moonshots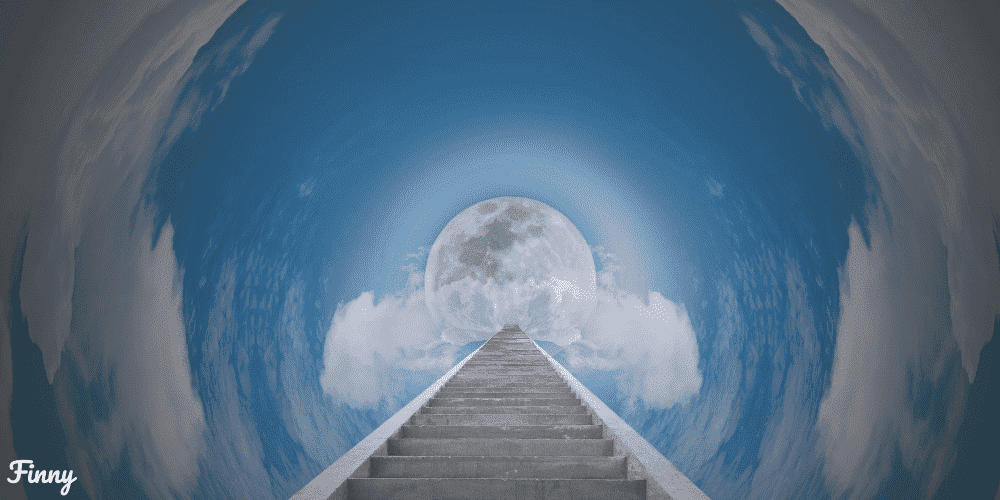 Hypothetically, you won't need to pick multiple stocks if you just pick the right one once. The right investment of enough cash in the perfect company could set a lot of people up for life, it's just that this rarely happens.
They say luck is the residue of design though, so even if our odds of picking the next Amazon or becoming the next Cathie Woods aren't great, educating ourselves on the future can certainly increase those odds.
Now, large institutional banks might be the last organization you'd suspect to help investors go to the moon, but Bank of America thinks otherwise, apparently. BofA put together a list of the next potential tech moonshots, and some of these sectors may surprise you.
So, here are a few genres for your watchlist:
Immortality: Far out as it might sound, this is on our scientific radar in 2021, and there are businesses working toward anti-aging and immortality-related projects. Is it likely to come to fruition anytime soon? Probably not, but if you bet on the right horse and it wins... you get the gist.
Synthetic biology: In line with the lofty goal of reducing mortality, synthetic biology is something that's already here and in use, but also growing too. It boasts a CAGR of about 22% and could be one of the most important sectors to the future of medicine.
Metaverse stocks: An expanded, more immersive version of the VR experience, companies specializing in metaverse technology have a pretty bright future ahead of them in the space.
ASHU'S CORPORATE CORNER
Today's Movers & Shakers
This commentary is as of 9:07 am EDT.
📈 TRENDING ON FINNY & BEYOND
Answer: About 60.6% of US households did not pay income tax in 2020—that's up from 43.6% in 2019, according to the Tax Policy Center (Tax Foundation)
As Costco brings back purchase limits on toilet paper and cleaning products amid supply-chain snags, it's renting 3 container ships and 'several thousand containers' to shield itself from supply-chain delays and rising costs (Yahoo)
Finny lesson of the day. Since we're on the topic of global supply chains, here's a more advanced topic (for those of you who've asked us for it) on the impact a strong vs. weak dollar can have on shaping the economy:

How did you like Finny's The Gist today? (Click to vote)
Finny is a personal finance education start-up offering game-based personalized financial education, a supportive discussion forum, and simple stock and fund tools. Our mission is to make learning about all things money fun and easy!
The Gist is Finny's newsletter to our community members who are looking to make and save more money, protect their finances and be their own bosses! Finny does not offer investment or stock advice. The Gist is sent twice a week (Tues & Thurs). The editorial team: Austin Payne and Chihee Kim. Thanks to Ashu Singh for Today's Movers & Shakers.
*Sponsors or advertisers offer unique consumer services. We're thankful for their sponsorship to enable Finny to offer free financial education. Here's our advertiser disclosure.
If you have any feedback for us or are interested in sponsoring The Gist, please send us an email to feedback@askfinny.com.