🚩 Sell in May
TOGETHER WITH

Happy Tuesday. Can you guess how many hours per year the average American spent commuting to work in 2019? a. 100 hours, b. 150 hours, c. 200 hours. See the answer in the "Trending" section below.
Here are the money topics we cover today:
Sell in May & Go Away. Evacuate the Market or Weather the Storm?
Dogecoin: Is Value Just a Matter of Social Proof?
The Evolution of Work. Post-Covid Implications for Careers
INVESTING
Sell in May and Go Away. Evacuate the Market or Weather the Storm?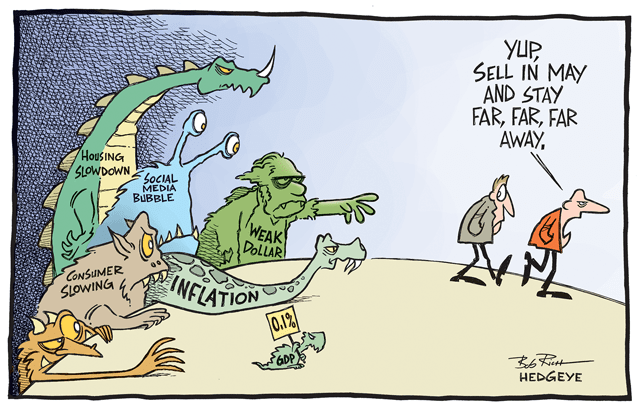 By Hedgeye
The idea of "sell in May and go away" seems to have been around since about the 1930s, likely originating in the UK and ending up as a shortened version of its root phrase. Despite its seeming absurdity and counterintuitive nature, this somewhat sarcastic advice actually has some ties with reality and data to back it up.
Why it's particularly relevant this year
Search volume for the phrase "sell in May" peaks every year right about this time, but this year, it's higher than ever.
Why is it so popular this year? Not only are we dealing with our classic May market misery, but it's coming on the heels of a historic 3-month bull market rager thrown by retail investors who get their investment advice from Stocktwits. Reality returned harshly in mid-February, and half of the market has been reeling ever since.
The case for selling in May
It seems like a joke on the surface because everyone knows the old adage that "time in the market beats timing the market" or the prophetic "stocks only go up" and of course, that they should always "buy the dip" by any means necessary, right? Well, a lot of that can be true, especially for long-term investors who could care less that they've lost over 50% on their Opendoor investment since February.
But, selling in May does have its plausible philosophy rooted in numbers. The month of May actually has the 4th best average for monthly stock market returns, sitting at 0.97%, but it's the months after May that give us cause to sell. Between June and September, investors could expect an average return of roughly -0.02%. Why does this happen? Though no one knows exactly, it's thought to be due to a lackluster volume during the summer months when most people take vacations.
June: 0.02%
July: 0.79%
August: -0.15%
September: -0.70%
Keeping a balanced perspective
That data was collected from 1980 to 2018 and is undoubtedly skewed by some particularly bad years like 1990, 2001, 2002, 2008, and so on. However, taking the risk of potentially losing an average of 0.02% is nothing compared to potentially missing out on some of the best days in the market.
Although the summer months may be historically less active or lucrative, the entire market is still unpredictable, meaning some of your holdings could have a massive catalyst gain on trading days that you could miss out on if you sold.
For example, if you invested $10K in the S&P 500 from Jan 1, 1999, to Dec 31, 2018, your investment would be worth $29,845 if you stayed fully invested. If you missed the top 10 days of performance over this 20 year period, your account would be worth $14,979. If you missed the top 30 trading days over this period, your account would be worth $6,316.
The takeaway. For swing and mid-term traders, summer may not be ideal. For everyone else? Day-traders will always find a penny runner to gamble on, and long-term investors will be better off holding. So, it depends on your strategy, finances, and portfolio composition as to whether or not it's a good idea for you to sell in May.
SPONSORED BY ON DECK INVESTING
Deepen Your Knowledge of Investing
If you're looking to take an informed approach to public investing, check out the On Deck Investing Fellowship (ODI). It's a 10-week remote program for investors who want to deepen their knowledge of public markets, sharpen their investing psychology, and accumulate practical tools for sustainable long-term wealth creation.
During ODI, you'll analyze drivers of investment returns across asset classes, dive deep into nascent markets like NFTs and crypto and build an investing strategy that fits your unique goals. You'll get to learn and hear directly from investors, finance strategists and industry leaders.
Mention The Gist in your application for an expedited review in advance of the June kickoff!

Thanks for supporting our partners!
INVESTING
Dogecoin: Is Value Just a Matter of Social Proof?
Dogecoin has given financial analysis an existential crisis. Why is something that was supposed to be a joke, and that has a potentially unlimited supply, making their investors rich? From a fundamentalist's perspective, Dogecoin is worthless with nothing going for it, but is that really the case?
Most would probably say no, but hey, why not? People value things that they love, but people value money because we think others do too. Some bought Dogecoin at four cents because it was objectively undervalued, and others bought it because they foresaw the potential for others to see value in it, and thereby profit from their perceived value when selling. Trends investing at its finest.
Fundamentals, indicators, and... social proof?
A popular outlook held by many is that if you're a real investor, you know the value of what you own because you did your due diligence on the company behind the stock, the strategy behind the fund, or... the purpose and use-case behind the crypto coin. You listened to all the earnings calls, voted, dug through the financials, and even read the 10Q while drinking some strong black coffee.
In fact, this is the mature, intentional, logical way to make a decision on what investments to buy and hold for the long haul. No matter how much their true value is subjective and dependent on social perception, the reality is that we have standards and expectations in place, and "real" value depends on those fundamentals in most cases.
So, just keep an open mind when it comes to what "value" means
Despite how valuable it is to understand a business and attempt to approximate its true worth on the market, we have to understand that even this is arbitrary.
It's fulfilling to do your research on a company and make a sound, informed decision to buy-in. You learn all about its business model, who's behind it, calculate their most important valuation ratios yourself, and even light up your chart like a Christmas tree with every indicator you've got. All that, just for some stock like $AMC to 10x for no real reason. That's the power of social proof.
Social proof is behind even the most logical investments
Imagine the most boring and consistent long-term investments out there. Think $SPY, Disney, Vanguard index funds, you name it. Why do they consistently hold value? In part, because investors perceive that they do and expect that they will continue to.
Think about how we attempt to objectively value any given stock or fund on the market. We approximate based on metrics and historical data, comparing it to what's traditionally been considered "average" or "good" or "safe." This isn't a problem, but simply how valuing market opportunities works. Growth and small-cap equities tend to be the biggest beneficiaries of the law of social proof, but you can still capitalize off of this as a long-term investor.
It's a bit scary to think everyone could one day just decide that their money would be better elsewhere, yet it's a reality. So stay in tune, up-to-date, and put yourself in a position to profit off of society's unpredictable and sometimes irrational emotions. Holding on to your strongest convictions for the long term is a good place to start.
CAREER
The Evolution of Work. Post-Covid Implications for Careers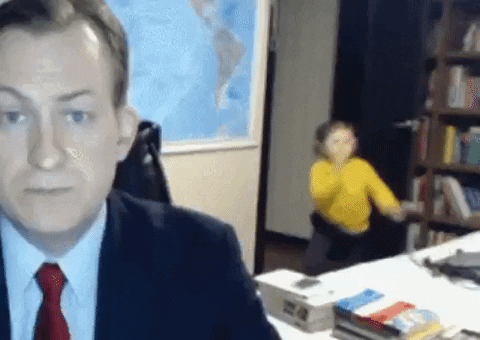 Giphy
Working remotely is something that's been a bit of a budding flower for years now following the advent of the internet and modern communication norms. Prior to the pandemic though, it wasn't really something that had become fully accepted as normal, and still more of a situational circumstance saved for specific jobs and industries.
The last year changed that though, and working from home has now become validated for a lot of careers across the country. This has been a big change for many and can have implications for both employees and those looking to be business owners of their own.
Here are some potentials impacts and tips for the future of work:
Employers can reduce overhead. While it's impossible to meticulously track everything that contributes to lower monthly costs, it's undeniable that working fully or partially remote can reduce a business's overhead. Lower HVAC costs, electricity bills, less admin support, downsizing and savings on office space, and the miscellaneous list could go on.
Employees are more productive. We don't often realize just how much time is wasted at a 9-5. Sometimes you're just there to be there, thanks to office politics and bureaucracy. Many of us have become more efficient and productive working remotely thanks to little to no commute time, feeling more connected to our immediate families or loved ones as a result, and in more control over our schedules.
Happiness increases. Although sometimes going into work can be a pleasant experience if you love your co-workers and the social interaction, a mixed work environment of both home and office can benefit everyone. A bit more freedom is almost always good for the soul, and working remotely allows employees the flexibility they desire.
Interactions and exposure matter. Communication skills are probably more important now than ever before. Ask your manager for feedback, stay engaged on video calls, find ways to broaden your career network, attend virtual networking events, and be cognizant about how you're showing empathy and flexibility as we continue to hobble through 2021 and a forever-changed work environment.
ASHU'S CORPORATE COLOR
Today's Movers & Shakers
This commentary is as of 1:30 pm EDT.
✨ TRENDING ON FINNY & BEYOND
ANSWER. In 2019 the average American spent 200 hours a year commuting to work! Assuming a 40 hour work week, that's 5 weeks spent communting in a year. The case for letting people work from home forever (Wired)
Why some employees are quitting the 9-to-5 to be their own boss during the pandemic (CNBC)
Is the housing market reaching its climax in the post-pandemic world (Fortune)
Don't underestimate the power of kindness at work (HBR)
Finny lesson of the day. Since we're on the career theme today, learn some new ways to negotiate your salary in 5 quick minutes:

How did you like Finny's The Gist today? (Click to vote)
Finny is a personal finance education start-up offering free, game-based personalized financial education, a supportive discussion forum, and simple stock and fund tools (aka Finnyvest). Our mission is to make learning about all things money fun and easy!
The Gist is Finny's newsletter to our community members who are looking to make and save more money, protect their finances and be their own bosses! It's sent twice a week (Tues & Thurs). The editorial team: Austin Payne and Chihee Kim. Thanks to Ashu Singh for Today's Movers & Shakers.
*Sponsors or advertisers offer unique consumer services. We're thankful for their sponsorship to enable Finny to offer free financial education. Here's our advertiser disclosure.
If you have any feedback for us or interested in sponsoring, please send us an email to feedback@askfinny.com.
Copyright © Finny 2021. All rights reserved.
736 Paloma Ave, Burlingame CA 94010