☂️ Shelter in an unprecedented market
TOGETHER WITH

Happy Tuesday. Can you guess what people with 800+ credit scores have in common? Check the answer in the "Trending" section below.
Here are the money topics for today:
Seeking shelter in an unprecedented market
FICO may be losing its lead
Is it still worth it to rent?
To ensure you are getting The Gist every Tuesday and Thursday, please move it to your primary folder (Gmail), or add it to your VIP (Apple Mail) or favorites (Outlook)!

INVESTING
Seeking shelter in an unprecedented market
The stock market is ever susceptible to news and world events—we see this every single day. Within the last year and a half though, it's been a historical confluence of events and speculation coming together to create a market that can't agree on much of anything for now.
Certain investors and traders may have gotten lucky in the rough seas of the 2021 market, while all the other passengers aboard are seasick. Sure, there are a lot of ways to profit in the market even in unprecedented times like these, but most investors don't like the uncertainty and speculation that goes with it, and they're seeking some metaphorical shelter.
What are they worried about?
Inflation. In June alone, CPI data showed a 0.9% increase overall and 5.4% for the last 12 months. Despite the fact that this was expected considering the dip our CPI index took in 2020 (1.4%) and is likely transitory, there's still some understandable fear created by news like this. Inflation threatens stocks because it usually precedes rising interest rates, which is a contractionary policy no matter how necessary.
Covid variants. We didn't just rid ourselves of the pandemic forever when the vaccines rolled out. Only about 50% of the country is fully vaxxed, and new variants of the virus are making their rounds. This poses a familiar threat to the economy again, and some investors are concerned.
Tax code changes. Despite the fact that the US already has one of the most favorable tax infrastructures in place for businesses and innovation, any potential threat to that haven can spook investors when the headlines start rolling.
Student loan crisis, labor shortages, general shortages, a hot housing market, and we could go on. The market is a social sentiment machine, and with this many metaphorical irons in the economic fire. All it takes is one domino to fall to start seeing a lot of red, as we've witnessed in Q2.
So where's the shelter?
Investors who are a bit more measured and conservative than the profit hunters out there want a safe place to park their money where it can grow for the long-term, weathering the volatility of 2021 as much as possible.
Here are a few high-level ideas:
ETFs and index funds: Steering clear of individual stocks is probably one of the safer ways to invest in the market without investing in stocks directly, per se. An ETF or an index fund can give you broad, diversified, and long-term exposure to the market, without the inherent risk involved with holding specific stocks. If you're a newbie, consider the simple 3-fund ETF portfolio. Don't wait for the dust to settle either because timing the market is impossible. And as we say over and over again here at Finny, time in the market is what matters.
Quality matters: For those still looking for specific stocks and exposures outside your core holdings, look to high-quality companies and investment-grade bonds, which have historically seen smaller losses during down markets than lower-quality stocks or bonds.
Play defense via low volatility strategies: Considering investments with low or minimum volatility traits into a portfolio may mean smaller price drops in down markets but more muted gains in up markets. But remember that such a defensive strategy may reduce losses in a down market but it won't eliminate losses altogether. By playing defense, you'll face tradeoffs.
📚 Want to learn how to better evaluate stocks? As you do your DD (due diligence), learn about what Fundamental Analysis is:
CREDIT SCORE
FICO may be losing its lead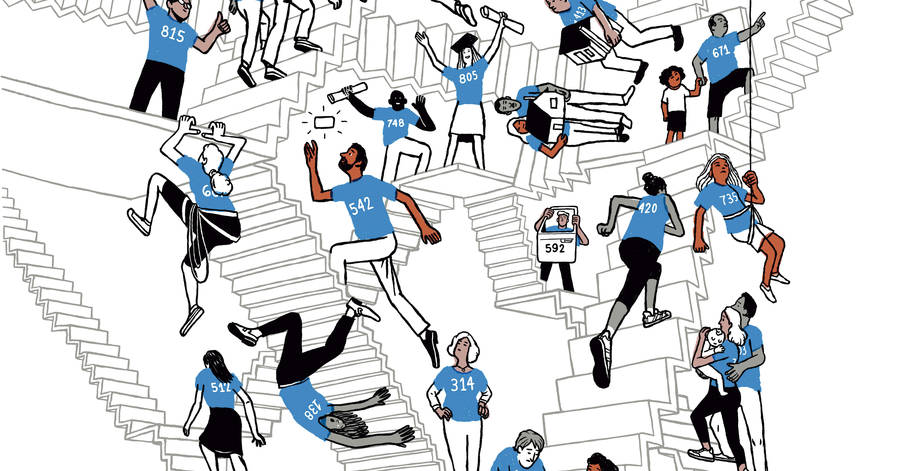 Image source: WSJ
Between your net worth, retirement savings, and credit score, there are a lot of important financial numbers to keep up with in your adult life. However, much of your ability to acquire assets and be seen as financially healthy revolves around one number even more so than the rest: your credit score.
One credit scoring system, the infamous FICO, has seemed to lead the pack for multiple decades now. Why? Largely due to its simple yet complex method of aggregating all seemingly relevant credit data into one, nicely-weighted end number between 300 and 850. Simple is good, but one can argue that it's outdated in a way that may be exclusive, and the holes in FICO's scoring algorithms may be starting to eat into its lead.
A brief history of credit scores and FICO
Before credit scores, lenders relied more on social proof, word of mouth, and maybe sometimes documentation of payment history or bank statements. Essentially, manual underwriting was the standard.
In 1954 though, Bill Fair and Earl Isaac came together to create Fair, Isaac and Company, which makes up the acronym FICO. Their goal was to create a standardized mathematical way of calculating a borrower's creditworthiness, and ultimately to help lenders discern the risk assumed by lending to them. FICO considers payment history, amounts owed, length of credit history, new credit and credit mix in its scoring model.
The other individual credit bureaus that collect their own respective data on consumer credit have been around since 1899 when Equifax was founded, followed by TransUnion in 1968 and Experian in 1996.
The shift
FICO is slowly losing its strong grip on the market after decades of dominance. Lenders are more and more looking towards a broader variety of data than just a FICO score in an effort to evolve and be more inclusionary. The current FICO data may also be influenced by generational wealth, such as inheriting wealth through homeownership, that many under-represented borrowers don't have equal access to. And as it stands today, 53 million Americans lack any FICO score whatsoever due to a lack of sufficient credit history, amplifying inequalities.
Instead of using past behavior to predict future repayment behavior, researchers suggest credit scoring models should also look at cash flow and payment history on rent and utilities.
Nonprofit data testing center, FinReg Labs, analyzed cash-flow underwriting, which is based on how much money is in your bank account every day over the year. The results showed that it was more predictive than traditional FICO scoring and that using both the FICO score and cash-flow underwriting together offered the most accurate predictive model.
Capital One and Synchrony Financial don't use FICO anymore in most cases when it comes to consumer loans, and other large institutions like JPMorgan Chase and Bank of America are expanding into more underwriting-like practices as well, like looking at consumer's habits of paying phone bills or magazine subscriptions.
📚 If you want to understand exactly what goes into your FICO credit score, take this simple bite-sized lesson on it:
SPONSORED BY SANEBOX
Does your email inbox give you anxiety?
According to Psychology Today, email is one of the most common social anxiety triggers. If this is you, you're not alone, and SaneBox can help.
With its personalized algorithm, SaneBox helps you manage your email life so that you control your inbox and it doesn't control you.
Lessen your email anxiety now! Redeem $25 off SaneBox now.
REAL ESTATE
Is it still worth it to rent?
During the month of May, the rate of renting a single-family home was up 6.6% compared to just a year ago. This was just the average though. Phoenix's rental rates were up 14%, Dallas at 9.6%, and Atlanta up 8.9%.
That average increase was the highest jump we've seen since 2005, and with inflation fears only continuing to rise, it does beg the question, is it still worth it to rent?
The short answer: it depends.
The housing market is hot, so it might make sense to hold out if you already have an okay deal on rent or to keep renting if you plan on moving in the future too. There is a litany of situational factors that play into deciding whether to rent or buy, so here are a few more things to be mindful of:
Map out your future: Do you plan on living in this area for a long time, see yourself settling down and having a home there? If so, it may be time to think about buying as soon as possible depending on the housing market in your area. If not, finding the best deal on rent may be your ideal route.
Know your values: Although it matters a lot, money isn't everything. If you're someone who doesn't want to live in one place for long, renting might be your thing. If, on the other hand, you value homeownership or just like the idea of owning land, then setting yourself en route to this goal is for you.
If the future is unknown: It's not easy to just figure out what you want the rest of your life to look like, nevertheless to gather up the funds to do it asap. If you don't know what the future holds, then renting might be the best thing for you right now, and you can use some other tricks to get the best deal possible. (Longer leases, referral renting, roommates, move, etc.)
ASHU'S CORPORATE COLOR
Today's Movers & Shakers
This commentary is as of 9:29 am EDT.
✨ TRENDING ON FINNY & BEYOND
ANSWER. People in the 800+ credit scores don't miss their payments, which aligns with the fact that payment history is the most important factor of a FICO credit score (wtop)
The best and worst cities to live without a car (NYT)
Finny lesson of the day. If you want to dig a bit further into whether it makes sense to buy vs. rent, take this bite-sized lesson:
How did you like Finny's The Gist today? (Click to vote)
Finny is a personal finance education start-up offering free, game-based personalized financial education, a supportive discussion forum, and simple stock and fund tools (aka Finnyvest). Our mission is to make learning about all things money fun and easy!
The Gist is Finny's newsletter to our community members who are looking to make and save more money, protect their finances and be their own bosses! Finny does not offer investment or stock advice. The Gist is sent twice a week (Tues & Thurs). The editorial team: Austin Payne and Chihee Kim. Thanks to Ashu Singh for Today's Movers & Shakers.
*Sponsors or advertisers offer unique consumer services. We're thankful for their sponsorship to enable Finny to offer free financial education. Here's our advertiser disclosure.
If you have any feedback for us or are interested in sponsoring The Gist, please send us an email to feedback@askfinny.com.
Copyright © Finny 2021. All rights reserved.
736 Paloma Ave, Burlingame CA 94010