🚙 Tax credit for your next car purchase
TOGETHER WITH

Good day. Can you guess what percent of total US car sales in 2020 went towards the purchase of electric vehicles (EVs)? Check the answer and how the US stacks up against the world in the "Trending" section below.
Here are the money topics for today:
Buy more stocks when the World Series starts?
A bigger tax credit for going electric
Busting a few myths about the cost of homeownership
INVESTING
Buy stocks when the World Series starts?
Remember when we talked about selling in May and going away? Although there's no consensus on that idea, the summer months are still a notoriously dry time in the markets when you look at the historical data from 1980 to 2019. And we're about to enter into the worst two calendar months in terms of average return.
Although June and July rank 10th and 8th overall by average return, August and September sit at the bottom at 11th and 12th. August averages a monthly ROI of -0.15%, and September, a -0.70% return. These are the only two months of the year that bring negative average returns, historically speaking.
Wait in the dugout?
Scott Minerd, Guggenheim's Global Chief Investment Officer, has some not financial advice for us though, as he was quoted by Bloomberg as suggesting that "once the Dodgers are at the opening game of the World Series (October 26th)... you'll be able to buy" US stocks. His comments prior to that alluded to a possible pullback of about 15% or so in the US stock market.
But is investing around the timing of the World Series really a viable plan? Here are some numbers and considerations:
Risk factors for stocks ahead: A potentially quick tapering of asset purchases (usually Treasuries and mortgage-backed securities) from the Federal Reserve and the increasing spread of the delta variant are major risk factors for the US market. The Fed's motivation for tapering is to remove the monetary stimulus it has been providing the economy. Tapering usually begins when the economy has made substantial progress towards its goals.
Averages aren't everything: Last year, August saw the S&P notch its highest gain seen in 34 years at over 7% for the month. Although yes, 2020 was a weird year, the market also added 3.5% between August & September in 2018, and another +2% in 2017 as well. Moral of the story? Every year, month, and even day can be a market of its own.
For the long-term investors, a few hits win the game: If you invested $10,000 in the S&P 500 on January 1st, 2000, and missed the ten best days in the market between then and December 31st, 2019, you'd be missing out on over $16,000. A fully invested $10k for the whole two decades would have yielded over $32,000. The lesson? Time in the market, not timing the market, is what matters.
CARS
A bigger tax credit for going electric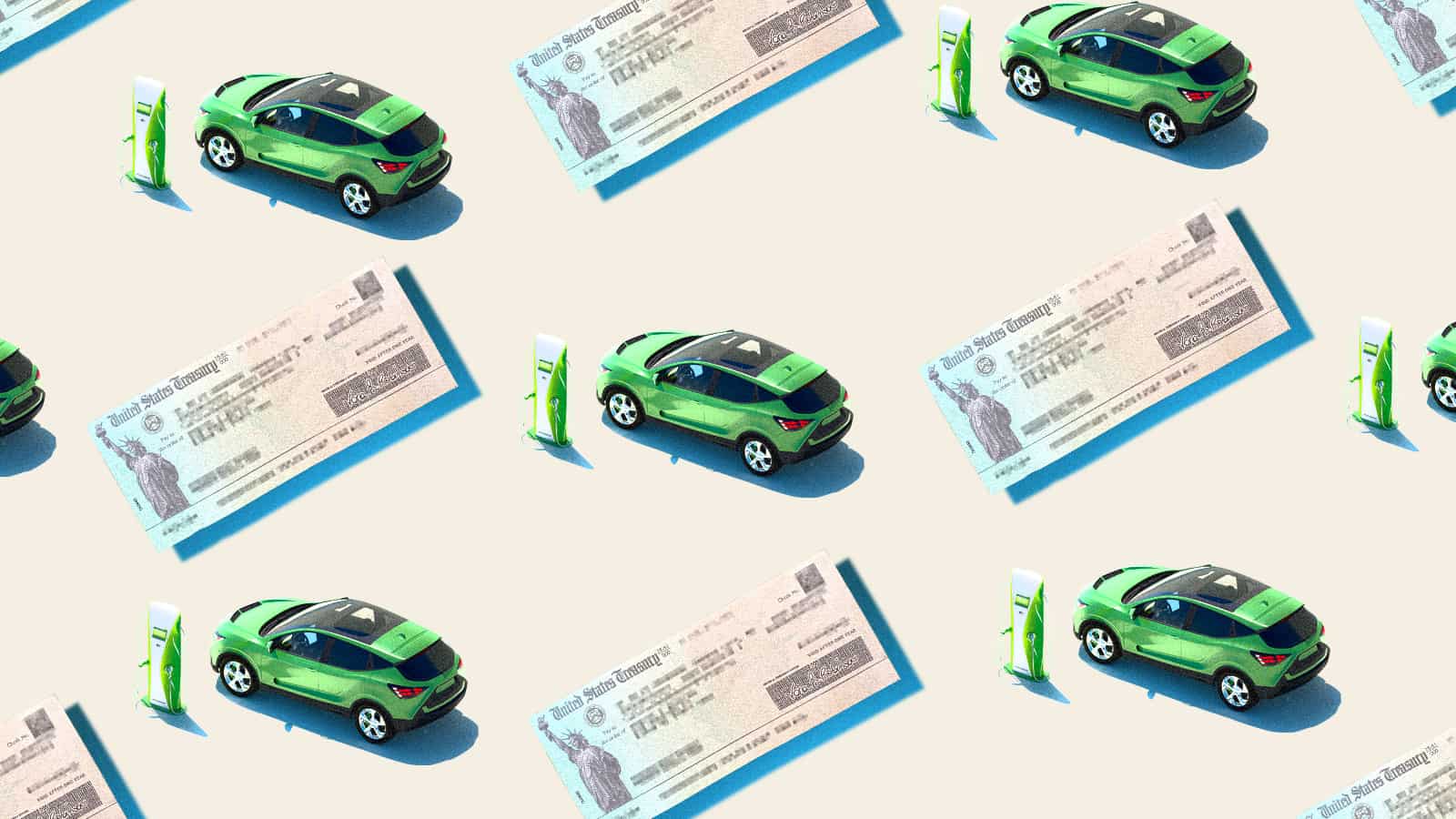 Image source: Grist
Sometimes in order to make room for the new, we have to move on from the old, and cars are no exception to that rule. America has made great progress in the EV (electric vehicle) market over the last couple of decades, but still remains a traditionalist nation in certain respects, and it shows in our reluctance to give up on gasoline vehicles.
Nevertheless, "I'm from the government and I'm here to help" is out in force to assist in persuading Americans to make the switch and go electric as soon as possible, mainly by way of tax credits. This caveat has been resting quietly in our tax code for a while, but now, there are a few noteworthy changes being proposed to make EVs more financially appealing.
So what's being proposed
As it stands. The current rebate for qualifying EV purchases is $7,500, but there are caveats. If your tax bill is less than that, then the rebate only covers up to what you owe, it does not roll over for the next tax year. On top of that, not all vehicles are eligible for the full $7,500, and whether they are or not depends on battery size.
Senate Bill 1298 or The Clean Energy for America Act addresses a lot of infrastructure and energy-related issues, with EVs being just a small part of it. In May, the bill progressed out of the Senate Finance Committee on a classical party-line vote split down the middle. So now... we wait, of course.
Proposed change #1. The bill would place a cap on the cost of the electric vehicle purchases at $80,000, effectively eliminating several Tesla models and various other EVs from luxury brands.
Proposed change #2. The full $12,500 credit would only be for qualifying vehicles that meet two extra criteria, which are that they were firstly, made in the US (+$2,500), and then made at a unionized factory in the U.S. for another +$2,500 credit. Everyone else gets the standard $7,500.
Proposed change #3. The new rebate could be converted into a refund if the buyer of the qualifying EV owes less in taxes than they had qualified for with their rebate. So, if you qualified for the $10,000 rebate but only owed $6,000 in taxes, you'd get a $4,000 refund.
SPONSORED BY CROWDSTREET
Get access to institutional quality real estate through crowdfunding
Adding real estate to your portfolio can be a smart move to your investment portfolio.
Enter CrowdStreet—within their Marketplace, investors have access to dozens of deals across every asset class and risk profile, allowing them to choose the right investment opportunity for them and their portfolio.
That's why experienced accredited investors invest in properties directly through platforms like CrowdStreet.
Since 2014, they've launched more than 470 deals, and investors have committed more than $1.84 billion in capital, earning nearly $200 million in distributions.
Accredited investors can review and directly invest in individual deals in the Marketplace. Investors can invest directly into the project of their choice, not a fund that picks assets for you.
Each deal, and the sponsor behind them, undergo a comprehensive review process for inclusion on Crowdstreet. They share all that information with investors.
The result? Some of the highest deal flow volume of any online real estate investing platform!
Get direct access to individual commercial real estate investment opportunities.
REAL ESTATE
Busting a few myths about the cost of homeownership
Homeownership is a topic of contentious debate for members of all generations, with the main talking point being in regards to whether all the responsibilities and costs are worth forking over that much cash and commitment to obtain homeowners' status.
It's a valid concern and one that may be keeping some prospective homebuyers out of the market for the moment, especially considering the hot housing market status within plenty of local municipalities right now. Nevertheless, some of this worrying seems to be a bit overdone, and maybe just the result of the fear instilled by the pessimistic financial headlines we've seen over the last year and a half.
Here is a look at some commonly held misconceptions about homeownership.
People underestimate how much home they can afford: This is likely due to the commonly circulated concept that you need to put 20% down on the home you're buying, which is not the case. Although 20% or more down will keep you from needing private mortgage insurance (PMI), the minimum for a conventional loan is actually just 3%, and the average down payment is 15%.
Most also underestimate appreciation rates: Although there is no consensus appreciation rate tied to inflation or something that determines the future value of your home, property as an aggregate has always appreciated. The average $300,000 home would be worth $444,000 just one decade later, assuming a 4% average annual inflation rate. Equity can come at you quickly sometimes, and that can make the cost of homeownership feel a lot lighter.
People believe that renting is cheaper than buying: Freddie Mac's survey finds that 80% of renters assume renting is cheaper than buying. (Think they may be a bit biased?) In reality though, about 34% of renters will spend more than a third of their income on rent, as compared to just a fourth for homeowners on their mortgages.
📚 Take this bite-sized lesson if you have interest in digging into some of the mistakes to avoid when buying a home:
ASHU'S CORPORATE COLOR
Today's Movers & Shakers
This commentary is as of 9:22 am EDT.
✨ TRENDING ON FINNY & BEYOND
ANSWER. In each of the past three years, EVs accounted for about 2% of the U.S. new-car market. Today's electric vehicle market: Slow growth in U.S., faster in China, Europe (Pew Research Center)
People flocked to these US metros during COVID-19 (Yahoo)
Finny lesson of the day. With all this funny talk about selling in May and investing in October, let's review some Investing Fundamentals, shall we?
How did you like Finny's The Gist today? (Click to vote)
Finny is a personal finance education start-up offering free, game-based personalized financial education, a supportive discussion forum, and simple stock and fund tools (aka Finnyvest). Our mission is to make learning about all things money fun and easy!
The Gist is Finny's newsletter to our community members who are looking to make and save more money, protect their finances and be their own bosses! Finny does not offer investment or stock advice. The Gist is sent twice a week (Tues & Thurs). The editorial team: Austin Payne and Chihee Kim. Thanks to Ashu Singh for Today's Movers & Shakers.
*Sponsors or advertisers offer unique consumer services. We're thankful for their sponsorship to enable Finny to offer free financial education. Here's our advertiser disclosure.
If you have any feedback for us or are interested in sponsoring The Gist, please send us an email to feedback@askfinny.com.
Copyright © Finny 2021. All rights reserved.
736 Paloma Ave, Burlingame CA 94010