🎩 Tech's favorite game
TOGETHER WITH

Happy Tuesday. Let's get right to the personal finance topics for the day:
The tech industry's favorite board game: Monopoly
Prenups: Worth suggesting to your partner?
Things to remember before tapping into your home equity
TECHNOLOGY
The tech industry's favorite board game: Monopoly
We've made some leaps and bounds in terms of our technological advancements over the last century, and some exponential jumps over the last few decades. These gains have undoubtedly been a net positive for the whole world, and we don't know where we'd be today without the internet and all of its respective derivatives.
Innovation is amazing, but it's also a lot of other things too. One of the biggest hurdles is just how capital intensive the tech industry is, and this has resulted in a bit of a monopolistic clique.
Go to jail?
Earlier this month, legislation in the house introduced a bipartisan proposal to force some major players in the tech field to be "broken up" so to speak. Companies like Amazon, Alphabet's Google, Apple, and of course Facebook would be among those impacted.
The bill would essentially require the companies to be split in one way or another or somehow rid themselves of their proprietary private-label products. How exactly they would go about doing this or enforcing it is unknown as of yet, and will certainly be an elongated process, but the bill nevertheless has a shot at passing due to its bipartisan nature.
Their argument is pretty simple. They want a free market, but the free market is inherently oxymoronic without regulation to some degree. An unchecked business landscape would result in an oligopoly, a state we may already be in. The case that companies with the best products always win doesn't totally stand up either, since in reality, winners are those companies with the most capital. It can easily become a snowballing effect.
Who's the banker?
These companies are all hauling in massive revenue numbers every year, and their growth rate is exponential too. If you combine this with their already immeasurably high market share, you've got the perfect recipe for a nice subtle monopoly of sorts.
Amazon almost doubled its reported net income in 2020, up to $21 billion from 2019's paltry $11.6. As big as Amazon is, they're a small fish to the others.
Google topped $40 billion themselves, also up 17% from 2019.
Facebook pocketed about $86 billion, and Apple about $64 billion. Ya know, just something light.
So who wins?
The effectiveness of antitrust laws has been an ongoing debate since their introduction all the way back in 1890 with the Sherman Act. Some make the case that we should just let the free market do as it wills, and let the cycles and industry giants come and go as they will. Others support intervention and find it disconcerting that any one entity could have that much power.
At the end of the day, these are businesses that almost all of us are patrons of in one way or another. Whether you directly subscribe to Amazon Prime or not, you probably subscribe to something that uses Amazon Web Services, or runs ads on Google, or uses Apple devices, or...you get the picture.
Whether we can see it or not, all of us are involved, so it would be prudent of us as conspicuous consumers to keep digging on this matter.
FAMILY FINANCES
Prenups: Worth suggesting to your partner?
You hear about it all the time, what was originally meant to be 'til death do us apart ended up in divorce, and one side took the kids and all the money. In all seriousness though, divorces can be unfair to anyone. No one enters into a commitment of marriage knowing that it'll end, but it's an unpleasant situation that can be made much worse by being unprepared for it.
Unfortunately, many couples fail to entertain the idea at all. It's ironic that bringing up a few extra legal documents is considered a bit taboo when marriage itself is a legal matter on its own, right? Nevertheless, marriage is a much more extensive commitment than is advertised on the surface, perhaps most importantly in the touchy subject of finances.
Prenups may be worth the awkwardness
Creating a prenuptial agreement could even be likened a bit to life insurance. No one wants to think about having to make use of that life raft, but it's nice to know it's there. Divorce court can be an expensive, arduous, and often-times unforgiving process that can sometimes end with an inequitable settlement if you're not prepared.
We think it's always important to broach even the most uncomfortable of personal finance subjects for the sake of you and your partner's future, together or apart. There's no shame in being prepared for the worst, and working together for the best all the while.
That being said, here are some things to know about prenups.
Prenuptials can be a sign of trust: It's never a good thing to be wary of bringing up any topic to your eventual partner. Committing to someone in this manner requires a deep level of trust and comfort, and so it's important you're able to discuss anything at all with your potential spouse. If you're scared to mention the word prenup, there may be some work to do.
Prenups are pretty affordable: Considering the average marriage costs about $33,000, the average prenuptial agreement comes in anywhere from $1,000-$3,000 depending on your finances and could be a worthwhile addition.
In the case of a divorce, prenups make life much simpler: Having a well-defined and complete prenup can make the draining process of divorce litigation go much smoother than it does for those who are unprepared. A prenup eliminates a lot of ambiguity, which ultimately reduces the legal fees and time to get an already emotionally burdensome process completed.
Prenups can help protect your business, assets, and children: If you have children from a previous relationship, own a business, or even just valued possessions, prenups can protect those things. It can ensure your children receive a proper inheritance if you pass away, protect your business from being targeted in a divorce, and shelter your assets too.
SPONSORED BY THE HUSTLE
Get smarter on business and tech in just 5 minutes
Why do over 1.5 million people read this newsletter?
It's simple: The Hustle is the best way to keep up with the latest business trends and breaking news in just 5 minutes each weekday morning.
It cuts through the noise to explain what's really going on in the world of business and tech.
Scott Belsky, CPO of Adobe says it best: "I get a lot of daily business/news digest, but I find The Hustle to be the perfect intersection of informative, witty, and timely."
Get the business and tech news that will give you an edge.
HOMEOWNERSHIP
Things to remember before tapping into your equity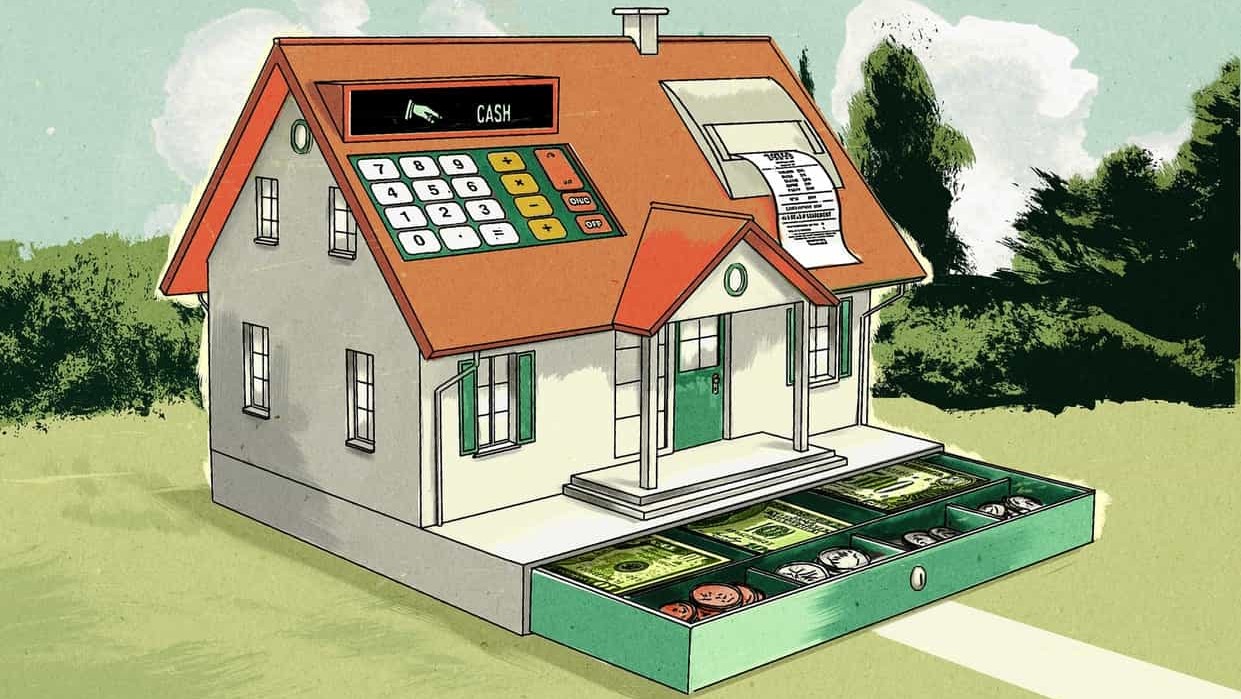 Image source: Thomas Khulenbeck, WSJ
Did you get your tax assessment recently? Watching your home value appreciate every year can sometimes feel like finding $100 in a jacket you haven't seen in a year, and it's often tempting to just treat it like extra cash. That's equity, and it's one of the blessings of being a homeowner, but it pays to handle it responsibly.
As humans we like to innovate, so we've used equity as a new way to get access to a loan on unrealized gains. It's a really cool idea, and can often be a huge help to those who need it, but we have to be careful with it, just like any other loan.
What to know before tapping your equity:
Understand what you're doing first: Explain it like I'm five, home equity edition? It's when your home value increases relative to what you paid for it. Take for example a property purchased for $200,000 with $40,000 down that's been paid down from $160,000 owed to $130,000. If this home has appreciated in value to $275,000, the homeowner has $145,000 in equity. See how we got that number?
Understand your options: There are multiple ways to access home equity, but the two main ways are through refinancing or a loan. With a cash-out refinance, you'll get a new mortgage for a higher amount than your previous one, receiving the difference as a lump sum of cash. This is typically capped at 80% of your home value and is referred to as your loan-to-value ratio. With a home equity line of credit (HELOC), you're being granted access to a line of credit against the equity in your home, and you'll only repay what you spend.
Understand your reasons and your finances: Your own unique personal finance situation and what your intended use for the capital obviously should dictate all your decisions here in terms of which route you go, or the specifics of your loan. Using home equity to improve the property can actually be a profitable venture, and is certainly one of the most prudent applications of home equity use. It can also be a life raft for those in need of extra money for debt or unforeseen expenses, and of course has many situational uses.
ASHU'S CORPORATE COLOR
Today's Movers & Shakers
This commentary is as of 9:19 am EDT.
✨ TRENDING ON FINNY & BEYOND
Why lenders are still keeping a tight grip on HELOCs (home equity lines of credit), despite rising home equity (Bloomberg)
Eight life events when couples should revisit their finances (Forbes)
Judge dismisses FTC and state antitrust complaints against Facebook (CNBC)
Have a bad credit score, and wondering which credit card to get? Creditcards.org offers some ideas (Creditcards.org)*
Finny lesson of the day. Past the prenup stage and thinking about estate planning? Here's a digestible bite-sized overview of it:
How did you like Finny's The Gist today? (Click to vote)
Finny is a personal finance education start-up offering free, game-based personalized financial education, a supportive discussion forum, and simple stock and fund tools (aka Finnyvest). Our mission is to make learning about all things money fun and easy!
The Gist is Finny's newsletter to our community members who are looking to make and save more money, protect their finances and be their own bosses! Finny does not offer investment or stock advice. The Gist is sent twice a week (Tues & Thurs). The editorial team: Austin Payne and Chihee Kim. Thanks to Ashu Singh for Today's Movers & Shakers.
*Sponsors or advertisers offer unique consumer services. We're thankful for their sponsorship to enable Finny to offer free financial education. Here's our advertiser disclosure.
If you have any feedback for us or are interested in sponsoring The Gist, please send us an email to feedback@askfinny.com.
Copyright © Finny 2021. All rights reserved.
736 Paloma Ave, Burlingame CA 94010