🤖 Tesla-fying the economy
TOGETHER WITH

Good day. According to WalletHub, can you guess which US state is the most innovative? a. Texas, b. California, c. Massachusetts. Check the answer in the "Trending" section below.
Tesla-fying the economy? No, we're not talking about the car.
Is the housing boom over?
Driving less? How to reduce car insurance bills
ECONOMY
Tesla-fying the economy?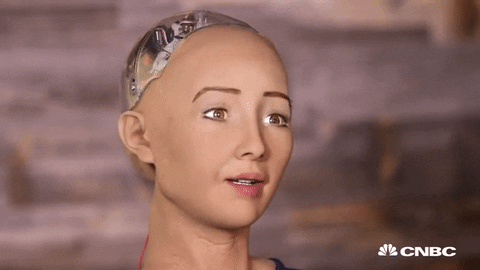 Source: Giphy
The United States is a nation of consumers, statistically speaking anyway. In 2017, the US led the world in consumption rate per capita, clocking an average of over $40,000, with our next closest competitor being the UK coming in at $24,000.
Even though we lead the pack worldwide, we've been competing with our own personal record over the last decade or two. The country presently has a personal consumption rate of about 67% of GDP, a figure that's been climbing consistently since the 80s and near 2011's all-time high.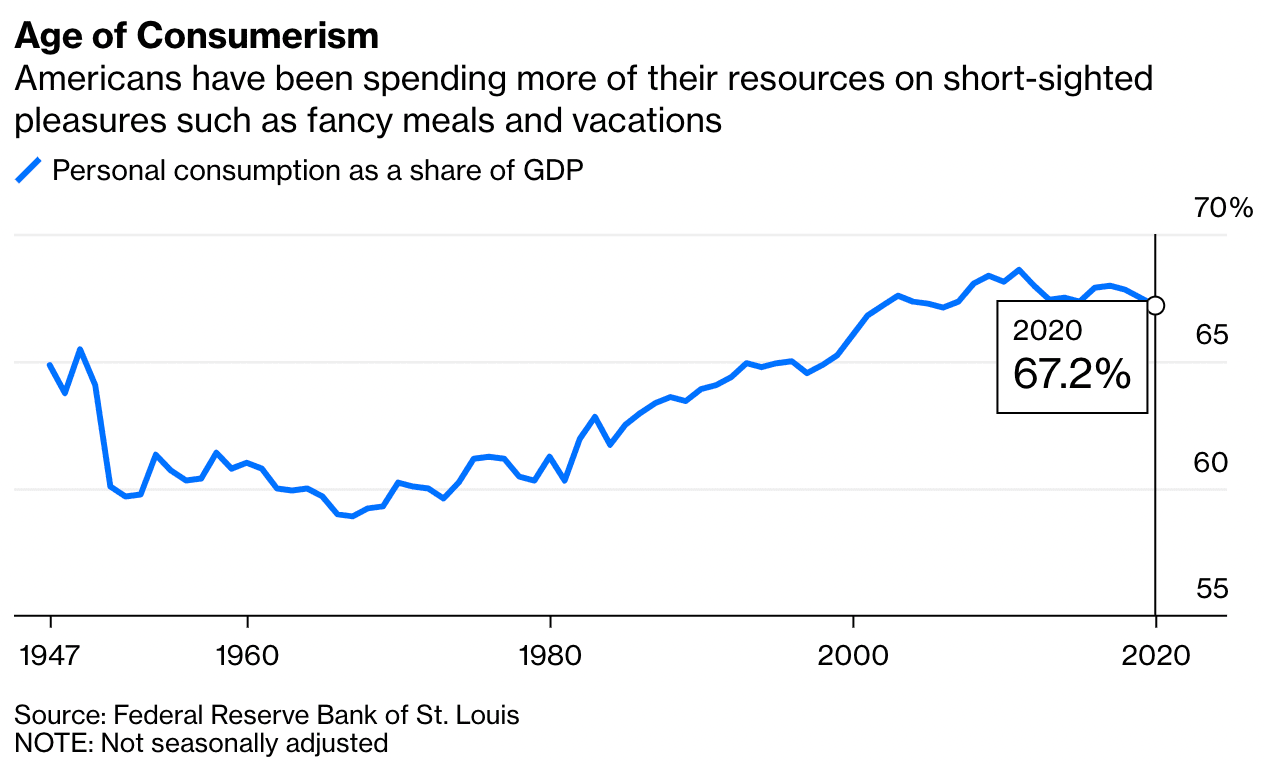 Source: Bloomberg
Taking notes from innovation
So, what does this have to do with Tesla at all? Well, it's just a metaphor for innovation and planning for the future, a nudge that perhaps America should start investing in the long-term instead of mostly present-minded consumerism, as noted by the data.
But this isn't so much about personal indulgences as it is about a macroeconomic shift towards innovation, or at least, one with a bit more urgency behind it. Our personal rates of consumption can certainly be an indication of lackluster forward-thinking to a degree, but it's broader than that.
Making progress
A figure more telling might actually be where we stand globally in regards to the nation's R&D growth. In 2020, the US came in 5th behind Israel at about 3%, but it was in an entirely different class to Korea, Taiwan, and Israel, who all clocked nearly 7% growth, while China wiped the floor at 16%.
The United States' R&D spend has been in decline for about 50 years and now sits below 1% of GDP, whereas countries like China are near 2.4%, and Israel and similar countries with smaller GDPs over 4%.
This trend thus begs the question: should more of our tax dollars be spent on something as prudent as investing in the future?
Steps in the right direction?
Aggregating America's consumerism and personal spending with our investment in the future could be viewed as a bit of an overreach and one of those potential correlation/causation situations, but it does help us paint a picture, and it can certainly be an indicator of how we've fallen behind in some areas.
Congress moving towards passing an infrastructure bill that would allocate $550 billion to the country's infrastructure over the next five years may be a good start, and perhaps it can serve as a much-needed jumpstart to an increasingly forward-thinking nation.
REAL ESTATE
Is the housing boom over?
With the average selling price of a US home jumping from $374K in Q2 of 2020 to $434K (16% growth) only a year later, it seemed there was no stopping the intense bidding wars driving up home prices in most localities around the US.
In fact, bidding got so intense this year that home price growth set an all-time record.
Turning of the tide?
By April of 2021, total homes on the market were down a whopping 53% from the 12 months prior, and that massive inventory decline was a big contributing factor to the precipitous price change we saw. However, in May of this year, home listings on Realtor.com rose 3%, followed by 9% in June.
But that's not all. June data has shown that new home sales are slowing—in fact, the slowest since the start of the pandemic.
What's the cause?
It's multifaceted. "Likely a combination of sticker shock and the slowdown in the ability of builders to finish homes because of a variety of delays," according to Peter Boockvar of Bleakley Advisory Group.
June also saw an uptick in mortgage rates of about a quarter of a percent—a potential tipping point for buyers already weary of sky-high prices. Not to mention the recent lapse of stimulus-related protections, such as the federal foreclosure moratorium and the mortgage forbearance program. And more cooling could be on the way.
However, this remains a highly local matter, and some real estate markets are obviously experiencing entirely different situations. i.e., listings in Miami are down 8% vs. Milwaukee where listings are up 45%.
Best to wait and see though if this housing market is really starting to shift in the buyer's favor.
📚 In a buy vs. rent conundrum? If so, take this bite-sized Finny lesson on the topic:
SPONSORED BY GRYPHON
Leading a new era of cybersecurity
The recent spate of attacks, like SolarWinds and other ransomware, highlights the urgent need for more secure networks. And the frequency of cyber-attacks during the pandemic saw a 330% increase.
Enter Gryphon—a leader in this new era of cybersecurity that protects against identity theft and hacking threats such as stealing usernames and passwords, making purchases, getting social security numbers, and selling of personal information.
Reasons to invest in them:
Gryphon combines network performance with complete protection with its WiFi routers, cloud management application, and smartphone app.
Its network security system monitors networks 24/7, blocking over 8M threats across more than 25,000 Gryphons since launching in mid-2018.
There's a $29B addressable market surrounding the issue of device connectivity, online security and digital parental controls worldwide.
Its Co-founder & CEO was one of the key inventors of the MiFi mobile hotspot and currently holds 25 patents.
Selected as MSN's Best 10 Parental Control Routers for 2021 by MSN, and Best Overall by Fatherly
Now is your chance to invest in Gryphon before the campaign's funding round closes on September 10th.
CAR INSURANCE
Driving less? How to reduce your car insurance bills
Approximately 1 in 4 Americans will be working remotely in 2021. Because of this, many people are driving less and less. Data from the first half of 2020 showed a 17% decline in miles traveled by a vehicle on a national scale, and the result is a much greater drop for those working remotely, whether sometimes or fully.
Nevertheless, if you do need to drive somewhere, you're still required to have car insurance. Unless of course, you live in Virginia or New Hampshire, then you're free to take that potentially very expensive risk.
With the average car insurance bill totaling $133 per month though, it can feel a rip-off when you're driving your car only some of the time. So, here are a few tips to potentially spend less on car insurance:
Investigate Pay-Per-Mile insurance: This is exactly what it sounds like, car insurance paid per mile once you exceed a base rate. If you drive less than a few hundred miles per month, it's worth looking into.
Pay as you drive policy: Some insurance companies offer policyholders the option to submit driving analytics, collected by your phone or device plugged into your OBD-2 port, in order to help reduce your rate. Certain driving tendencies are considered safer than others, and can thus contribute to reducing your assessed risk, and therefore your rate.
Switch vehicles: A 5,000 pound truck or SUV is going to be more expensive than a sedan, a higher value car more expensive than an older one, and in some cases, a gas vehicle will be more costly than an EV or hybrid when you factor in the discounts certain insurers offer for these.
ASHU'S CORPORATE CORNER
Today's Movers & Shakers
Home Depot (-3.2%) after same-store sales increased less than expected although the firm beat on profit and sales estimates
Walmart (-1.5%) also topped revenue, profit estimates and same-store sales but investors aren't so impressed
Roblox (-6%) after the firm missed on both top-and bottom-line figures
Spirit Airlines (-4.4%) after the airline group posted losses ($50 mil) as a result of operational issues.
Didi Global (-2%) even after reports that Hedge Funds (Soros, Tiger Global) and Asset Owner, Temasek, piled into the stock as per 13-F filings (may be due to the fact that 13-F data lags real-time info)
Tencent Music (-3.8%) after revenues were lower
Organon ($OGN) +1.6% after Berkshire revealed a small stake in the drug firm that was spun off from Merck
Endeavor (+1.8%) after the entertainment firm handily beat street numbers but revenues came up short
This commentary is as of 9:02 am EDT.
✨ TRENDING ON FINNY & BEYOND

Was it useful? Help us to improve! Click to vote:
Finny is a personal finance education start-up offering free, game-based personalized financial education, a supportive discussion forum, and simple stock and fund tools (aka Finnyvest). Our mission is to make learning about all things money fun and easy!
The Gist is Finny's newsletter to our community members who are looking to make and save more money, protect their finances and be their own bosses! Finny does not offer investment or stock advice. The Gist is sent twice a week (Tues & Thurs). The editorial team: Austin Payne and Chihee Kim. Thanks to Ashu Singh for Today's Movers & Shakers.
*Sponsors or advertisers offer unique consumer services. We're thankful for their sponsorship to enable Finny to offer free financial education. Here's our advertiser disclosure.
If you have any feedback for us or are interested in sponsoring The Gist, please send us an email to feedback@askfinny.com.
Copyright © Finny 2021. All rights reserved.
736 Paloma Ave, Burlingame CA 94010