The Gist
TGI Thursday. According to the Bureau of Labor Statistics, which of the following jobs is expected to experience the highest projected growth rate (or highest demand) over the next decade? a. Statistician, b. Nurse practitioner, c. Wind turbine service technician. Follow the 🌊 below for the answer.
Here are the topics we cover today 🧐:
The jobs mismatch
Is there a regulation crackdown coming?
It's that time of year again: Open enrollment tips
EMPLOYMENT
The jobs mismatch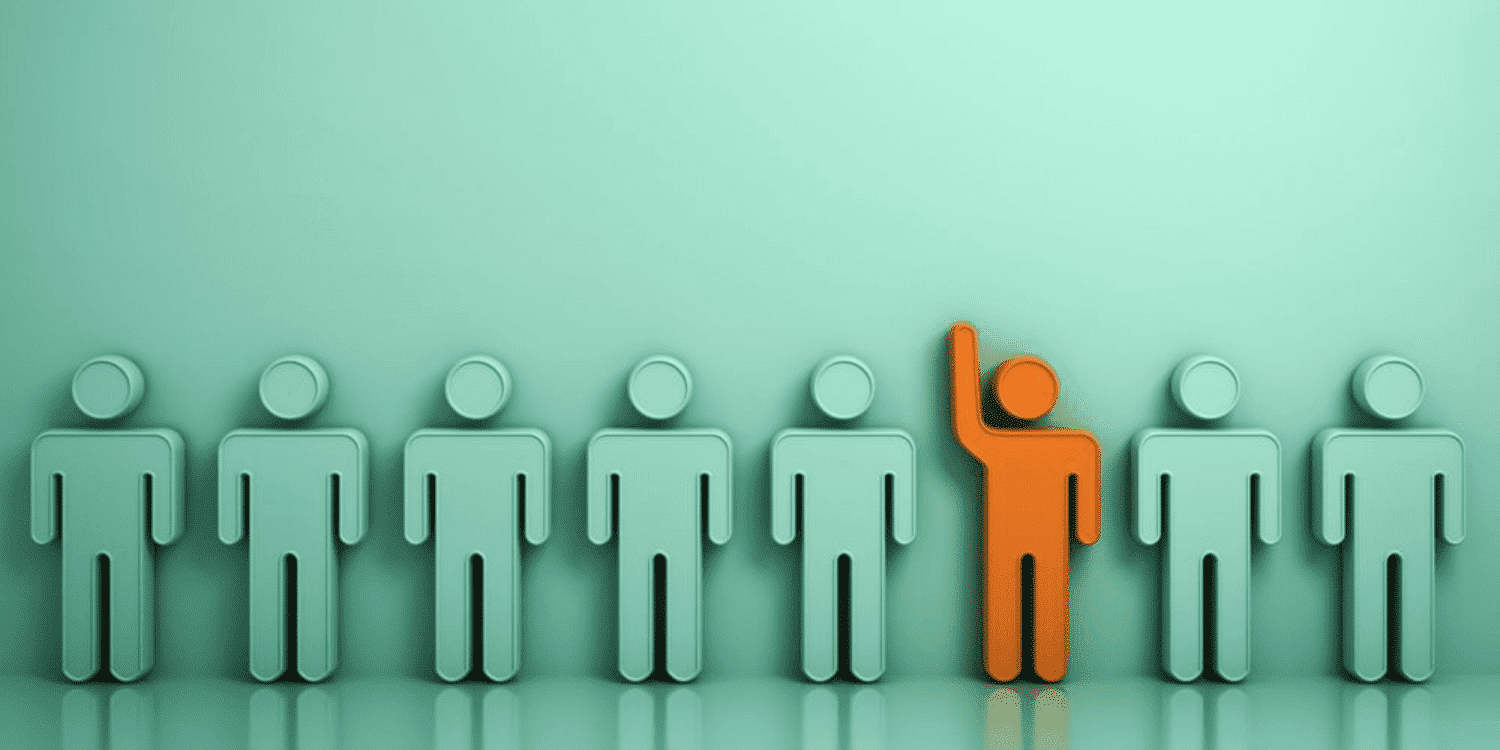 One of the most prevalent storylines throughout the pandemic, and even more so recently, has been the proposed jobs crisis we're facing in America. Unemployment remained relatively high, as were open positions and help wanted signs.
But as unemployment is coming down from the 14.8% high in April of 2020, we've uncovered some systemic issues in the jobs economy.
What the data is telling us
An "ideal" unemployment rate, if there truly is such a thing, is considered to be somewhere between 4-5%. And in September, we've fallen back within this range at 4.8%. Healthy right?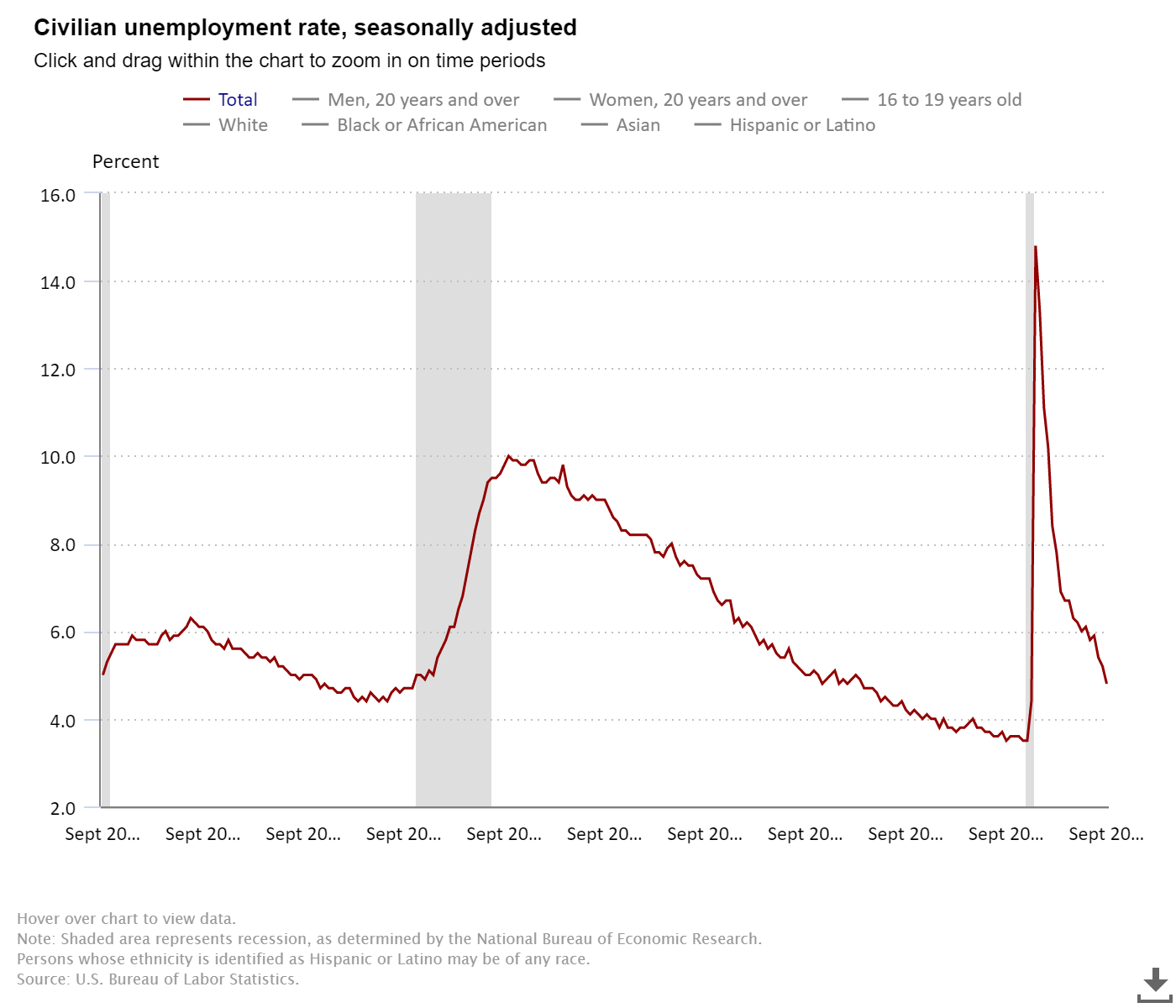 Not so fast. Over 7.7 million Americans are still unemployed, and more than 34% of them have been for more than 6 months. And on the flip side, the latest data shows there are more than 10 million job openings—a record number of open positions.
With more jobs open than people to fill them, what gives? Why the mismatch?
Worker leverage: More job openings than unemployed usually means worker leverage. We had prolonged and bolstered unemployment benefits throughout the pandemic, which may have helped the savings rate rise over the last 18 months.
We're reassessing work: All that leverage is driving workers to think about work and life differently in this new era. It's not that we don't want to work, but that we're reassessing what work means and how to fit it in our lives in a way that better aligns with our values. We're talking ideological shift here as we continue to witness a record number of people in the US quit their jobs (4.3 million to be exact in August 2021).
The solution?
There's a big difference in microeconomic solutions and macro ones and no singular way to fix this on a national level. But we're seeing businesses and employees take it upon themselves to figure it out. For example, some businesses are increasing wages, bolstering work benefits or operating with fewer staff. And employees are looking to change careers, seek out remote work or start their own business.
Ultimately though, it's complex. Living in a system of ideological patchworks, our eyes are opening to new post-Covid realities. As businesses keep fine-tuning their offers to employees, the jobs economy will probably be alright. But if the labor market continues to skew, the economic recovery could be challenged.
MARKETS
Is there a regulation crackdown coming?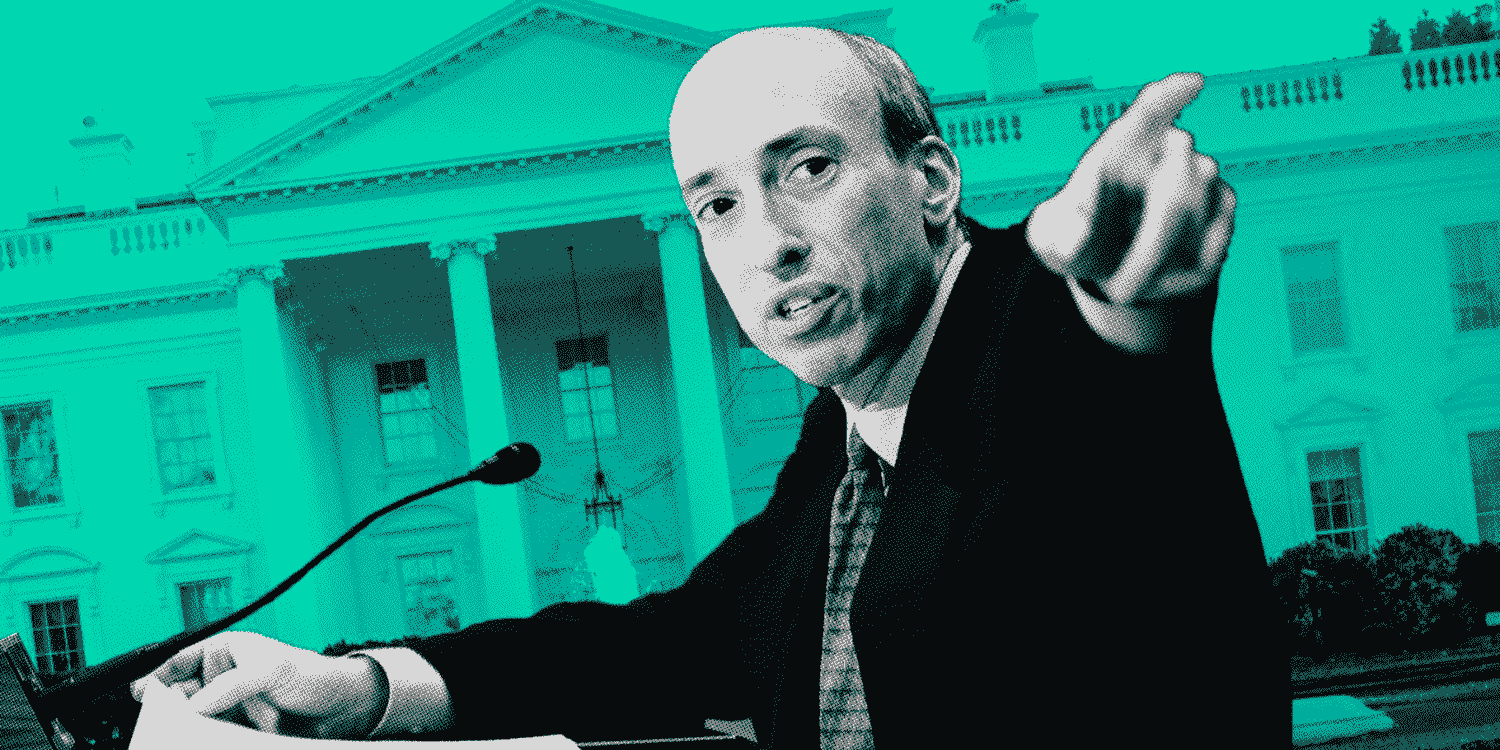 Gary Gensler, Chairman, Securities & Exchange Commission (SEC)
Since Gary Gensler's confirmation as Chairman of the SEC back in April, he's been on a warpath to sweep up the financial streets, but not just Wall Street. He's crafted one of the most ambitious dockets the GSE has seen, and nothing is safe, apparently.
Despite opposition from financial institutions and members of Congress alike, the SEC is purportedly in hot pursuit of these matters and could care less about their sacred hedge funds and bureaucracy. Oh, and apparently Gary is a fan of MLK and his famous "fierce urgency of now" speech. Just sayin'.
What's on the table?
According to Bloomberg, Gensler has laid out 49-some-odd proposals for the agency to work through, ranging from stablecoins to the derivatives market. The SEC has set up about 50 teams consuming over 200 employees to address the issues, and they're not messing around.
Further investigation into the topics of importance to Gensler and the SEC will reveal that many of these proposals may actually serve to benefit the individual, retail investors, and is more so coming for institutions.
Impacts for individuals
That being said, there are a couple items that could impact retail traders down the line, like crypto regulations, the potential banning of PFOF, and the fear of a bearish sentiment arising in the markets if any make it through.
If PFOF gets kicked, some of your favorite zero-commission brokerage firms may come under pressure to make significant changes to their business model. Will they start charging fees, internalize orders, or what? We can't know yet.
As for crypto, the SEC has no plans to ban it or anything extreme like that. In fact, most of the proposed regulations regarding exchanges adhering to traditional securities regulation would probably make little to no difference to your average crypto holder who pays their taxes. The real concern, however, could be general market sentiment, and how this impacts it.
Perhaps the main concern throughout all of this cracking down could simply be market sentiment. If the SEC starts spooking the big dogs, this bearish pressure trickles down to the individual investors, resulting in some red days.
SPONSORED BY LEMONADE
Forget everything you know about insurance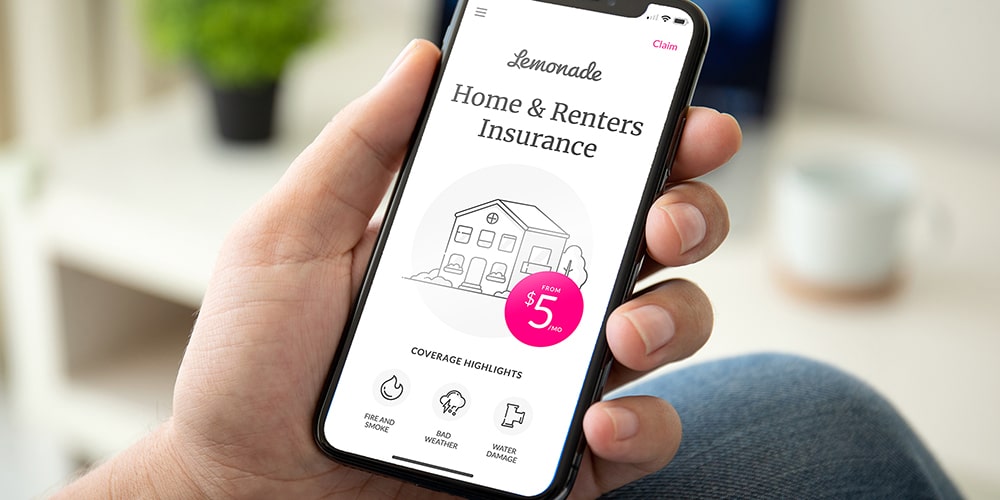 Say hello to insurance that's made for the 21st century. Lemonade home and renters insurance makes everything super easy.
With a 100% digital sign-up process and claims paid at the speed of light, it's the insurance people *actually* like.
Ranked 4.9 stars in the App Store and Google Play, and top-rated by Supermoney, Cleasurance, and others.
Zero hassle with the easy-to-use app.
Certified b-corp that gives back to causes you care about most.
Get covered now with just a few taps.
WORK BENEFITS
It's that time of year again—open enrollment tips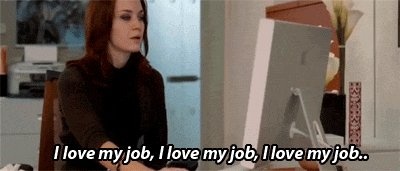 Giphy⁠—The Devil Wears Prada
What many people think of as the start of the holiday season is something entirely different for corporate America, and anyone who works on benefits in HR can attest to this.
November marks the start of open enrollment for millions of companies and employees alike, and maybe we should make a bigger deal out of it. You know, give it a holiday of its own.
Here are 5 tips to help during this period:
Broadly, study up: It's no doubt that many employees, especially those of us who are younger, might breeze through these documents like it's nothing, just hoping to sign and get the paperwork over with. This can have savings and wealth consequences down the road, and be a major problem when it comes time to use your benefits. Take the time to study your plan and all the new perks and benefits your employer probably just added (e.g., pet insurance, mental health resources, bolstered childcare and if you're lucky, a rainy day fund match).
Beneficiaries: Designating beneficiaries takes only 3 minutes to do and is something that 60% of us forget to do, according to Fidelity Investments. Without a beneficiary, your benefits may be designated automatically to your estate (which can kick off a lengthy legal process called probate), and you lose the ability to intentionally designate where your accounts go.
Cost compare your health insurance options. Medical insurance providers are providing employees cost calculators to help you choose the right health insurance plan. Look for this and take advantage of it.
FSA changes for 2022. Flexible Spending Account operates under a "use it or lose it" provision, which usually means you have to spend it all by a deadline (December 31 or March 15 of next year). Know that this year the federal government expanded what items are FSA eligible. And for 2021 specifically, any unused amounts can fully roll over to 2022, only if your employer opted-in for the change. If you still have a balance in your FSA, be sure to check with your employer about this.
Prioritize HSAs, if you're eligible: Health Savings Accounts are like a 401K for healthcare but better, tax-wise. We're talking about a triple tax benefit: your HSA contributions are pre-tax, grow tax-free and withdrawals for qualified medical expenses are also tax-free. If you're enrolling into a high deductible health plan (HDHP), it's an incredible way to reduce rising healthcare costs. If you need a quick jargon-free review on HSAs, take this lesson:
📊

ASHU'S CORPORATE CORNER
Today's Movers & Shakers
Regeneron Pharma (+2.7%) had a significant beat on earnings and revenues
Planet Fitness (+4.7%) beat on revenues and profit
ViacomCBS (+1.2%) topped on revenues and earnings met the street's estimates
Moderna (-12%) missed on revenue and profit estimates
Wayfair (-4.4%) missed on revenue but beat on profits
Booking Holdings (+4.6%), the travel firm (Priceline's parent), topped the street on revenues and profits
Qualcomm (+8%) topped on both revenues, profits as well
Electronic Arts (+3%), the video game maker, beat on revenues and profits
Roku (-8%) after missing on revenues, despite profits beating estimates
Google (0.25%) is investing a billion dollars in CME (+7%), a cloud play
This commentary is as of 9:04 am EDT.
🌊

TRENDING ON FINNY & BEYOND
Answer: it's the wind turbine service technician with a projected growth rate of 68%. Here are the 20 fastest-growing jobs in the next decade (Visual Capitalist)
Jeff Bezos hired this Amazon applicant 'on the spot'—here are the 2 interview questions he asked (CNBC)
Finny lesson of the day. In supporting open enrollment and the health insurance options that you might have in front of you, take this bite-sized overview on the topic:
How did you like Finny's The Gist today? (Click to vote)
Finny is a personal finance education start-up on a mission to make your money work for you. We offer a personalized learning experience through bite-size, jargon-free lessons, money trends & insights and investing tools.
The Gist is Finny's twice a week (Tues & Thurs) newsletter covering personal finance & investing insights and money trends. Finny does not offer investment and stock advice. The editorial team: Austin Payne, Chihee Kim. Ashu's Corporate Corner is brought to you by Ashu Singh.
*Sponsors or advertisers offer unique consumer services. We're thankful for their support as we work to make financial education accessible and easy to as many people as possible! If you're interested in sponsoring The Gist, please email us at partnerships@askfinny.com.
If you have any feedback for us, please send us an email to feedback@askfinny.com.
Calling all personal finance creators and writers
Would you be interested in writing Finny Bites, fully attributed to you? If so, we want to hear from you: send us an email and we'll be in touch!