🚀 The rise of the social investor
Happy Tuesday to you. Hope your week is off to a nice start! Here are the money topics we'll dive into today:
Pink tax. Is it for real?
The rise of the social investor, and the emerging trends.
More US homeowners are equity rich. What does that mean?
To ensure you are getting The Gist every Tuesday and Thursday, please do move us to your primary folder (Gmail) or add us to your VIP (Apple Mail) or favorites (Outlook)!

CONSUMERISM
The pink tax is for real
When you buy everyday items like razors or body wash, it's easy to spot "masculine" products because they tend to be blue or gray, and if scented, "musky" in smell. On the other hand, "feminine" products are pink with a dash of glitter and have "fruity" scented names like sweet pea or apple blossom.
While colors and scents are the most obvious differences between products aimed at men and women, there's another not-so-apparent difference: the price tag. And it's costing those who buy products aimed at women a lot more.
The pink tax
The pink tax is gender-based pricing that charges more for the same or similar products targeted to women. And it's not actually a tax, but rather an income-generating strategy by consumer goods companies that see the opportunity to make more by charging more. The thinking is if you can make more money, why not?
And it's not a new phenomenon. Over the last two decades, several US states have released detailed reports on gender pricing discrimination in their states.
The issue was then more clearly defined in 2015 when the New York City Department of Consumer Affairs released their findings: women's products cost 7% more than similar products for men, with the most egregious upcharges found in personal care products.
The pink tax doesn't just stop at women's products though. Toys and accessories for girls are consistently priced higher than those for boys. Based on the study, the largest price discrepancy was in helmets and knee/elbow pads, with girls' versions priced 13% higher!
So how do you avoid it?
♀️ Support companies that are standing up to the pink tax. Have you heard of startups like Harry's, Billie or Box? They are enforcing price equality for feminine products, on a per-unit basis for products that typically cost more for women than men.
🧴 Buy gender-neutral items when shopping for toys, razors, shampoos, deodorants.
🧼 Price compare services like dry cleaning that are known to have a steep pink tax.
⚖️ If you're feeling inspired, talk to your state representatives, and support price equality social media campaigns. Activism and word-of-mouth are powerful tools we have!
INVESTING
The rise of the social investor
Forget what you thought you knew about modern-day investors. This group may be self-taught, but they are overwhelmingly social. And although they admit that financial literacy is an ongoing challenge, they're getting scrappy when it comes to the ways they build their knowledge and apply it to their portfolios.
Welcome to the era of social investing!
If you haven't noticed, investing has taken a more social aspect in recent years. By that, we mean more investors are increasingly turning to their friends, family and online to learn more about investing, according to a survey from investing app Public.com and Finimize. Their survey of 3,000 investors found that 75% of them get input from others about investing.
How does that breakdown and what trends will emerge?
More and more younger investors are talking with their friends and families about money and leveraging them as sounding boards for new investment ideas. According to the survey, 37% talk to their friends, and 21% get investing advice from family members.
The popularity of online communities and forums is on the rise as well, with 26% of investors getting information about investing from them. Why? There is a level of comfort that comes with learning from your peers who look and talk like you, a la Wall Street Bets. We see a fair amount of investing questions on Finny too.
Given a growing number of investors turning to their social circles, there's a shift by investment apps to include gamification and features that offer a window into how others are investing. In fact, investment apps like Public are allowing users to broadcast their investment choices. You can follow people to see their portfolios and what they've invested in—even some CEOs and celebrities are making their investing portfolios publicly accessible there.
But despite this trend of "social" investing, basic financial literacy is still an issue that needs to be tackled. At Finny, we're working hard to change that!
REAL ESTATE
More people are equity rich. What does that mean?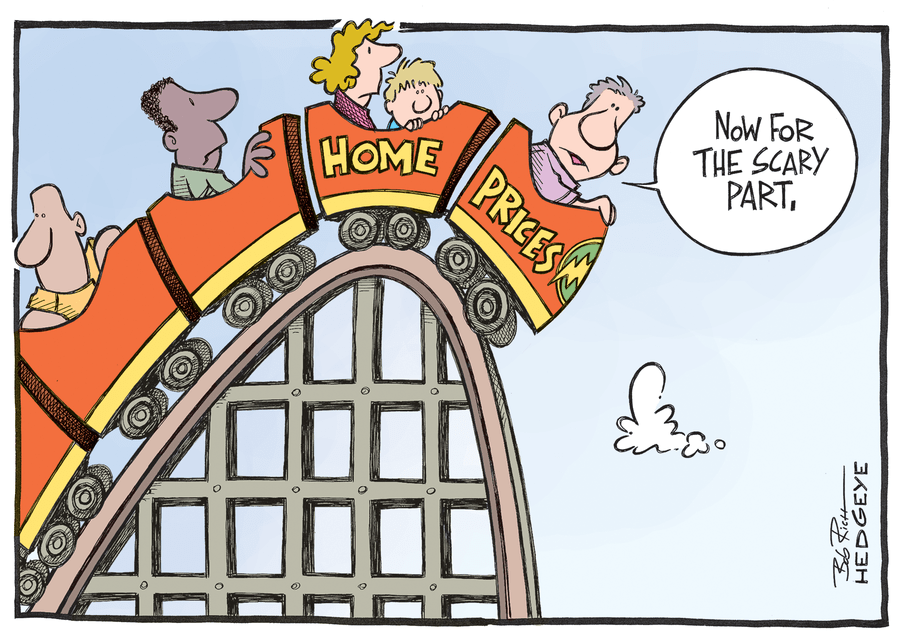 By Hedgeye
Did you know that more than 30% of U.S. homeowners were equity-rich by the end of last year, according to ATTOM Data Solutions? And that 38 of the top 40 equity-rich zip codes were in California, most of those being in the San Francisco area? If that includes you, congrats!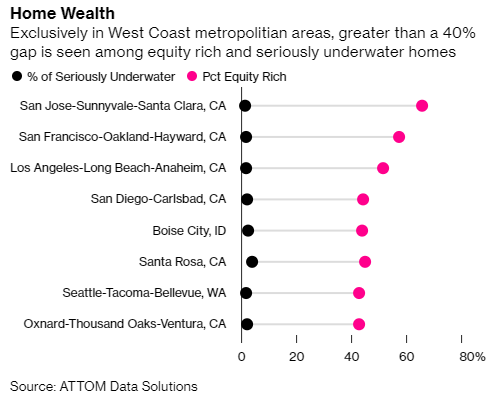 What does equity-rich exactly mean?
That means your property is worth twice as much as your mortgage. In this environment, that's thanks to low rates and a rise in home prices. For context, when ATTOM completed their first analysis eight years ago, only 18.5% of US homeowners were equity-rich.
The rise in home values also helped to reduce the number of seriously underwater properties too. These types of homes —defined as having a combined balance of loans secured by the property at least 25% more than its market value— have fallen by a full percentage point over the past year. They now account for 5.4% of mortgaged U.S. properties.
We won't speculate on how the economic landscape will shake out and impact home prices or mortgage rates, but here are a few parting thoughts and suggestions.
🏠 You have the freedom to decide how you want to live.
You can sell your home or choose to rent it out.
If you sell your primary home now and lived there for the last 2 years, you won't have to pay taxes on gains up to $250K of profit if single ($500K if married filing jointly).
Juice up your passive income by renting your place out. If you can swing it, it might give you the extra income you need to meet some of your financial goals sooner than you thought.
🏠 Tap into your home equity.
If you take out a home equity line or loan to make improvements to your existing home, the interest paid on it is deductible only if it's used to buy, build, or improve your home. But if you take it out to pay off other debt, it's not.
🏠 Buying a home is a long-term strategy to building wealth.
It's not a get-rich-fast scheme. If you take care of a piece of real estate for 20 years, it could take care of you forever. And if you're watching on the sidelines, it's best to buy when ready and able—don't let FOMO rush you to buy a home prematurely.
If you have any home-buying tips you wish you knew before buying, contribute to the discussion here: